mReview: 2023 Ford Ranger - More Than Just a Truck

Trucks are thoroughbred workhorses. Typically, these machines are built strictly for business use only, being ultra utilitarian, rugged and dependable. But Ford aims to challenge convention with their all-new Ranger.
It still very much is a workhorse, combining its no-nonsense, go-anywhere attitude, with a sizable truck bed that'd be sufficient for hauling cargo around in. Most diesel commercial vehicles are unrefined for cost reasons, though it is worth noting that there's nothing in the figurative automotive manufacturing rulebook that states all such vehicles to have the same lack of refinement.
And that is exactly what Ford has done with the Ranger, combining the day-to-day usability of a passenger vehicle, with the durability of a diesel pick-up truck.
Dominating Looks
People tend to automatically make way for you when you drive the Ranger. You can sort of see why, as the truck rides higher than practically every other passenger vehicle on the road. The height stems from its need for greater ground clearance, so it is better able to handle things when the going gets tough.
Large front light clusters flank the chrome trim panel that houses the Ford badge. To create even more road presence, the grille itself is fairly sizable, though this could also stem from the truck's need for greater airflow to cool its mechanical gubbins.
It is otherwise very truck-like on the outside, with the exception of several car-like elements such as the alloy wheels and the chrome fog light surrounds. Though that is no bad thing, as buyers of the Ranger are most likely searching for these very traits to begin with!
Not Just About Utility
You'd easily mistake the Ranger for an SUV if all you saw were photos of its cabin, since it seems like Ford raided its passenger car parts bin to equip this truck with all the latest gizmos and gadgets.
That's because abroad, buyers use these trucks for leisure too, and the cabin has to be up to snuff for that very reason. Which is why you'll find car-like levels of equipment in the Ranger. The centre stack is dominated by a 10-inch vertical touch screen, which comes with wireless Android Auto and Apple CarPlay for seamless connectivity.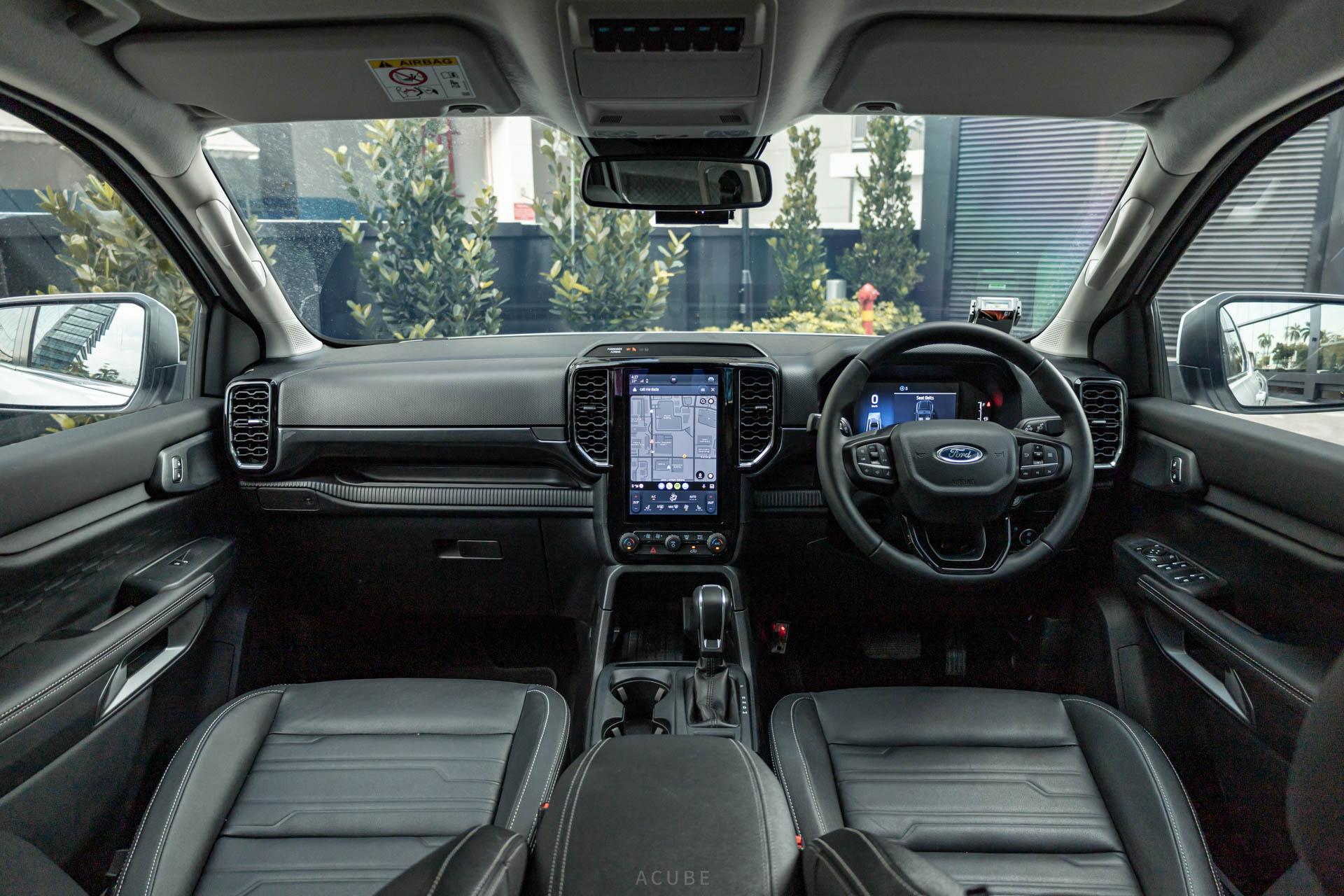 The car-like association continues with its 8-inch digital driver's display, its electronic off-road selector and an electrically-powered seat for the driver. There's also wireless charging upfront, and aircon vents for the rear seat occupants.
The Drive
When you first approach the vehicle, there's definitely a sense of apprehension, especially at its enormous proportions. But once you're actually on the move, you'd be surprised at just how easy the truck is to place. The butch and angular front end means it is easy to see where the front corners of the vehicle actually are, and visibility all round is excellent, no doubt assisted by its large mirrors.
Manoeuvrability is equally impressive, as its turning radius is compact enough that it is actually very usable even in our tight city streets. The steering itself is well-weighted, and with sufficient feedback, so you are able to drive with just the smallest of inputs. 
NVH levels are kept in check regardless of the terrain or speed you are driving at. Underbody insulation is comprehensive enough that tyre noise is kept to an acceptable level even at highway speeds. You'd also barely be able to hear the sounds of rocks pelting the undercarriage whilst at speed off-road.
The Best of Both Worlds
Think of the Ranger as being two vehicles in one. Superficially, this is a no-nonsense workhorse, built to be ultra-durable and affordable to keep on the road. It has excellent fuel economy for its size, returning an average of 10.7l/100km throughout the duration of the review.
But yet it has SUV-levels of comfort and refinement, despite having suspension built for hauling goods and to deal with rough terrain. The leaf springs do not significantly impact ride comfort, and the Ranger felt supremely compliant even on-road.
When compared to its peers, the Ranger does seem fairly expensive. However, none of its competitors combine utility and comfort as convincingly as it does. It legitimately has the durability of a work truck with the comfort of a passenger car. And as a complete package, its $129,888 (without COE) price tag actually feels fairly reasonable!
Ford Ranger Specifications
Price: $129,888 (without COE)

 CVES Band: B


Motor:
Turbocharged Inline-4 Diesel

Capacity:
2.0 litres

Power:
168 bhp, 405 Nm


Transmission:
Six-Speed

Driven Wheels:
All-Wheel Drive

Consumption:
10.3 km/L

0-100km/h:
12.1 s

Top Speed:
180 km/h

Fuel Tank Capacity:
80 L


Dimensions:

5,370 mm x 1,918 mm x 1,884 mm

Cargo Capacity:
11.3m³
Photo Credits: ACube Creative (@weareacube)
Download the Motorist App
The easiest and smartest way to manage your vehicle in Singapore.
Download Now
Read More: mReview: Mitsubishi L200 Triton - The Mighty Multipurpose Macho
---
Download the Motorist App now. Designed by drivers for drivers, this all-in-one app lets you receive the latest traffic updates, gives you access to live traffic cameras, and helps you manage LTA and vehicle matters.
Did you know we have a Motorist Telegram Channel? Created exclusively for drivers and car owners in Singapore, you can get instant info about our latest promotions, articles, tips & hacks, or simply chat with the Motorist Team and fellow drivers.