Five Unique Cafes Where You Can Enjoy Some Peace and Quiet! - mGuides

Amidst the hustle and bustle of life, we sometimes need a quiet place to take a well-needed rest. Here are five unique cafes where you can do so!
For today's mGuides, we're taking a look at five cafes that offer patrons a unique experience beyond just a good coffee or tea. With a cafe that sells furniture and another that has a flight simulator, you'll definitely find one well-suited for you!
Void Cafe
(Photo Credit: Void Cafe)
If you're looking for a place to get a good coffee and also happen to be in the market for a new table and chair, this cafe is the perfect place for you to visit.
Located within etch&bolts, a furniture shop at the School of the Arts (SOTA), Void Cafe is a small cafe where you can relax while shopping for new furniture. There's no better way to figure out if a piece of furniture is right for you than testing it out yourself — which is why the furniture used in Void Cafe are all available for purchase! Their menu includes a variety of cafe-standard items, from cappuccinos to earl grey tea. If you're hungry, they also offer savoury foods such as bagels, and sweet treats like waffles and cheesecakes. 
Address: 1 Zubir Said Drive, #01-01
Operating Hours: Sunday to Thursday, 11:00 am to 8:00 pm. Friday and Saturday, 11:00 am to 12:00 am.
Parking: School of the Arts Carpark. $0.04 per minute from 6:00 am to 5:59 pm, $5.00 per entry from 6:00 pm to 2:00 am.
Epigram Coffee Bookshop
(Photo Credit: Epigram Bookshop)
A collaboration between Epigram Bookshop and Balestier Market Collective, Epigram Coffee Bookshop is a cafe well-suited for bookworms.
This book cafe is housed at the Singapore Art Museum (SAM) @ Tanjong Pagar Distripark, one of SAM's three locations. What makes Epigram Coffee Bookshop is its selection of books — the titles here feature Singapore and Southeast Asian stories written by Singaporean authors. Feel free to indulge in books written by your fellow citizens while enjoying a good coffee made by Balestier Market Collective. If you want to go for a walk and admire pieces of art, SAM @ TPD is conveniently connected to Epigram Coffee Bookshop.
Address: 39 Keppel Road, Tanjong Pagar Distripark #01-02
Operating Hours: Monday to Sunday, 11:00 am to 7:00 pm.
Parking: Singapore Art Museum @ Tanjong Pagar Distripark Carpark. Monday to Friday, $1.50 per hour from 7:00 am to 4:59 pm, $2.20 per entry from 5:00 pm to 06:59 pm. Saturdays, $1.50 per hour from 07:00 am to 12:59 PM, $2.20 per entry from 1:00 pm to 6:59 pm. Sundays and Public Holidays, $2.20 per entry.
Hangar66 Cafe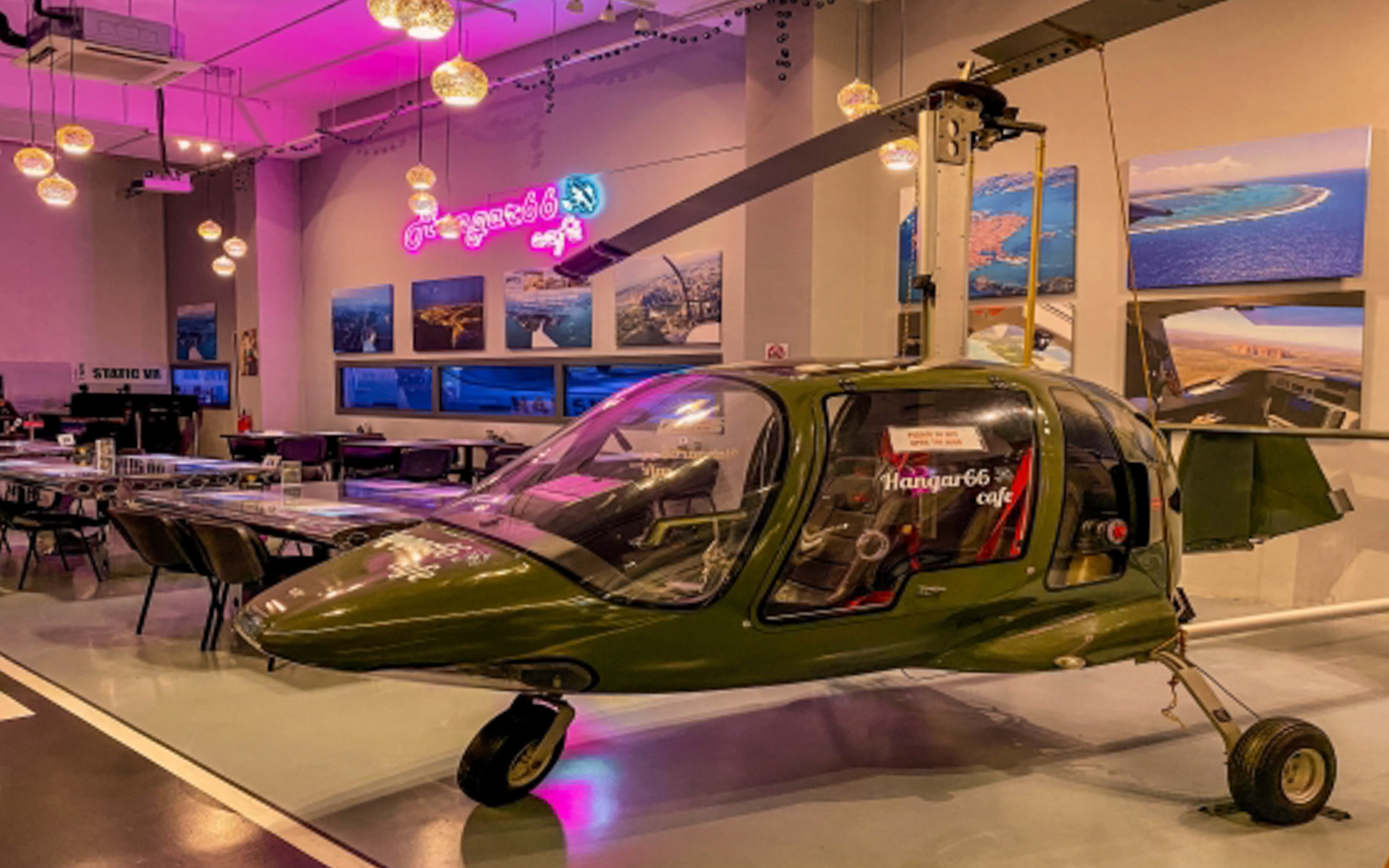 (Photo Credit: Hangar66 Cafe)
If you're a fan of all things aviation, you would love this cafe located within a real and functioning private aircraft hangar.
Hangar66 Cafe is an aviation-themed cafe at Seletar Airport, built into a hangar that stores private aircraft. It has a museum-esque feel, with aviation gear displays and an auto-gyrocopter on the cafe floor. The food is of the Western variety, and you can pay to upgrade to dine in the WingsOverAsia (WOA) Aviators' Lounge for a panoramic view of Seletar Airport. If you're serious about aviation, you can attend flight courses at WOA's flight training facilities, including a flight simulator.
Address: 66 Seletar Aerospace View, WOA Aviation Hangar66
Operating Hours: Monday to Saturday, 9:00 am to 6:00 pm.
Parking: Free parking within Hangar66's compound. Limited parking available.
Joya Onsen Cafe
(Photo Credit: Klook)
As it turns out, you don't have to fly all the way to Japan to experience an Onsen! This Japanese cafe features a hot spring, or Onsen, for you to relax your body and mind.
Joya Onsen Cafe is located in Jurong, within the d'Arena apartment complex. Their Tatami Cafe is the perfect place to grab a bite, where you'll sit on tatami mats on the floor to eat — Japanese style. Japanese cuisine is available, with items such as mochi and Hokkaido milk. The highlight of this cafe is its Tea Onsen, with private and public ones available. There's also an ice bath and dry sauna for you to treat your body to a full refresh. Want to take some pictures of their beautiful interior design? Yukatas and Jinbeis are rentable as well!
Address: 511 Upper Jurong Road
Operating Hours: Daily, 10:30 am to 10:30 pm. Tatami Cafe open from 12:00 pm onwards.
Parking: d'Arena Carpark. $0.02 per minute.
Cafe Monochrome
(Photo Credit: Cafe Monochrome)
Talking away? Don't know what to say? Head over to Cafe Monochrome for a 2D dining experience — maybe in a day or two.
Cafe Monochorme, as the name suggests, is a unique cafe designed entirely in monochrome. Resembling a sketchbook, the cafe's designs are hand drawn and allow you to immerse yourself in a 2D world. The food is on the pricier side, but considering the uniqueness of the dining experience, it's well worth a visit. A great thing about Cafe Monochrome is that you can take some extremely trippy photos that will confuse your followers. Get the angle just right and you'll look like you are right out of a particular music video from the 80s.
Address: 216 Syed Alwi Road
Operating Hours: Tuesday to Thursday and Sunday, 10:00 am to 9:00 pm. Friday and Saturday, 10:00 am to 10:00 pm.
Parking: Roadside parking along Syed Alwi Road. Street parking rates apply.
Combined Itinerary
If you've always wanted to go cafe hopping, you're in luck as we have plotted out the locations of where these cafes are located, so do give them a visit and let us know what you think of our picks!
Download the Motorist App
The easiest and smartest way to manage your vehicle in Singapore.
Download Now
Read More: Five Places to Check Out Near the National Stadium! - mGuides
---
Download the Motorist App now. Designed by drivers for drivers, this all-in-one app lets you receive the latest traffic updates, gives you access to live traffic cameras, and helps you manage LTA and vehicle matters.
Did you know we have a Motorist Telegram Channel? Created exclusively for drivers and car owners in Singapore, you can get instant info about our latest promotions, articles, tips & hacks, or simply chat with the Motorist Team and fellow drivers.