mReview: Jeep Wrangler Sahara 2.0 - America's Flawed Foreign Policy
America, the land of reality TV shows and gun rights.
Whether you love it or not, there's simply no debate about the overwhelming influence the Western superpower has had on many other nations since 1776. From the promotion of democracy and capitalism, to the exporting of popular culture, the USA has been instrumental in shaping just about every facet of society – for better or for worse.
Similarly within the automotive industry, the American car industry has left an indelible impression on enthusiasts and car owners the world over, with effects still being felt today. One prime example is this: the Jeep Wrangler.
While the brand has since moved towards making recreational off-roaders for the mass market after the Second World War, the Wrangler's historical ties remain strong and is still immediately recognisable to most people, whether they're from Tampines or Timbuktu.
It Needs No Introduction
No matter where you go, the Wrangler Sahara sticks out like a sore thumb. It still rocks the old-school Jeep design language that made it synonymous with the Allied forces in the 1940s, right down to its boxy, high-riding profile. It's even got a classic radio antenna on its front-right-side fender, which we've not seen since the turn of the century.
A product of World War II, the original Jeep was frequently seen on the frontlines of battle and was often outfitted with various upgrades thanks to its highly modular shell, ranging from amphibious landing-specific components to having rocket artillery capabilities.
While you can't exactly mount firearms on the modern Wrangler today without getting into trouble with our boys in blue, you can still remove various body panels for off-roading activities, with just a few screwdrivers amongst other simple tools.
The doors, roof panels, and even the rear canopy can be taken off, revealing the Wrangler's robust underpinnings. Also referencing its military ancestry are the vertical grille slats up front with the round headlights. This being 2023, however, the lights are now all-LED. Tyres wrapping around the 18-inch alloys are from Bridgestone, of the Dueler H/T variety. 
Being the four-door variant of the iconic SUV, it's lengthy at 4.9 metres end-to-end, with a wheelbase that edges out at just over 3.0 metres. It's also approximately 1.84 metres in height, and 1.9 metres in width.
What all of this means is that if you plan on parking the Wrangler in a multi-storey carpark, you should find out the dimensions restrictions, lest you scrape the ceiling or find yourself eating into the parking lot next to you.
It's a fairly straightforward machine, this Wrangler. You will not find unnecessary frills adorning the exterior shell, but just sturdy ABS plastic panels being utilised on parts that'll wear out more easily over time.
The Jay Leno chin-like front bumper is one such example, which is strong enough for you to sit on, although we recommend against doing it. Another would be the door handles, which open with a reassuring "clunk", much like the rugged SUVs of yesteryear.
The full-size spare is mounted prominently on the Wrangler's side-opening tailgate, which does impede the rear view somewhat. Thankfully, there's a rear-view camera located just below the "Jeep" badge that comes in handy whenever you need to back out from a parking lot.
And like its headlights, the Wrangler benefits from a set of LED tail lights that look distinct at night.
Cool Vibes Inside
Some effort has been done by Jeep to spruce up the Wrangler's cabin and justify its S$343,888 pricetag (accurate at the time of publication), which should be commended. Its tan/grey leather upholstery looks and feels plush, complete with embroidered "Jeep" stitching on the backrests of both front seats.
The rest of the interior is a mix of sturdy grey plastic or gloss ones that are painted in the body colour, and there are also hand grips on the A-pillars to aid with ingress.
Most of the controls and switches are centralised on the console, and are chunky enough for easy use even if you're wearing gloves for some reason in Singapore.
With that said, some of the buttons do feel quite cheap and could be done better. The knobs controlling the AC and radio are too light and plasticky. But perhaps their biggest flaw is that they're too shallow and close to the rest of the panel, leaving not much real estate for your fingers to rest on when operating the dials.
Speaking of AC, the system does a great job in cooling the cabin down quickly, although there was considerable amounts of condensation that built up on the front blowers within a short amount of time.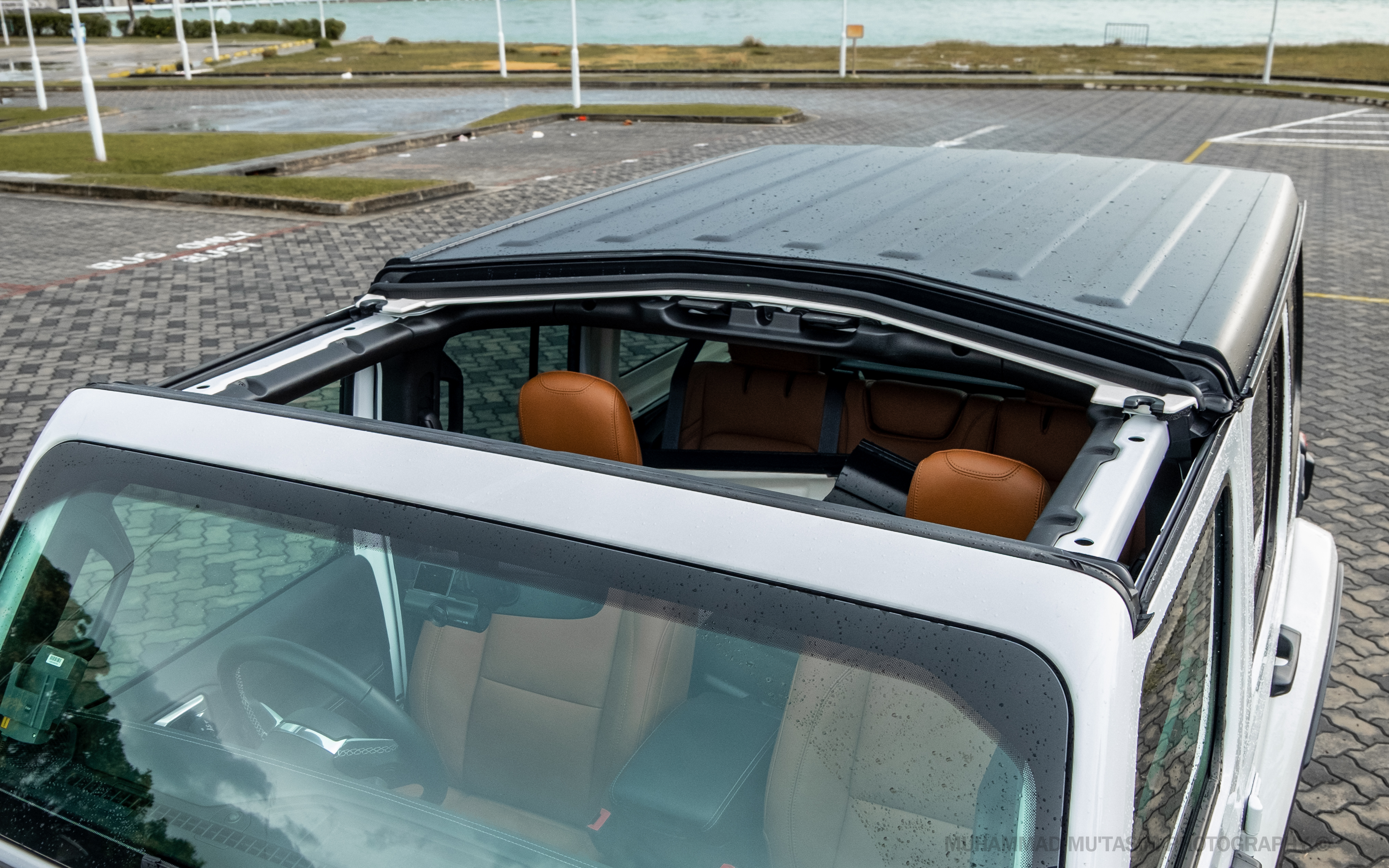 Visibility from inside is decent, with the exception of the partially-blocked rear window. With the roof up, it's even silent inside as you barrel down the motorway, although the rubber gaskets that seal up the roof were not watertight enough to prevent some rainwater from seeping into the cabin.
Thankfully, the cabin is waterproof by design, and can comfortably withstand external elements like rain and mud. Cleaning dirt off is also a breezy affair, thanks to weather-resistant removable carpets and one-way floor drain valves.
The Wrangler's instrument cluster is a mix of analogue and digital displays, which we appreciate. Flanked by the speedometer and tachometer is a 7.0-inch TFT screen that is both crisp and useful, providing useful data that range from the usual fuel and oil temp information, to pitch & roll and compass readings.
One issue we did have with the Wrangler is the polished metal-finish sections of the steering wheel, which may reflect harsh sunlight directly to the driver's eyes on an especially sunny day.
Rear passengers will find the rear seats rather comfortable, even on long journeys. There's more than adequate amounts of legroom and headroom for all three passengers, even with the floor hump. 
And the Wrangler's definitely not lacking in the convenience department, either. Those seated at the back have access to not just AC blowers, but two USB Type-A and two USB Type-C charging ports, plus a 230V AC power socket to charge larger devices.
Should you choose to drive with the top down, it can be done by simply undoing four latches on each roof panel (there's one covering each front occupant), and they can be stored in the boot area without much fuss. The rear canopy, while removable, is far bulkier and will have to be kept at home.
Up back, the Jeep offers an extremely spacious boot area, with 897 litres to play with. Fold the rear seats down and you get up to 2,050 litres of cargo space.
But that's not all. Flip the carpet up and you're greeted with an additional cubby hole with a drainage system, making it the perfect place to put some drinks and ice cubes after a long day of adventuring off the beaten path. There's even a unique plaque on the inner side of the tailgate, detailing the dimensions of the Wrangler, its water-wading capabilities, among other informational trivia.
Other thoughtful additions found in the boot area include mounting brackets and also a built-in tray specially designed to store the various roof bolts safely and securely.
The Wrangler's main party piece, of course, is the split tailgate. Its side-opening lid opens independently from the glass screen, which swings upwards. It gets full marks in our book, mainly because of how convenient it is to store items in the boot or retrieving them without having to open the entire lid.
No V8? No Problem
For an SUV as large as this, the Wrangler Sahara sports a surprisingly small engine. Powering all 2,013 kilograms of steel, glass, and plastic is a 2.0-litre Hurricane turbocharged inline-four motor, with a final output of 268 bhp and 400 Nm of torque.
We admit that after glancing at the brochure prior to driving the Jeep, we were not confident of the Hurricane engine's power delivery. Surely a dainty four-pot engine will be asthmatic when mounted to this behemoth. How wrong we were.
With the pedal firmly to the metal, the Wrangler Sahara bolts off the line with urgency. The torque delivery is so potent that in 2WD mode, the rear wheels quickly found themselves spinning and screeching even when the Jeep was still static during our testing.
Slip the Wrangler to all-wheel drive, and it puts down the power onto the tarmac with much less drama as the eight-speed automatic shifts through the gears smoothly. At full chat, it tops out at 199 km/h with a century sprint timing of 7.3 seconds.
The Jeep is not a performance car by any means, and its steering is best described as being floaty, even when travelling within our city-state's pitifully low speed limits. As such, the only way to enjoy driving the Wrangler on tarmac is by driving it sensibly and in a relaxed manner.
All of that changes once it's in its home territory: the rugged outdoors. The Wrangler is no slouch even as mud bogs threaten to get it stuck, with the Hurricane engine delivering healthy gobs of power linearly at an instant, and heavy duty suspension with gas shocks to absorb harsh surfaces.
The transfer case lever clinks into your desired position assuringly, and with gentle throttle input, it's all systems go. At no point in time were we even remotely worried about the Wrangler being unable to pull itself out of sticky situations, be it in deep mud or driving through areas experiencing "ponding". 
And with plenty of hand grips found around the cabin, all occupants can hang on tight quite literally as the Jeep tackles the bumpy terrain.
The Wrangler's responsive 8.4-inch UConnect infotainment system lends a helping hand with its Off Road Pages app, which provides all the detailed information that you may require whenever you're driving along a trail. 
Apart from pitch & roll data, you even get digital gauge readings for the various fluids that run the car, and also accurate coordinates or where you are currently at.
It's not all good, however. The Wrangler Sahara suffers from truly disappointing fuel economy figures. Official numbers put it on the better half of 11.6 km/l, but we recorded closer to 8 km/l despite mostly frugal driving. And with a 81.4-litre fuel tank, we dreaded looking at the final cost after pumping petrol into the SUV.
It's clear that the Wrangler, despite its practical nature, should not be used as a daily driver in the Singapore context, but as an occasional weekend getaway vehicle no thanks to its sheer thirst.
Freedom Comes at a Cost
In many respects, the Wrangler Sahara is much like US foreign policy. On the surface level, it's attractive, with lots of modularity and charming classic looks that will thrill even non-car enthusiasts. Its no-BS driving nature is much like the Suzuki Jimny that we recently drove too, providing the driver and occupants with an honest and fulfilling off-road experience without much fluff.
Dig deeper, however, and you'll find many small flaws and quirks that may adversely affect the overall experience. Its thirsty engine and inability to drive confidently at expressway speeds are enough to sway pragmatic buyers away from it, and its mammoth dimensions make it hard to navigate through our carparks. And at S$343,888, it's simply too steep a price for many.
But if you can look past the Wrangler's shortcomings and enjoy it for what it is, you'll find that it's actually quite a loveable and capable American that can bring a smile to your face and joy to your loved ones.
Jeep Wrangler Sahara 2.0 Specifications
Price: $343,888
 VES Band: C2

Motor:
Turbocharged Inline-Four

Capacity:
2.0 litre

Power:
268 bhp, 400 Nm


Transmission:
8-Speed Automatic

Driven Wheels:
All-Wheel Drive (selectable)

Consumption:
11.6 km/L

0-100km/h:
7.3 s

Top Speed:
199 km/h

Fuel Tank Capacity:
81.4 L


Dimensions:

4,882 mm x 1,894 mm x 1,838 mm

Cargo Capacity:
897 - 2,050 L
Photo Credits: Muhammad Mu'tasim (@mutasimdrives)
Download the Motorist App
The easiest and smartest way to manage your vehicle in Singapore.
Download Now
Read More: mReview: 2023 Jeep Grand Cherokee - A Polished All-Terrain Beast
---
Download the Motorist App now. Designed by drivers for drivers, this all-in-one app lets you receive the latest traffic updates, gives you access to live traffic cameras, and helps you manage LTA and vehicle matters.
Did you know we have a Motorist Telegram Channel? Created exclusively for drivers and car owners in Singapore, you can get instant info about our latest promotions, articles, tips & hacks, or simply chat with the Motorist Team and fellow drivers.