The non-Type R variant of the 2005-2012 Honda Civic is still a powerful sedan with comfort for the whole family nearly two decades after release.
In 2005, the eighth-generation Honda Civic was announced as the successor to the seventh-generation model that would be familiar to anyone who has used the Practical Training Handbook while getting their driver's license. Even though it has been 18 years since its release, the eighth-generation Honda Civic remains a popular car among drivers who desire a car that is sporty and practical. 
A quick side note, this Honda Civic FD is currently for sale at Munich Alpina, so do approach them if you are interested!
What is this?
Best known by its 'FD' moniker, it came with four engine variants - a 1.3L Hybrid, 1.6L, 1.8L and 2.0L. Singapore was one of only two countries that received the 1.6L variant, presumably because it fell under the cheaper Category A COE. This particular unit is a black 2.0L variant with an automatic transmission. 
Interestingly, if you look up an eighth-generation Honda Civic anywhere outside of the Asia-Pacific, Africa, Europe, and Russia, you will find that the car looks very different from the one that populates Singapore streets. This is due to the previously mentioned regions having received the Canadian Acura CSX variant of the Honda Civic, which has a different styling. For fans of JDM cars, the Acura CSX variant is thankfully the one used in Japan.
Is it any good (on the wallet)?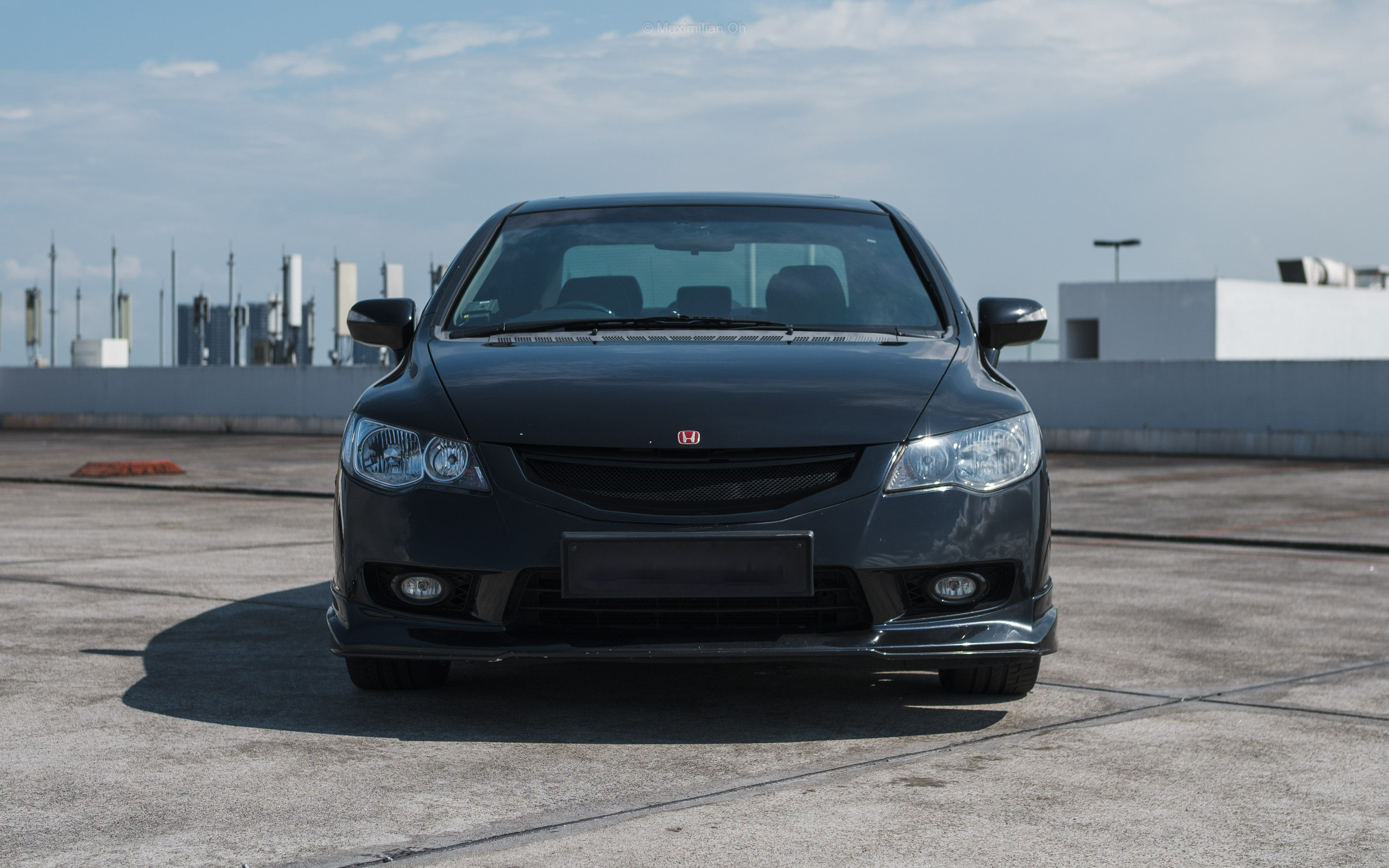 Honda cars are known for being reliable, and for good reason. Owners of the FD cite having faced few issues with their car, only having to replace the usual wear-and-tear parts with regular maintenance and servicing.
Parts that tend to be worn and require replacement after years of use are the engine mounts, wheel bearings, air conditioning, and power windows. Before you buy one, you should get these parts checked at a reputable workshop to be sure that you won't be met with a hefty repair bill once you leave the dealership.
Once you purchase your very own FD, it is recommended to have regular oil changes every 10,000 km on fully synthetic 0W-20 oil. If you are using regular oil, you should change it every 5,000 km. The transmission fluid for both manual and automatic models should be changed every 50,000 km.
As for fluids, the power steering fluid should be changed when the colour changes to brown or black, or when turning the steering wheel becomes more difficult than usual. The brake fluid should be changed every 2 or 3 years, or when the pedal feels spongy.
For running costs, annual road tax for the 1.6L variant will go for $819 for a 2012 unit and $1,116 for a 2009 unit. Higher engine capacity variants will cost you more. Fuel consumption leaves more to be desired, with users of the 1.8L variant reporting roughly 11km/L. Be sure to use at least 95 RON fuel, as that's the recommended grade by Civic owners.
In the used market, an FD will set you back anywhere between $25,000 and $90,000, depending on the engine variant, mileage, and remaining COE validity. If you are interested in buying one, check out the FDs in our Used Car listings.
Is it comfortable inside?
The stock steering wheel is the same as the ones on the Honda Stream and Jazz GE, being of a relatively simple design, but still comfortable to hold on to for long periods of time. The owner of this unit changed theirs to a thicker carbon fibre one, something you can definitely consider. They've also swapped out the plastic gear knob for a metallic one.
A then-new design initiative sees the digital speedometer and analog gauge cluster split into two levels, which gives it a spaceship-esque feel, but can be difficult to view if your seating and steering positions are not set correctly. As for seat comfort, the driver and front passenger's seats are comfortable with plenty of legroom. You'll also find that the air conditioning vents are angled well, cooling down those in the front cabin efficiently.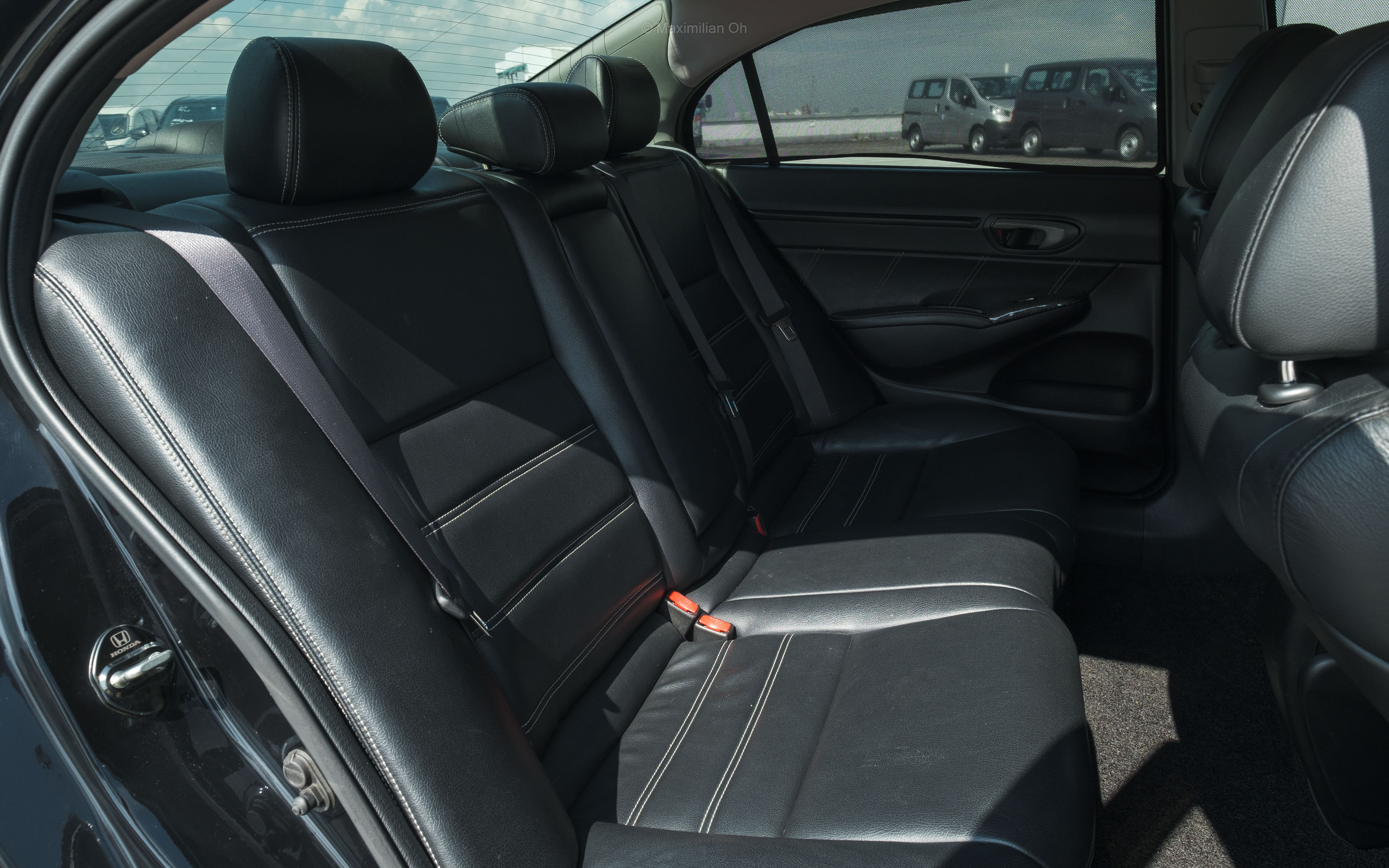 Moving into the rear, there is plenty of space for three adults, and headroom is decent enough for taller folks. If you are only seating two passengers in the rear, the middle seat has an armrest within it, which can fold down to hold two cups.
Unfortunately, there isn't any air conditioning in the rear, which means that the aircon vents in the front will have to be positioned strategically for the rear passengers to stay cool in the heat. Otherwise, the rear seats are comfortable and the legroom is decent. One thing to note is that the rear doors are relatively small, so getting in and out of the rear may be difficult.
Can it carry a lot of cargo?
The Civic's 485 litres of boot space can store all your bags and groceries without much trouble. Tucked away under the boot floor are a spare tyre and tyre-changing tools, leaving plenty of boot space above. If you need it, there's a spare tyre and a tyre changing kit stored underneath the boot floor.
Alternatives
(Photo Credit: Kia)
The first-generation Kia Forte is a good choice for those looking to get a Korean car instead of a Japanese one. Unlike the FD, the Forte comes in both sedan and coupe forms. You will find plenty of them on the road, and it is a popular choice among young drivers as well.
(Photo Credit: BMW)
If you have more money to spare and want a continental car, then the first-generation BMW 1 Series is a good choice. It comes in both coupe and five-door hatchback variants, and is the standard version of the BMW 1M.
Verdict
Despite being close to two decades old, the eighth-generation Honda Civic is still a powerful sedan with comfort for the whole family. It is a favourite first car for many young drivers and remains a reliable daily driver for older ones. 
While the Honda Civic FD generation is popular for its Type-R cousin, the FD2R, the 'standard' versions are no cars to sleep on. With a timeless design, immense practicality and dependable reliability, they are a decent choice for any driver looking in the used car market.
Motorist would like to extend our thanks to Munich Alpina for loaning us the Honda Civic FD for this article.
Photo Credits: Maximilian Oh (@mexsimilien)
Download the Motorist App
The easiest and smartest way to manage your vehicle in Singapore.
Download Now
Read More: Motorist Car Buyer's Guide: Mitsubishi Evolution X GSR
---
Download the Motorist App now. Designed by drivers for drivers, this all-in-one app lets you receive the latest traffic updates, gives you access to live traffic cameras, and helps you manage LTA and vehicle matters.
Did you know we have a Motorist Telegram Channel? Created exclusively for drivers and car owners in Singapore, you can get instant info about our latest promotions, articles, tips & hacks, or simply chat with the Motorist Team and fellow drivers.