For the most part, Chinese cars have already shaken off their reputation for being low-cost, poorly-built knockoffs of other, foreign vehicles. And MG intends to take this ethos to another level.
See, instead of just settling for providing decent value and acceptable build quality, the SAIC chaps have decided that they'd like to build a sporty-feeling electric vehicle. In view of the world's governments' vision of an all-electric future, it'd also have to be built on a dedicated, ground-up electric platform.
Crucially, it'd still also have to offer excellent bang-for-your-buck. And judging from the experience the end product offers, it appears that the MG 4 EV has knocked it out of the park.
The Exterior Design
It's certainly not a bad looking car. There are definitely hints borrowed from other automakers, with bits of Mercedes and the Corvette in the front end and a profile that draws inspiration from the electric Volkswagens. You'd also get hints of Toyota in the styling round the back.
All the visual elements are harmonious, so it definitely looks like a cohesive design. It certainly is a departure from the 'safe' design language they've embarked on with the previous SAIC-MG offerings. I also believe that this is one of those cars that look significantly better in the metal than in the photos.
The short overhangs also make the car look a lot smaller, and sportier, than it really is. The white is also a very fitting colour for this vehicle, as it best shows off the sculpted lines of the bodywork.
The Cabin Experience
Minimalism is the name of the game here. The car is severely lacking in the switchgear department, with most car controls now living on shortcut menus on the infotainment screen. But at no point in the press drive did I ever find that I needed physical buttons.
That's because you have two D-pads on the steering wheel. You can also set two shortcut buttons on the wheel itself to do whatever you want it to do. In our tester, one of the shortcut keys was programmed to provide rapid access to the climate control system.
In general then, the UI/UX systems have been done very well, offering seamless control over all the drive-critical functions that you'd need on the move. Space all round is good too, though I'd appreciate a smidge more thigh support, considering to the higher floor level.
You'd find hard plastics scattered throughout the cabin, though all of your touchpoints would have been trimmed squidgy materials. So no elbow discomfort, even on longer drives.
And Speaking of Driving…
It doesn't handle like an SAIC-MG product. Which is a good thing. Where prior products have been designed to be efficient family haulers, there's definitely a sense of fun built into the bones of the MG 4 EV.
Its rear-drive configuration definitely helps in creating this sense. Steering resolution isn't sullied by an unruly front wheel scrambling for traction, making the front end feel more precise. Logically, that adds to a sensation of increased agility. It is also properly manoeuvrable in tight spaces.
With a battery pack that resides in the belly of the car, the centre of gravity has been kept low. To cope with the mass, you'd also find stiff suspension. Both traits happen to also improve its handling prowess, assisting its rubber to find purchase regardless of the road conditions.
It may only have 201 bhp, but solid grip and a reliable traction control system means it'd feel more frenzied and rapid than its spec sheet suggests. There's also a sense of fun with the vehicle, as you can definitely have some tail out moments when you absolutely nail the throttle. Well, allegedly anyways.
Is This an EV 4 Everyone?
On a full charge, it'd do 420 kilometres…when driven in an unsensible fashion. So there's no doubt that in the hands of someone more socially responsible, the car would do 450 kilometres. In the footprint of a small hatchback and with excellent in-town manners, this would be the ideal vehicle for your daily commutes.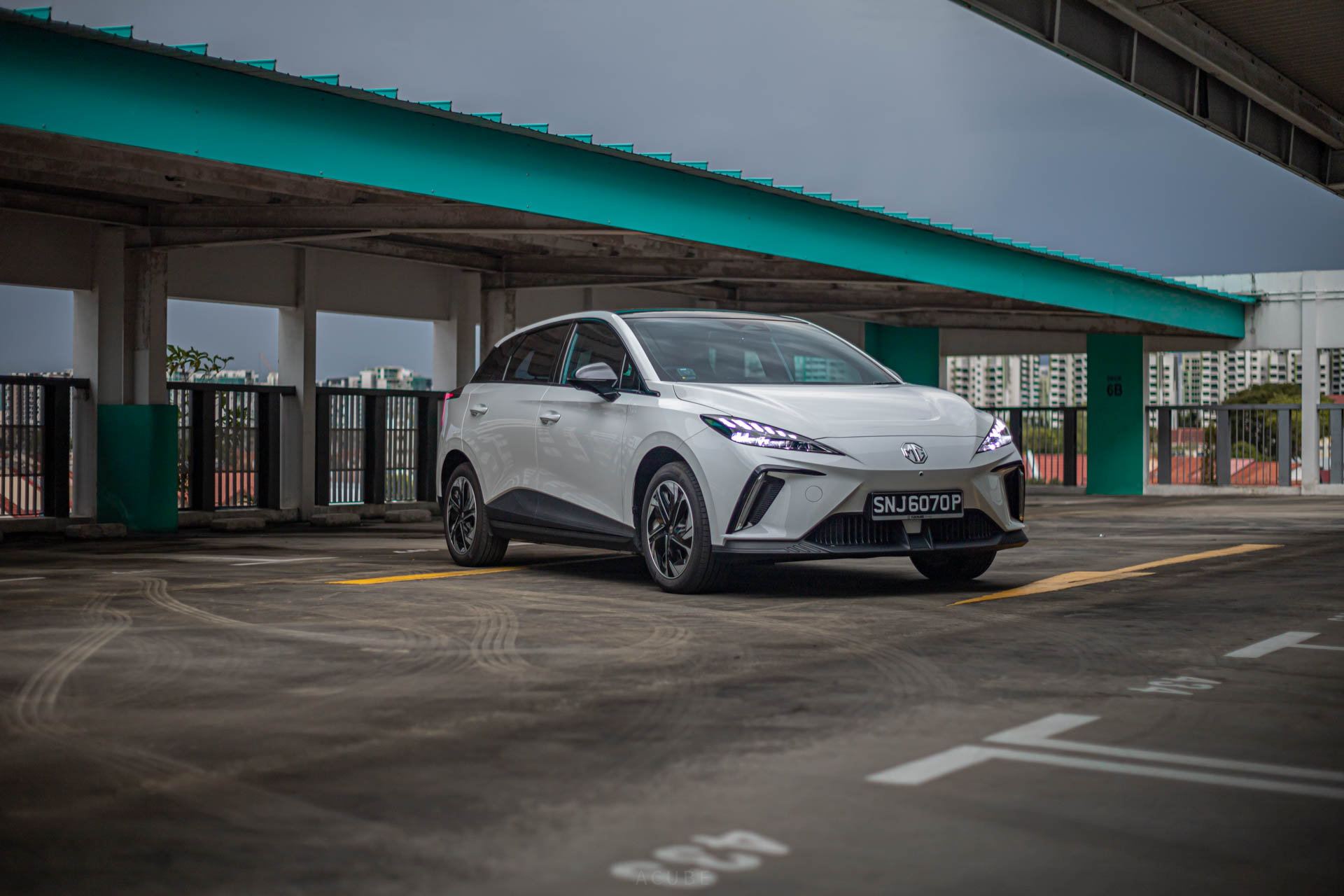 But there's so much more to the MG 4 EV experience. It is properly spacious inside, drives really well and can be a riot to wheel should you decide to test the limits of your driving ability. The Audi e-tron GT and Porsche Taycan aside, this is perhaps one of the most fun-to-drive electric cars on sale in Singapore today. Especially when you take its price into account!
MG 4 EV Trophy Specifications
Price: $82,888 (w/o COE)
 VES Band: A1

Motor:
Permanently Excited Synchronous Motor

Capacity:
N/A

Power:
201 bhp, 250 Nm


Transmission:
Single-Speed

Driven Wheels:
Rear


Consumption:
6.25 km/kWh

0-100km/h:
7.9 s

Top Speed:
160 km/h 

Battery Capacity:
64 kWh


Dimensions:

4,287 mm x 1,836 mm x 1,504 mm

Cargo Capacity:
398 litres
Photo Credits: ACube Creative (@weareacube)
Download the Motorist App
The easiest and smartest way to manage your vehicle in Singapore.
Download Now
Read More: mReview: 2022 Kia EV6 GT-Line - Redefining Convention
---
Download the Motorist App now. Designed by drivers for drivers, this all-in-one app lets you receive the latest traffic updates, gives you access to live traffic cameras, and helps you manage LTA and vehicle matters.
Did you know we have a Motorist Telegram Channel? Created exclusively for drivers and car owners in Singapore, you can get instant info about our latest promotions, articles, tips & hacks, or simply chat with the Motorist Team and fellow drivers.