Porsche's sensational road-legal track weapon, the latest 992-generation 911 GT3 RS, is now here in our region, and we were there to witness its launch!
Arriving just in time for the 2023 Porsche World Road Show Indonesia, the latest GT3 RS was unveiled to much fanfare at the Sentul International Circuit. It had been flown specially from Stuttgart with its native Deutsch plates on, and is officially the first one to arrive in the entire region.
Every millimeter of the 525 hp GT3 RS screams "track-ready", and that's no hyperbole. Take a look at the aggressive front-end, for example.
Large intakes, vents and fins are there to help the Porsche slice through wind with ease, while its carbon fiber bonnet serves to shed any excess weight that may negatively affect the GT3 RS's track timings. Tucked under it is a centrally-mounted radiator derived from the race-going 911 RSR, as opposed to three on more pedestrian 911 models. 
Even the Porsche crest has undergone a strict weight-loss regimen, now appearing in the form of a sticker.
The front and rear fenders have also been carved inwards, with larger-than-life side blades and louvers fitted to them for even more efficient airflow. According to Porsche, the result is about 859 kilograms of downforce firmly planting the car down on to the tarmac.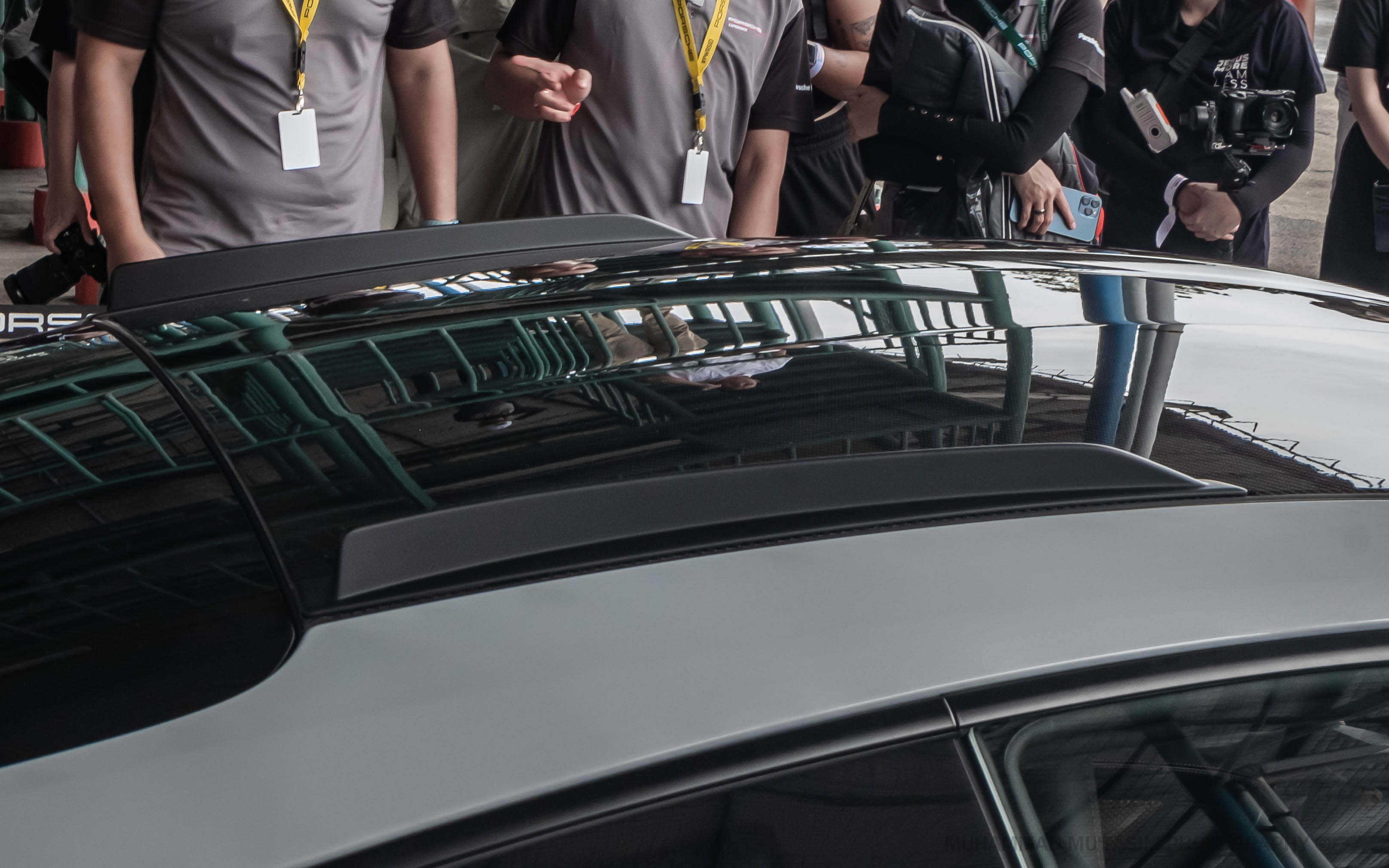 It's even got twin fins positioned on either side of the roof, designed to cool the 4.0-litre flat-six NA powerplant sitting at the back. How so? Porsche says that they prevent hotter air from gathering near the engine area, which may result in power loss. Instead, cooler airflow is now optimised and channeled to the Boxer engine.
But that's not all.
As you probably would have known already from our coverage back in August last year, the GT3 RS's wing is an engineering marvel in itself.
Nestled prominently above the engine bay, the wing sits higher than even the 911's roofline, supposedly a Porsche-first.
Not only can its drag reduction system (DRS) calibrate itself in three-tenths of a second, it's also infinitely adjustable, boasting a maximum tilt angle of 34 degrees. Its hydraulically-activated mechanism is intelligent enough to adjust itself based on driving conditions such as steering input, or be activated manually by the driver.
Inside, the lightweight party continues. The cabin is swathed in carbon fiber, with a full roll-cage setup to complete the experience. Like the GT3, the GT3 RS comes with a PDK transmission (now with shorter gear ratios) exclusively to ensure lightning-fast gear changes.
The press car we were allowed access into had the optional Weissach interior package installed, which means specially-embroidered headrests, leather and Race-Tex uphostery, as well as a contrasting black/Guards Red colour combination.
In a slightly amusing but in no-way-negative way, the cupholder located on the centre console reminds you that the GT3 RS is still technically a road car.
While we were unable to drive the GT3 RS just yet, we did get to see the Porsche in action around Sentul Circuit, while some fortunate members of the press were being given taxi laps in it. There was no denying of its century sprint of 3.2 seconds, or its 296 km/h top speed, as the GT3 RS completed a full lap far quicker than even its GT3 sibling.
However, we did get to try out over a dozen other Porsche cars –  including the latest 911 Turbo S and Taycan Turbo – with Porsche's guidance on the various test segments at the road show.
We are excited to see the GT3 RS eventually arrive on our shores, and will be there to cover it for you, so stay tuned!
Photo Credit: Muhammad Mu'tasim (@mutasimdrives)
Download the Motorist App
The easiest and smartest way to manage your vehicle in Singapore.
Download Now
Read More: Porsche World Road Show Returns to Indonesia, Allows Participants to Safely Sample Porsche Offerings on Track!
---
Download the Motorist App now. Designed by drivers for drivers, this all-in-one app lets you receive the latest traffic updates, gives you access to live traffic cameras, and helps you manage LTA and vehicle matters.
Did you know we have a Motorist Telegram Channel? Created exclusively for drivers and car owners in Singapore, you can get instant info about our latest promotions, articles, tips & hacks, or simply chat with the Motorist Team and fellow drivers.