mReview: DFSK EC31 - Cutting to the Chase
With each passing year, more and more carmakers are seen packing their commercial vehicles with all sorts of frills, in a bid to attract buyers who want a car-like experience while trundling around town going about their business.
That's great and all, but it presents a very real problem for the man on the street who simply wants an honest-to-God tool for their business needs. What good is a fancy instrument if it is way out of one's budget, and serves the exact same purpose as its more affordable counterparts?
Which is why Chinese automaker DFSK has recently stepped up to the plate with the EC31 electric light lorry. It is supposedly the company's cost-effective solution for business owners who just require a vehicle that is not only frugal in running costs, but also practical and fully capable of serving their commercial needs.
Value is the Name of the Game
From a visual perspective, the EC31 is not exactly in the running for Best-Looking Commercial Vehicle of 2023. It's a classic case of function over form, with visual elements components that are there for a purpose, and nothing more.
You get fairly generic-looking halogen headlights and foglights on the front fascia, as well as a grille – a curious addition since the EC31 is an EV through-and-through. Popping the bonnet open reveals a myriad of hoses and fluid reservoirs; no chance of storing your barang-barang up front if you were hoping for that.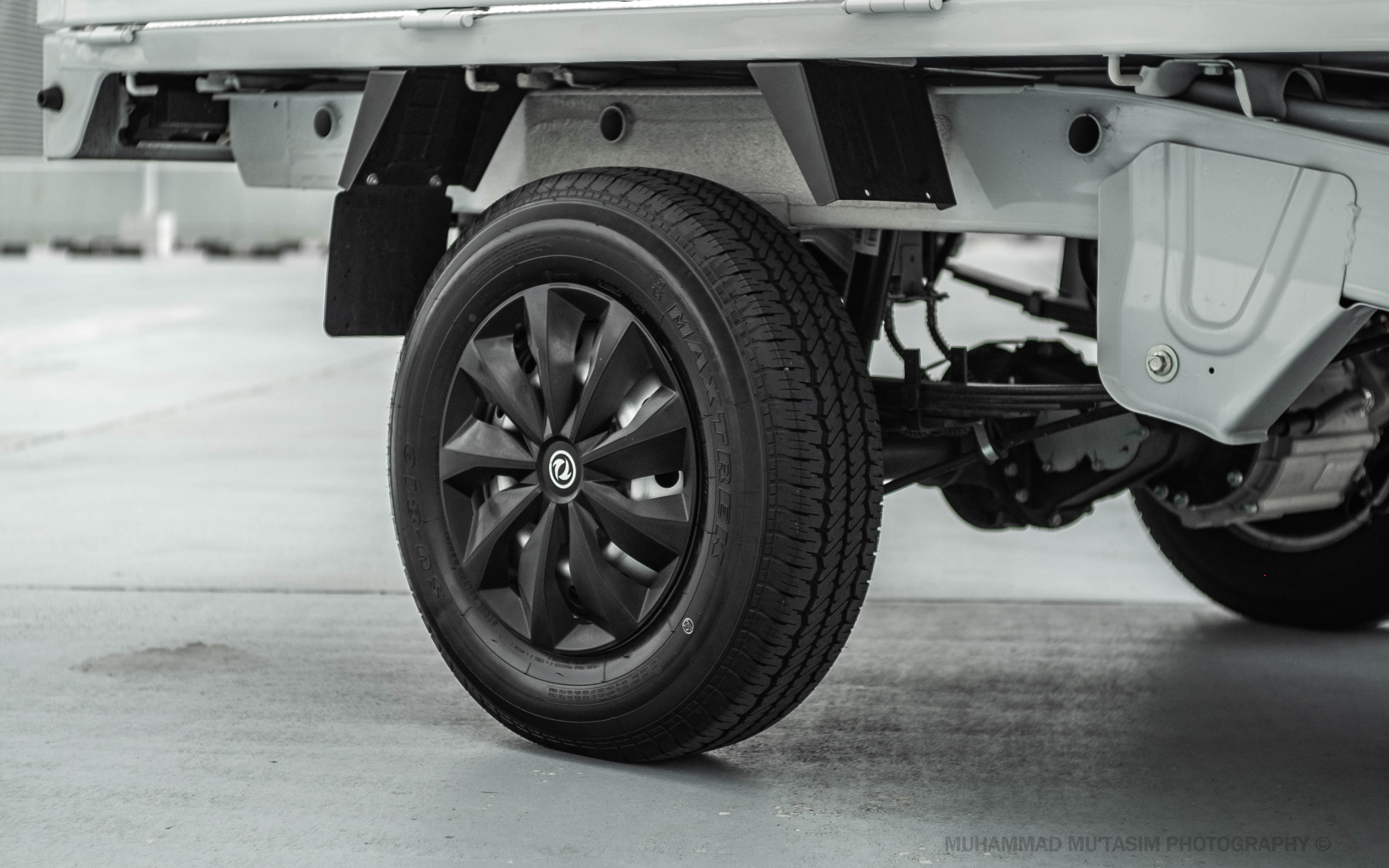 Large side mirrors mean that rear visibility is good when you're on the move. It also has sporty-looking hubcaps in black to mask the steel wheels, wrapped with Maxtrek SU-810 tyres from Guangdong, China.
Apart from that, the EC31's side profile is quite spartan, and you are able to see the various undercarriage components in their full glory. There's a flip-down panel on the right side that reveals the charging port, which supports 40 kW (DC) or 6.6 kW (AC). 
Again, nothing fancy or luxurious; this is a purely functional machine.
A pair of rectangular taillights and a rearview camera make up the rear, as well as a tailgate held securely to the rest of the bed via two levers. Unlocking them grants you access to the EC31's fairly generous 11 cubic meters of loading space.
Our press unit came with checkered plating for the bed and aluminium railings on the sides, although you can request for different finishings and options through distributor Hong Seh EVolution.
DFSK has quoted the EC31 as being able to carry a maximum payload of 1,280 kg, which should be sufficient for general house-moving duties or, say, transporting several washing machines all at once.
We did not get the opportunity to assess the abovementioned activities with the EC31 during our press drive, but seeing how robust the vehicle is, we'd believe the manufacturer's claims.
Straight to the Point Inside
Climbing into the EC31, it's made abundantly clear that this light lorry is built with frugality in mind. No soft-touch plastics or supple Nappa leather-wrapped upholstery here; you instead get plenty of sturdy plastic panels along with leather-wrapped upright seats wrapped in thin leather. DFSK have made a conscious effort to add contrasting white piping to the upholstery in order to liven up the cabin, and we applaud them for that.
Seat and steering wheel adjustments are minimal, so for more generously-proportioned individuals, this would be a tad tight. Otherwise, the cabin fits 2 full-size adults decently.
There's a dial gear selector screwed to the centre console, just ahead of the physical handbrake. It's not as fancy as those found in a Jaguar, but it gets the job done.
HVAC controls are located on the lower half of the dashboard, although the infotainment screen partially blocks the fan dial. A mild annoyance is what we'd call it, and certainly not a deal-breaker.
A fairly rudimentary glove box can be found on the passenger's side of the dashboard. Staying true to its cost-sensible nature, it features virtually no damper and will open completely at speed the moment you pull the latch.
The aforementioned infotainment screen is responsive and supports Android Auto, which means you still get some degree of modernity in the EC31. It connects to a JBL-branded sound system, but if we're being truly candid, the audio quality is far from desirable.
The air-conditioning is good, however. Cooling the cabin down to your desired temperature takes no time at all, and you will definitely appreciate it on a hot and stuffy day.
One major issue that this writer has with the EC31 is its rear window, which tends to fog up in cold weather. There's no demister function on the lorry, which means that rear visibility drops considerably whenever the windows get cloudy. The side mirrors, too, are not water-repellant and moisture will build up in the rain.
We hope that these glaring issues are addressed in future models, lest they become a safety hazard.
A to B in a Jiffy
Speed is not the EC31's forte, despite its electric underpinnings. The light lorry has a max power rating of 60 kW, or 80 horses. Torque is a reasonable 200 Nm, although you will not feel it even with the throttle firmly down.
Critical vehicle data is shown on the instrument binnacle, which is a combination of a traditional speedometer and a small screen to its left. To its credit, the EC31's instruments are legible even in dark environments, so you know exactly how much juice you have left and what speed you're currently travelling at.
The EC31 runs smoothly, which is good news since our roads are fairly well-maintained. Noise intrusion levels are admittedly not the best in the business, but you certainly will not be yelling just to talk to the passenger next to you. Around town, the EC31's cabin experience is fairly decent and civilised.
Steering feedback is passable, although you won't be getting precise handling that would rival the Germans. On the upside, there's decent amounts of visibility around you. Reversing is also fuss-free, thanks to the reverse camera. We would have preferred a higher resolution camera, but the one fitted to our EC31 gets the job done.
Supporting up to 40 kW via DC charging, you can expect fairly quick charging sprints with the EC31 – perfect if you're going from one end of Singapore to the other throughout the day.
It also supports 6.6 kW via AC power, which DFSK claims to take only 3.5 hours to charge from 20% to 80%. 
The EC31 is capable of covering 280 km on a single charge, and while that figure will not break records, it is more than sufficient for driving around our highly urban environments.
Conclusion
Is the EC31 the preferred business partner for your needs? If really depends on what you're looking for.
We'll say this, though. If your priority is solely on cost-effectiveness, and if you're willing to live with some of its quirks, the EC31 is one option that should be on your radar.
DFSK EC31 Electric Specifications
Price: $63,800 (w/o COE)
 CVES Band: A

Motor:
 Permanent Magnet
Synchronous Motor

Capacity:
N/A

Power:
80 bhp, 200 Nm


Transmission:
Single-Speed

Driven Wheels:
Rear

Consumption:
6.8 km/kWh

0-100km/h:
N/A

Top Speed:
80 km/h 

Battery Capacity:
38.7 kWh


Dimensions:

4,730 mm x 1,635 mm x 1,985 mm

Loading Space:
6.8 m3
Photo Credits: Muhammad Mu'tasim (@mutasimdrives) & ACube Creative (@weareacube)
Download the Motorist App
The easiest and smartest way to manage your vehicle in Singapore.
Download Now
Read More: The Government Wants to go Electric. But are Businesses Really Ready?
---
Download the Motorist App now. Designed by drivers for drivers, this all-in-one app lets you receive the latest traffic updates, gives you access to live traffic cameras, and helps you manage LTA and vehicle matters.
Did you know we have a Motorist Telegram Channel? Created exclusively for drivers and car owners in Singapore, you can get instant info about our latest promotions, articles, tips & hacks, or simply chat with the Motorist Team and fellow drivers.