Many of you are likely to be familiar with the Toyota Prius. You've probably even heard of the Honda Insight before. Now there's a new name that is here to stay: the Kia Niro.
Many were simply shocked when the first-generation Niro Hybrid was unveiled. Here was a proper contender bringing the fight to the Japanese hybrid heavyweights, with class-leading levels of equipment and performance at competitive prices. The South Koreans had finally done it; beating the Japanese at their own game.
And with this second generation, Kia intends to widen the gap even more. Just like its predecessor, the 2023 Niro Hybrid features a very "un-hybrid" design, with its mainstream yet contemporary crossover looks. LED lights and a sharper front-end give it a more aggressive personality, as does the funky two-tone paintwork.
We were especially surprised by its floating C-pillar design, which aids in aerodynamics and also gives the Niro the same design bragging rights as some truly exclusive supercars.
The Niro Hybrid walks the talk too, with an extremely practical and sensibly designed cabin space that makes it perfect for families. Not only are the seats supportive and comfortable to sit on, they are wide and made of eco-friendly materials, which is in line with Kia's objective when designing the hybrid car.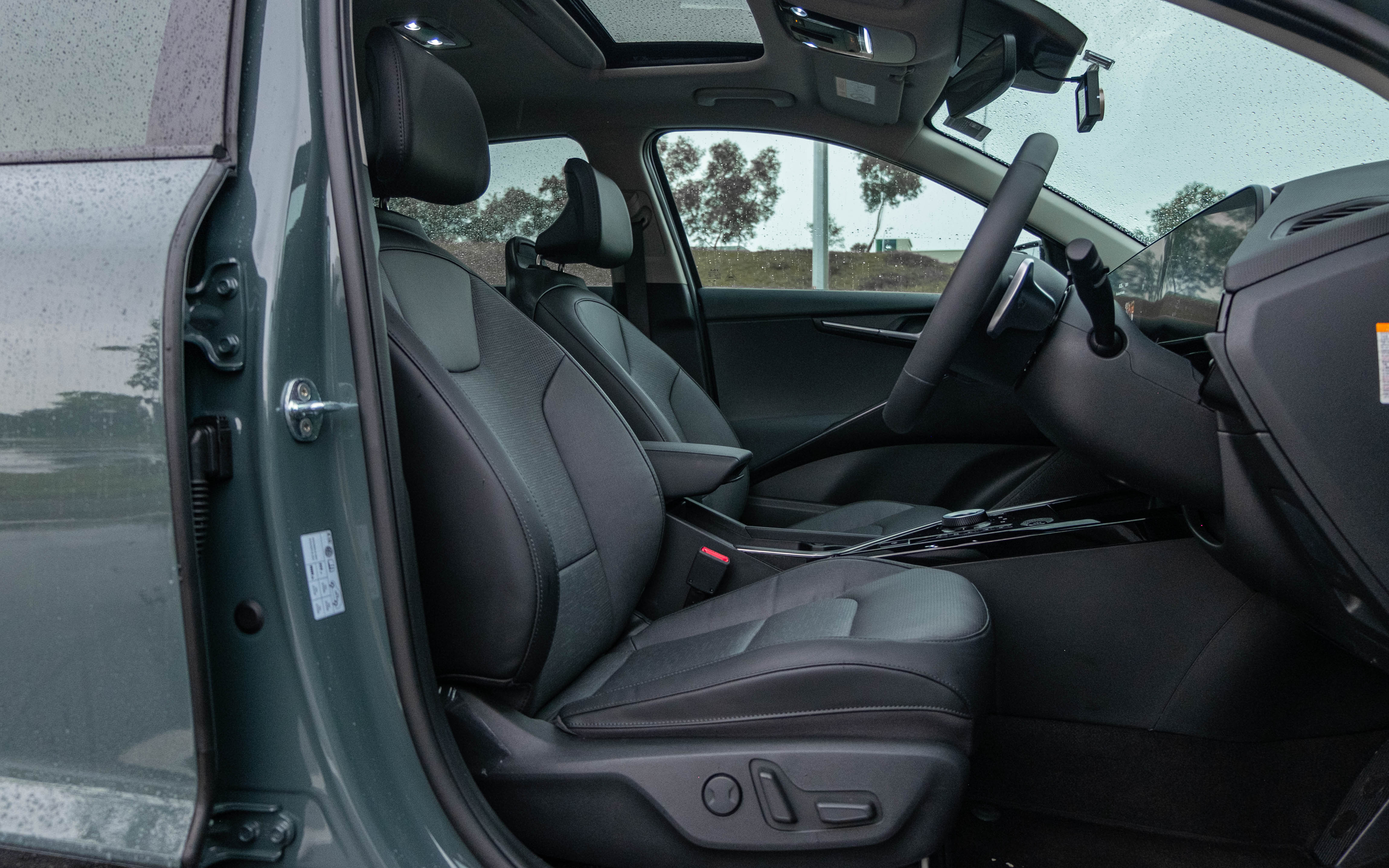 It's fully-loaded too, with intelligently-placed USB ports for the rear occupants, and a dual display set-up for the driver which provides all the critical car data without bordering on information overload. There was clearly much thought given behind both the tangible and intangible aspects of the Niro Hybrid, and we truly appreciate this level of detail.
For a city car, it's pretty zippy too, with 130 horses and 265 Nm of torque to play with. Its dual clutch transmission also provides the driver with rapid and responsive gear-shifting whenever the need arises, all while you sit in great comfort.
However, the Niro Hybrid's trump card is its efficiency, with an official figure of 25 km/l. In our full-length review, we clocked fairly close to it at 21 km/l, despite driving the crossover hard. With sensible driving, it's entire possible that you can outperform the official estimate.
A well-stocked spec list, class-leading economy figures and decent driving dynamics; all wrapped up in one very smartly designed package. The Niro Hybrid is proof that the South Korean carmaker is here to stay, and is more than capable of putting up a good fight against its more established rivals.
Kia Niro Hybrid 1.6 SX Specifications
Price: $178,999
 VES Band: A2

Motor:
Inline-4 with Electric Motor

Capacity:
1.6 litres

Power:
129 bhp, 144 Nm


Transmission:
DCT

Driven Wheels:
Front

Consumption:
25 km/l

0-100km/h:
10.4 s

Top Speed:
165 km/h 

Fuel Tank Capacity:
42 litres

Dimensions:

4,420 mm x 1,825 mm x 1,545 mm

Cargo Capacity:
451 litres
Photo Credits: Muhammad Mu'tasim (@mutasimdrives) 
Download the Motorist App
The easiest and smartest way to manage your vehicle in Singapore.
Download Now
Read More: mReview: Kia Niro Hybrid 1.6 SX - Prius Who?
---
Download the Motorist App now. Designed by drivers for drivers, this all-in-one app lets you receive the latest traffic updates, gives you access to live traffic cameras, and helps you manage LTA and vehicle matters.
Did you know we have a Motorist Telegram Channel? Created exclusively for drivers and car owners in Singapore, you can get instant info about our latest promotions, articles, tips & hacks, or simply chat with the Motorist Team and fellow drivers.