The school holidays are upon us, and if you don't want to pay the exorbitant prices for flights, why not take a drive north, and sample some food on the way up?
A drive up north is always welcome. Besides being able to stretch your car's legs a bit more, you can stop at various towns and cities along the way, enjoy the street food, or just soak in the slower pace of life that our neighbours have. While we understand almost everyone has their own must-eat-at places in Malaysia, these are our suggestions, and we hope it could give you something to do this school holidays if you don't want to fly!
Restoran Gim Cheng
(Photo Credits: Daniel Food Diary)
Before a long drive, you need to fuel up. Or perhaps you're just heading into Johor Bahru for breakfast. Whichever it may be, you can't go wrong with Restoran Gim Cheng. Just look at the decor of the restaurant, and how it seems frozen in a time from yesteryear. This is proper old school dim sum, and it only gets better.
Find a table, then head to one of three counters to order your food, the porridge and bao counter, the steamed food counter, and the fried food counter. For a restaurant that is seemingly nondescript, the selection of food on offer is generous, and even if you're a picky eater, there is bound to be something you will like. Granted, the staff only speak mandarin, and it can get pretty warm, especially if you're seated near the steamers, but trust us when we say that this is possibly some of the best dim sum you can get this close to the border.
Address: 2 Jalan Sagu 36, Taman Daya, 81100 Johor Bahru, Johor, Malaysia
Opening hours: Thursday to Tuesday, 7am to 1pm. Closed on Wednesday
Contact number: +60 16-712 1257
Jonker 88
After heading up from Johor Bahru, stop in Malacca for lunch. Yes, Jonker 88 might be popular with the non-locals, but taste their food and you will understand why. The restaurant is housed in a shophouse-like space that has a decor that looks like it hasn't changed from the 1940's or 1950's, and ventilation could be better. But the smells emitting from it are almost guaranteed to draw you in.
Best known for their chendol that is generously drizzled with very thick gula melaka and fresh coconut milk, this is the refreshing boost you need to get you going for the rest of the day. Don't forget about their Nyonya Assam Laksa too, which unlike the renditions we get in Singapore or even Johor Bahru, really packs a punch with generous amounts of assam, or tamarind, in the broth. Mix it altogether with the beancurd puffs, onions, tuna and chewy rice noodles, and drink it all in before ordering a second bowl to satisfy your cravings.
Address: 88 Jalan Hang Jebat, 75200 Melaka, Malaysia
Opening hours: Sunday to Thursday, 9.30am to 6pm, Friday and Saturday, 9.30am to 7.30pm
Contact number: +60 19-251 7667
Asam Pedas Claypot Restoran Kota Laksamana 
(Photo Credits: Ninja Housewife)
One thing to note about this restaurant is how popular it is with the locals. A quintessential dish of the Malay peninsula, Asam Pedas Claypot Restoran Kota Laksamana does a mean rendition on this classic, with the dish have a strong, sour punch from the assam (tamarind), followed by a spicy (pedas) kick. Spoon the thick gravy over your rice and enjoy it all as the sweat rolls down your forehead. 
A good variety of meats and seafood are available, so pick your preferred meat option and wait for it to be served to you, bubbling and steaming, in a claypot. The good thing about having the Asam Pedas served to you in a claypot is how it retains the heat and keeps the food warm for longer. Do note, however, that the staff here don't speak English, and the menu is entirely in Bahasa Malaysia, so communication could be an issue, but it'll be well worth it. 
Address: 86 Jalan Laksamana 5, Taman Kota Laksamana, 75200 Melaka, Malaysia
Address: Wednesday to Sunday, 6pm to 2am. Closed on Tuesday
Contact number: +60 12-680 0790
Nasi Lemak Cinta Sayang 
This is not a shop that most people would recommend, as this isn't known to the non-locals. Located a short drive from the City Karting go-kart track, Nasi Lemak Cinta Sayang is a small establishment that is big on flavour. And if you're wondering if the food is even good enough to be worth a detour to Shah Alam, yes it is. It's common knowledge while travelling to eat where the locals eat, and this is it.
Unlike the Nasi Lemak shops we have in Singapore, Nasi Lemak Cinta Sayang adopts a self-service concept. The food is all laid out in metal trays, like the how a Nasi Padang shop in Singapore would look like. Take your rice, and fill your plate with any offerings that catch your eye, then head to the cashier where they will calculate the cost of your food, and you only pay after you are done eating. For the amount of food that we had, plus drinks, the price was shockingly affordable, not to mention well worth the calories.
Address: 2 Jalan Renang 13/26, Seksyen 13, 40100 Shah Alam, Selangor, Malaysia
Opening hours: Monday to Sunday, 6.30am to 11.30pm
Contact number: +60 18-201 6860
Restoran Ruby 
(Photo Credits: TauFuLou)
Old school restaurants seem to be a common theme on this list, and Restoran Ruby is no different. The restaurant is decorated with a wide assortment of knick-knacks, ranging from newspaper clippings to fake plants to even a portrait of Mao Zedong, cobbled together with a 1970's vibe. They only serve traditional Chinese desserts, and they do it very well.
The desserts on offer are mostly ground nut pastes, together with some steamed egg custards too. The smooth consistency and rich flavours of their desserts is something that is virtually gone from Singapore, and we are confident this restaurant will be popular with the older generation. Eating their desserts is not only comforting, but we daresay takes you back to a simpler time when life was less hectic. Yes, it is that good. There are also a few stalls within the premises selling wanton noodles, should you desire something more substantial and savoury to go along with dessert.
Address: Jalan Landak, 32 Jalan Kancil, Pudu, 55100 Kuala Lumpur, Wilayah Persekutuan Kuala Lumpur, Malaysia
Opening hours: Monday to Sunday, 11am to 11pm
Contact number: +60 3-2141 3250
Satay Zainah Ismail 
The first time we headed here, our Grab driver actually asked us, "how did you guys even know about this place, I hardly ever see any foreigners or non-locals here". Well, some help from a local goes a long way, especially when pointing us in the right direction for Satay. Plus, this establishment is both an eatery and a home. Yes, the eatery is out front, while a door separates the business area from the family's living quarters. Not something you see everyday.
The best part of the Satay here is how the amount of meat on each skewer, which is easily double of what we typically see. And besides the usual beef, chicken and mutton, they also offer beef tripe satay, which we've never seen before. Marinated in the family's signature recipe before being grilled on an open fire, you'll savour every stick to the last morsel, and lap it all up with the smooth yet chunky peanut sauce.
Address: 1077 Lorong Kiri 20, Kampung Datuk Keramat, 54000 Kuala Lumpur, Wilayah Persekutuan Kuala Lumpur, Malaysia
Opening hours: Tuesday to Sunday, 5pm to 10pm. Closed on Monday
Contact number: +60 3-4256 9973
Maya @ Bangsar 
After finishing our meal, we all came to one conclusion: If you eat here everyday, you will pass away within a year, but you will go happy. Of the two well known banana leaf eateries at Bangsar, Maya's isn't afraid to bring the bold flavours to the customer. You can see it in the kitchen, various curries bubbling away under the watchful eyes of the chefs. Not to mention the scent of curry that fills the restaurant.
Besides the bold flavours, the portions are also hearty. And as said in the name, you're not provided a plate for your food. Everything is placed on a banana leaf, with the dishes coming in smaller plates. Heap it on your rice, mix it all up, and savour the cornucopia of flavours that will leave you asking for more rice to mop up the sauces with. And if you don't leave Maya's with a food coma, it means you need to eat more.
Address: 9 Jalan Telawi 5, Bangsar, 59100 Kuala Lumpur, Wilayah Persekutuan Kuala Lumpur, Malaysia
Opening hours: Monday to Friday, 11am to 10pm. Saturday and Sunday, 11.30am to 10pm
Contact number: +60 3-2389 5305
Hainan Town 
(Photo Credits: Hungry Onion)
Possibly the quintessential Chinese restaurant in Penang, Hainan Town specialises not just in ordinary Chinese cuisine, but Hainan-Nyonya cuisine, of which tradition and fusion come together as one. The focus here is on fresh ingredients, complex spice mixes, and heady flavours. If you're on a diet, you've come to the wrong place.
Besides their classic dishes of rendang and Nyonya curries, don't forget the spring rolls or the stir-fried vegetables too. Simple as those dishes may seem, getting them right is an art in itself, and not many restaurants can do it the way Hainan Town does it, in a manner which is reminiscent of a time long past. Even their desserts, namely the chendol and black glutinous rice with coconut cream have been tediously prepared in-house. Taste the coconut milk, savour the slight saltiness that crosses with the creamy sweetness, and just close your eyes and enjoy the moment.  
Address: 366 Chulia St, Georgetown, 10450 George Town, Penang, Malaysia 
Opening hours: Tuesday to Sunday, 11.30am to 3pm, 6pm to 10pm. Closed Monday
 Contact number: +60 4-263 3177 
Penang Road Famous Laksa
Consistently rated among the top ten Assam Laksa shops in Penang, you know you won't expect anything but satisfaction when you head to Penang Road Famous Laksa. Chewy rice noodles and onions are mixed with a generous helping of mackerel and sardines, together with a lighter yet still savoury broth brimming with the tanginess of assam (tamarind), it is little wonder why this shop is so highly rated. 
Unlike the Assam Laksa served by Jonker 88, this one has the addition of shrimp paste, also known as belachan. Fragrant, pungent and savouriness rolled into one, this dark liquid adds a depth of flavour which accentuates the tanginess of the broth and elevates the dish to a higher level. Granted, this shrimp paste could be a bit overwhelming for some, which is why Penang Road Famous Laksa places it on a spoon, so you can decide if you want to mix it into your laksa. 
Address: 5 Lebuh Keng Kwee, George Town, 10100 George Town, Pulau Pinang, Malaysia 
Opening hours: Thursday to Tuesday, 9am to 5.30pm. Closed on Wednesday
 Contact number: +60 16-446 0543 
Malaysia-Thailand Border, Padang Besar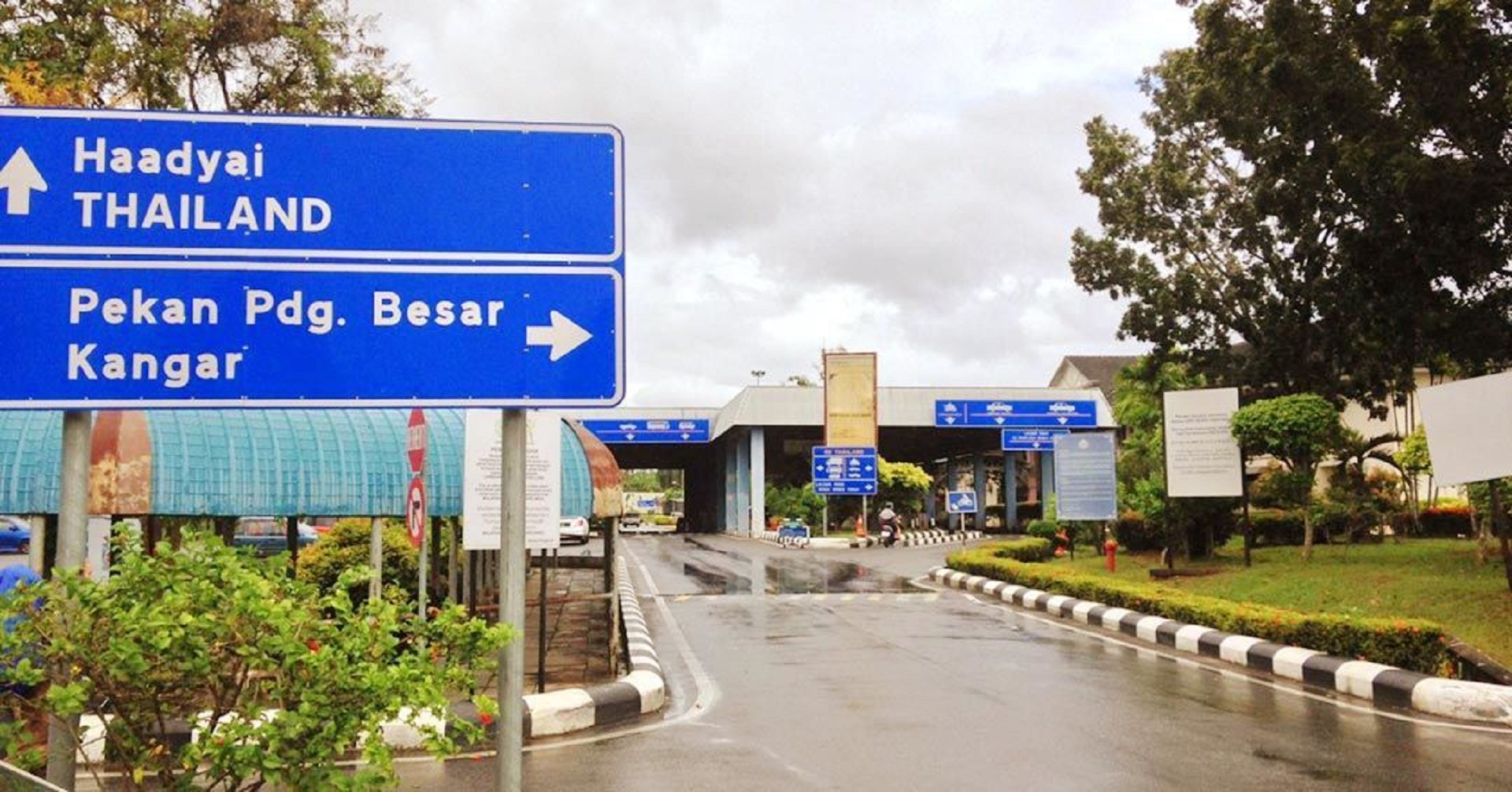 Since you're already at Penang, and you don't mind driving a bit further, why not try heading up to the Malaysia-Thailand border at Padang Besar? You don't have to cross the border, but just observing the next land border crossing after leaving Singapore via Tuas or Woodlands could be a symbolic full circle.
After all, it's not as if you can't drive into Thailand, like what a member of the editorial team recently did! Just make sure to have the proper documentation ready, and to purchase insurance for your car at the Thai border.
Address: Padang Besar, 02100 Padang Besar, Perlis, Malaysia
Opening hours: Monday to Sunday, 6am to 10pm
Combined Itinerary 
We've plotted out the locations of where all these eateries are at, so do check them out and let us know what you think about our choices! Remember before you head up, do a once-over on your car, so do a proper check on your fluids, tyres, and health of your engine.
Make sure to stay hydrated as well, and to pull off at any of the rest stops along the North South Highway if you need to use the toilet, get snacks or just take a break. A safe trip is a good trip, and we wish you all the best, and happy exploring!
Download the Motorist App
The easiest and smartest way to manage your vehicle in Singapore.
Download Now
Read More: Five More Hawker Stalls For You To Head To! - mGuides
---
Download the new Motorist App now. Designed by drivers for drivers, this all-in-one app lets you receive the latest traffic updates, gives you access to live traffic cameras, and helps you manage LTA and vehicle matters.
Did you know we have a Motorist Telegram Channel? Created exclusively for drivers and car owners in Singapore, you can get instant info about our latest promotions, articles, tips & hacks, or simply chat with the Motorist Team and fellow drivers.