The Audi e-tron has been updated for 2023, and it is no longer just the e-tron. With a refresh comes a new name, and it is now known as the Q8 e-tron.
Ever since its launch in 2018, the e-tron has paved the way into electrification for Audi, setting the bar for electric luxury SUVs. With 150,000 units sold and counting, the e-tron range has been a hit, and is set to become an even greater presence in Audi's offerings, particularly with the company's shift towards a completely electric lineup starting in 2026.
With this facelift, the Q8 e-tron is now building on the success of the original e-tron, and now has improved aerodynamics, higher charging performance, increased battery capacity, greater range, and enhanced driving dynamics. 
Available in both SUV and Sportback body styles, it will be known officially as the Q8 e-tron and Q8 Sportback e-tron. Three drivetrain options with all-wheel drive will be available, namely the Q8 50 e-tron or Q8 50 Sportback e-tron, Q8 55 e-tron or Q8 55 Sportback e-tron, and the top-of-the-line SQ8 e-tron or SQ8 Sportback e-tron. 
When it comes to power, the Q8 e-tron has gotten an upgrade too. The Q8 50 e-tron has two motors, one for each axle, and produces a maximum of 335 bhp in boost mode and 664 Nm of torque, with a maximum range of 491 kilometres for the SUV and 505 kilometres for the Sportback.
The Q8 55 e-tron also has an electric motor for each axle, but produces more power. In boost mode, it has a maximum of 402 bhp and 664 Nm of torque, with maximum range coming in at 582 kilometres for the SUV and 600 kilometres for the Sportback. Despite their differences in power, the Q8 50 e-tron and Q8 55 e-tron are both limited to a top speed of 200 km/h. 
Things get more exciting with the SQ8 e-tron. The SQ8 also gets three electric motors, one for the front axle and two for the rear. In boost mode, maximum power is rated at 496 bhp and a monumental 973 Nm of torque, with range coming in at 494 kilometres for the SUV and 513 kilometres for the Sportback.
As for battery capacities, the Q8 50 e-tron receives an 89 kWh battery, while the Q8 55 e-tron and SQ8 are fitted with a 106 kWh battery. With DC charging, the Q8 50 e-tron can charge at a maximum rate of 150kW, while the Q8 55 e-tron and SQ8 e-tron can charge up to a maximum rate of 170kW. 
Under ideal conditions, fast charging will allow a battery charge of 10% to 80% in 20 minutes, with an approximate gain of 420 kilometres in range. With a maximum 11kW AC charging, or an optional 22kW upgrade, the Q8 50 e-tron will charge fully in nine hours and 15 minutes, or four hours and 45 minutes with the 22kW upgrade, while the Q8 55 e-tron and SQ8 e-tron will take 11.5 hours with 11kW charging and six hours with 22kW charging.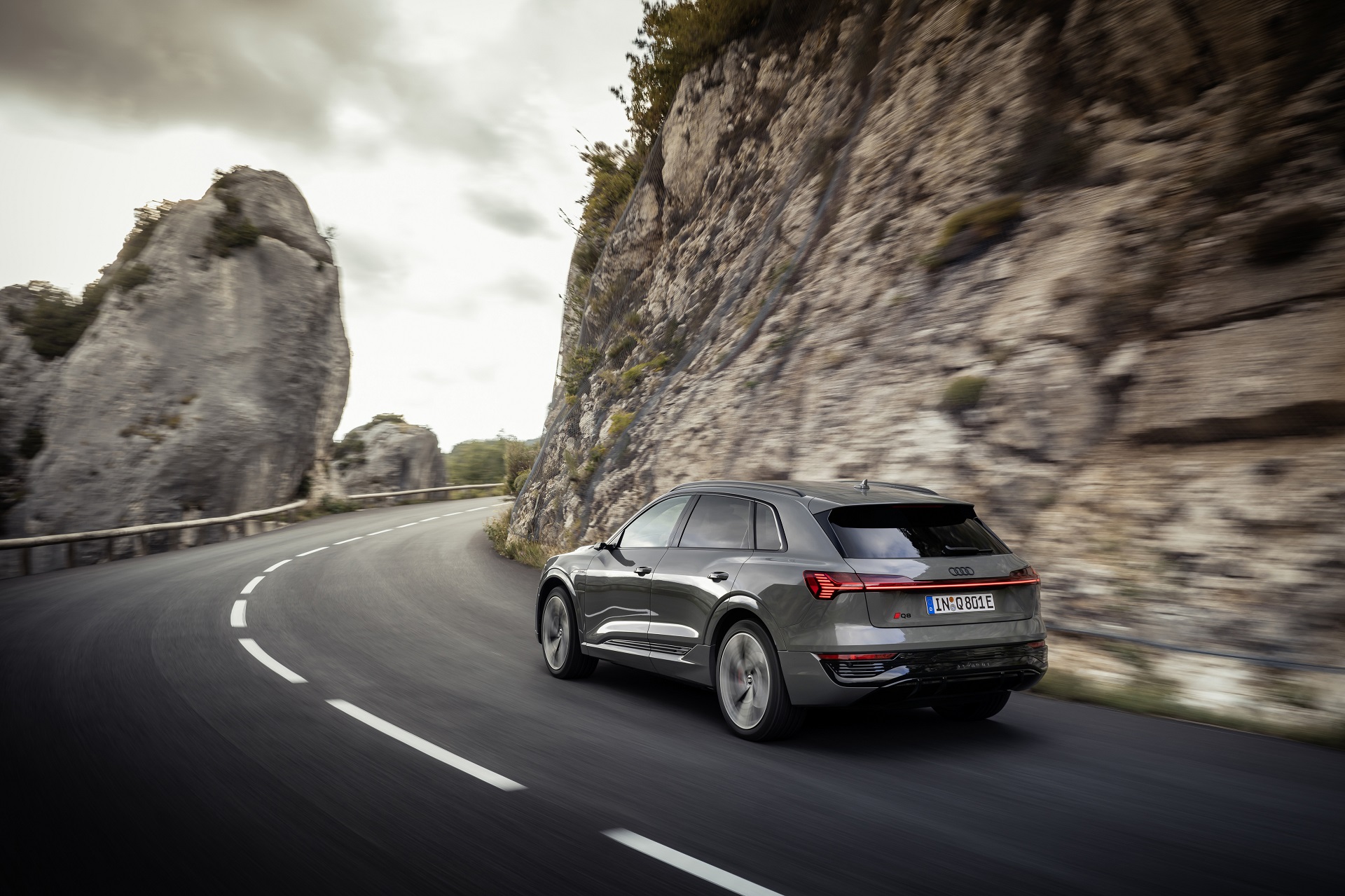 Audi employed a new stacking strategy for the battery pack, allowing for more battery cells to be arranged into the same space as before, but it also resulted in an additional 20 kilograms of weight. When developing the new Q8 e-tron, Audi engineers felt that the greatest challenge was efficiency. With battery technology progressing rapidly, objectives had to be constantly re-evaluated as to ensure the car could meet future mileage targets.
A new asynchronous motor concept on the rear axle of the Q8 e-tron was modified, with 14 coils instead of 12 coils generating the electromagnetic field. This allows the rear electric motor to generate a stronger magnetic field with similar electricity input, allowing for more torque.
The SQ8 e-tron also marks the first time a three-motor concept is implemented in large scale production. The motor on the front axle has a 124kW output, while the two rear motors have 98kW of output, and each powers one rear wheel each. This also allows for torque to be distributed across both wheels simultaneously within a split second.
Air suspension comes as standard on all variants, and this allows the Q8 e-tron's height to be adjusted by 76 mm, depending on the drive mode selected. Additionally, with revised progressive steering, the Q8 e-tron now has better responsiveness to steering inputs, allowing for improved handling while still maintaining the car's overall balance.
Aerodynamics also saw an improvement, with the Q8 e-tron's drag going from 0.28 to 0.27, while the Q8 Sportback e-tron dropped to 0.24, compared to 0.26 previously. Wheels spoilers mounted on the underbody help divert airflow around the wheels, while the front grille has shutters that can be closed to optimise airflow. 
Luxury has always been an integral part of the e-tron lineup, and the Q8 e-tron is no different. A panoramic glass roof enhances the look of the interior and reinforces the sense of airiness and expansiveness. Together with four-zone climate control, ventilated seats with individual contouring, and a range of optional decorative inlays from wood veneers, aluminium or carbon fibre, the Q8 e-tron has raised the bar with the level of luxury on offer.
Besides the usual leather choices for interior upholstery, a new and sustainable technical material made partially of recycled plastic bottles can also be optioned, allowing the Q8 e-tron to be certified as net-carbon-neutral for the European and American markets. Additionally, recycled materials are also used for insulation and damping, as well as for carpeting.
While there is currently no confirmed launch date of the new Q8 and SQ8 e-tron for Singapore, it will be available for order in Germany starting in mid-November, with the earliest deliveries slated for the end of February 2023, while the American market is slated to receive the new Q8 and SQ8 e-tron at the end of April 2023. 
Download the Motorist App
The easiest and smartest way to manage your vehicle in Singapore.
Download Now
Read More: Audi Singapore Partners Charge+ To Launch The Audi Destination Charging Network In Singapore
---
Download the Motorist App now. Designed by drivers for drivers, this all-in-one app lets you receive the latest traffic updates, gives you access to live traffic cameras, and helps you manage LTA and vehicle matters.
Did you know we have a Motorist Telegram Channel? Created exclusively for drivers and car owners in Singapore, you can get instant info about our latest promotions, articles, tips & hacks, or simply chat with the Motorist Team and fellow drivers.