Making good looking cars, let alone a subcompact crossover, is not something many manufacturers are capable of. But Mazda isn't like most manufacturers, which brings us to the CX-3. 
Initially revealed at the 2014 Los Angeles Auto Show as a new model in the Mazda lineup, the CX-3 was introduced to Singapore in mid-2016. As Mazda's entry into the crowded and competitive subcompact crossover segment, it was up against tough competition from the start.
A facelift was done in 2018, with cosmetic tweaks, chassis enhancements, additional safety features and an electronic parking brake to replace the manual one. Following Mazda's Kodo stylistic language, the CX-3's design has been heavily inspired by it, with the end result being arguably one of the best looking subcompact crossovers on the market.
A quick side note, this Mazda CX-3 is currently listed for sale at Sphere Automobile, so do approach them if you are interested! 
What is this?
This is a 2019 Mazda CX-3, which as mentioned earlier, is the facelifted model. So far, there is only one generation of the CX-3, with a refresh midway through its life cycle. Given the age of this model, a successor should be expected soon.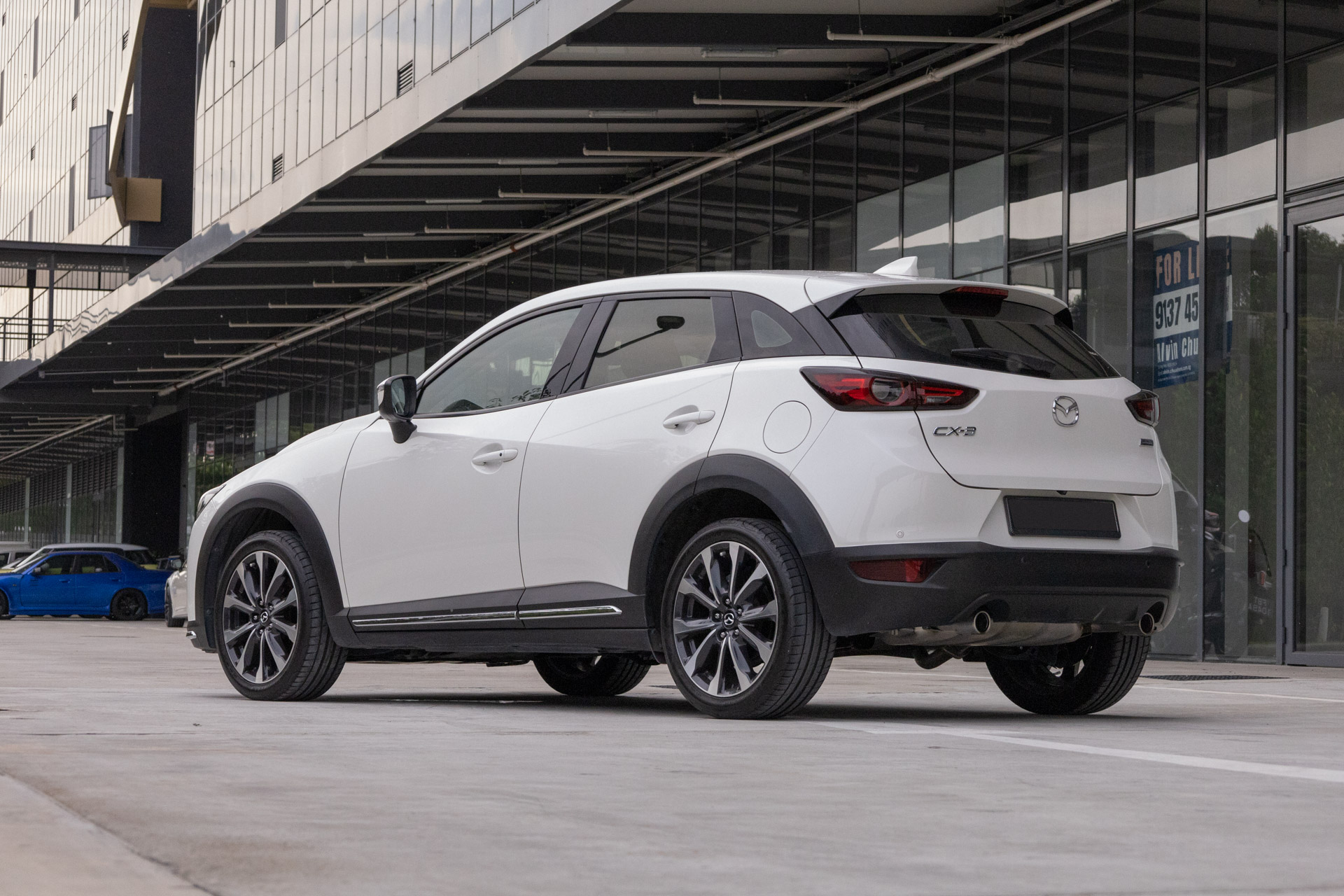 This particular unit is in the "Deluxe" trim line, which gave it upgraded wheels, a Bose sound system, a heads-up display and electric adjustment for the driver's seat. With a naturally aspirated 2.0-litre inline-four paired with a torque convertor six-speed automatic transmission, power is sent to the front wheels only.
Weighing 1,265 kilograms, the century sprint is accomplished in 9.5 seconds. Nothing hair raising, but just about average for a car with 156 horsepower and 204Nm of torque.
Ride quality is a tad firm (which could be due to the lower profile tyres), but the overall drive is relatively smooth and comfortable while still being fun to drive for a subcompact. Mazda engineers its cars for driver enjoyment, and from how the CX-3 handles itself even when driven exuberantly, it shows the benchmark Mazda holds itself to. 
Is it any good on the wallet?
Being typically Japanese, owners have hardly reported any issues. With proper maintenance, the CX-3 is a reliable workhorse.
The only reported issue is with the i-ELOOP system, which is Mazda's version of regenerative braking. Energy that is usually wasted from braking is captured by the system to electrical energy and is stored in the i-ELOOP system's rechargeable battery. 
However, owners have noted that this system has a tendency to drain the car's onboard battery a little quicker than usual, which could cause the battery to require replacing at a more frequent rate.  
The fuel tank has a capacity of 48 litres, which isn't the biggest but is on the more generous side for a car in this class. Owners have reported a fuel economy of 11 to 12km/litre, going up as high as 15km/litre. On average, a range of 550 kilometres should be expected, and up to 700 kilometres in ideal conditions.
Is it comfortable inside?
For a subcompact crossover, it is decently spacious. Compared to some of its competition however, it doesn't have the same generous legroom or headroom, but for most people, it will be fine. Only the driver's seat has electric adjustment and two memory settings, while the passenger seat has to make do with manual adjustment.
The middle seat isn't the most comfortable place to be in, since it is raised, and the hump in the floor does eat into legroom. While a person can still fit, it's recommended that only two passengers sit in the back for ideal comfort.
Otherwise, the interior is almost completely lined in black leather, with suede-like inserts for the door panels and the dashboard for a contrasting look, while the steering wheel and gear shifter are covered in hard leather, while the rest of the interior trim consists of hard plastics for the dashboard and doors.
The infotainment system is a seven-inch screen, controlled with a rotary knob, with buttons for functions like the radio and phone, and a smaller rotary knob for volume control. On top of Bluetooth connectivity, Android Auto and Apple Carplay are also available.
The HVAC controls are rotary dials as well, making for easy adjustment even on the move. And yes, the air-conditioning does blow strong and cold.
Being a facelifted model, the handbrake is electric, and it comes with an auto-hold function, where the car hold the brakes for you at a stop. Unfortunately, being a model lower down in the Mazda range, there aren't any safety systems besides the reverse camera.
A large analogue tachometer takes centre place of the gauge cluster, as well as a small digital speedometer within the tachometer. On the left and right of the tachometer are small digital screens displaying information like the odometer, remaining fuel level and range left. 
Unlike its competitors, the CX-3 comes standard with a heads-up display that shows speed and cruise control information, as well as a Bose sound system, both of which are uncommon features at this price point and segment.
Can it carry a lot of cargo?
Boot space isn't the most generous. While it is fairly deep, it only has 350 litres of capacity, and either a single golf bag or two large pieces of luggage would fit at most. With the rear seats folded down, capacity increases to 1260 litres, which should be enough to fit larger items like bicycles. 
There is also a spare tyre, which you hopefully will never have to use.
Alternatives
If you want something slightly quirky, the Hyundai Venue could be an alternative. Available from the factory with a two-tone paint scheme, its unconventional design adds to the fun aesthetic of the car. It is down on power though, with a 1.6-litre naturally aspirated engine paired with a CVT, and only 121 horsepower.
The Honda Vezel is a boring (or safe) choice, but also the one with the most space in the cabin. It is also down on power too, with a naturally aspirated 1.5-litre engine producing 130 horsepower, and paired with a CVT. Still, it is an extremely common sight on local roads, so being "a boring choice" might not be such a bad thing in this instance.
To Conclude
You can still buy a CX-3 brand new from the authorised dealer. However, it only comes with a 1.5-litre engine. If you want one with the 2.0-litre engine, you have to turn to the used market, as it looks unlikely that the authorised dealer will import any new units with the bigger engine.
That being said, it might be beneficial. Someone already paid for the Category B COE that came with this car, so you don't have to. And as mentioned earlier, with its high levels of reliability, owners shouldn't face much, if any, issues.
Plus, among its competitors, it is arguably the best looking car out of all of them, which is not something you can say about most cars in the subcompact crossover segment.
If you are keen on getting a Mazda CX-3 as your next car, or any other used car for that matter, do take a look at our used car selection here for some of the best deals!
Motorist would like to extend our thanks to Sphere Automobile for loaning us the Mazda CX-3 for this article.
Photo Credits: Lee Thern Yang (@TheBigSoup)
Read More: Motorist Car Buyer's Guide: Mazda CX-9
---
Download the Motorist App now. Designed by drivers for drivers, this all-in-one app lets you receive the latest traffic updates, gives you access to live traffic cameras, and helps you manage LTA and vehicle matters.