Instantly recognisable due to its distinctive egg body shape. It's cute, it's petite, it's the Fiat 500.
But, when you think of Fiat, most locals will remember the Doblo and Fiorano as decent cargo vans, or the Bravo which was actually quite a fun manual car to own. Not many would breathe a mention of the 500, probably owing to the fact you don't come across one often on the roads.
Tucked in a corner of the Fiat showroom and sharing the dancefloor with another fellow Italian brand,  this is the only model being sold and on display. So, is this car as hyped as everyone claims it to be?
Cute petite lil' thing
Fiat tried their best to maintain the proportions and styling cues of the original 500. Everything is mini sized on the car, from the petite headlights, LED DRLs, low mounted grille and even the cutesy fog lights.
Thin chrome pieces are dotted around the car too, harping back to previous generations with some retro styling.
No matter which angle you take a gander from, the car has a distinctive egg-like shape, even down to the really cute side indicators.
You don't have to walk far to reach the rear of the 500, as the car is so short. Fiat throws in 16-inch alloys as standard, and even though these shoes are only 16s, they look huge on a car like this.
Business in the back is a relatively clean and simple affair, with a sloping tailgate, squarish tail lights, and a chrome boot release with '500' embossed onto it.
You also get a rear wiper for your cute rear window!
Of course, with such a compact car, you won't get massive amounts of boot space. Just 185 litres with the seats up. The seats can fold 50:50 to accommodate larger cargo, but they don't fold completely flat, so this may be an issue for odd-shaped bulk. An extremely cute parcel shelf sits up top, which can barely fit a tissue box.
Trip to the supermarket? Of course. Adventurous trip to IKEA? Maybe not in this car.
Crucially, Fiat avoided changing too much of the 500's design formula, and much of its appeal lies in its retro looks that hark back to the original. 
This is a textbook example of classic styling brought into modern times, and I quite like it, even though I will agree it does look a bit too cute for me.
Stepping in is like a time capsule
Of course, being such a compact car, space in the back isn't really meant for passengers. But, if you really want to, you could squeeze 2 adults in the back. Although, they won't have much headroom or legroom to jostle around at all.
Still, you get 2 cup holders, and interestingly enough proper ISOFIX points for you to mount a child seat, if you wish to drive around with young children.
The front is much more spacious, and the 500 is best served as a 2-seater entree. As expected from the Italians, the leather in the car is top notch, and the two-tone upholstery adds a little funk to the interior.
However, the seats do not go down that far, and this makes it quite uncomfortable for me on longer drives, as you are constantly forced into a more upright position.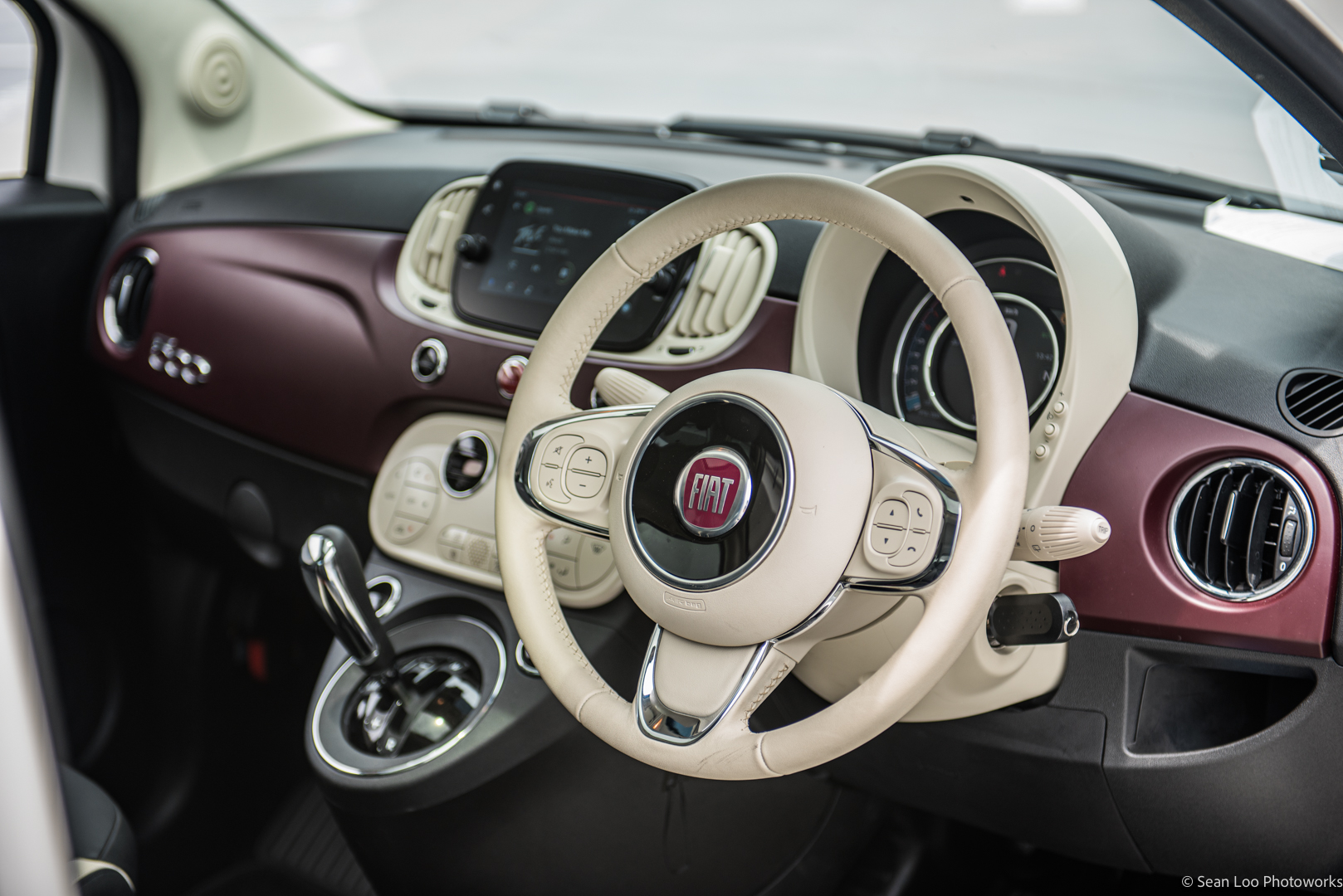 It's quite interesting to be in the 500. You have a digital instrument cluster that is styled to look retro, but at the same time other areas like your aircon controls and aircon vents really are retro, and look like they came from a car from the early 2000s.
Not complaining though, as it's all physical buttons, making it very easy to adjust settings instead of angrily tapping on a touchscreen, which is a trend that is getting increasingly popular.
The biggest difference you can see between the 500 and other ordinary cars is probably the gear shifter. This isn't your typical PRNDL layout, but rather an automated manual single clutch setup, and new drivers may be confused when they first look at it.
For entertainment, Fiat bestows you with a 7-inch touchscreen dubbed Uconnect. It's not bad to use while on the move, and it's pretty responsive, but my only gripe is that it is quite small for today's standards. Plus, it's angled a little bit too high, and not in a position easy for the driver to view. 
You do get Apple Carplay and Android Auto though which you can access by plugging in, which is a nice touch.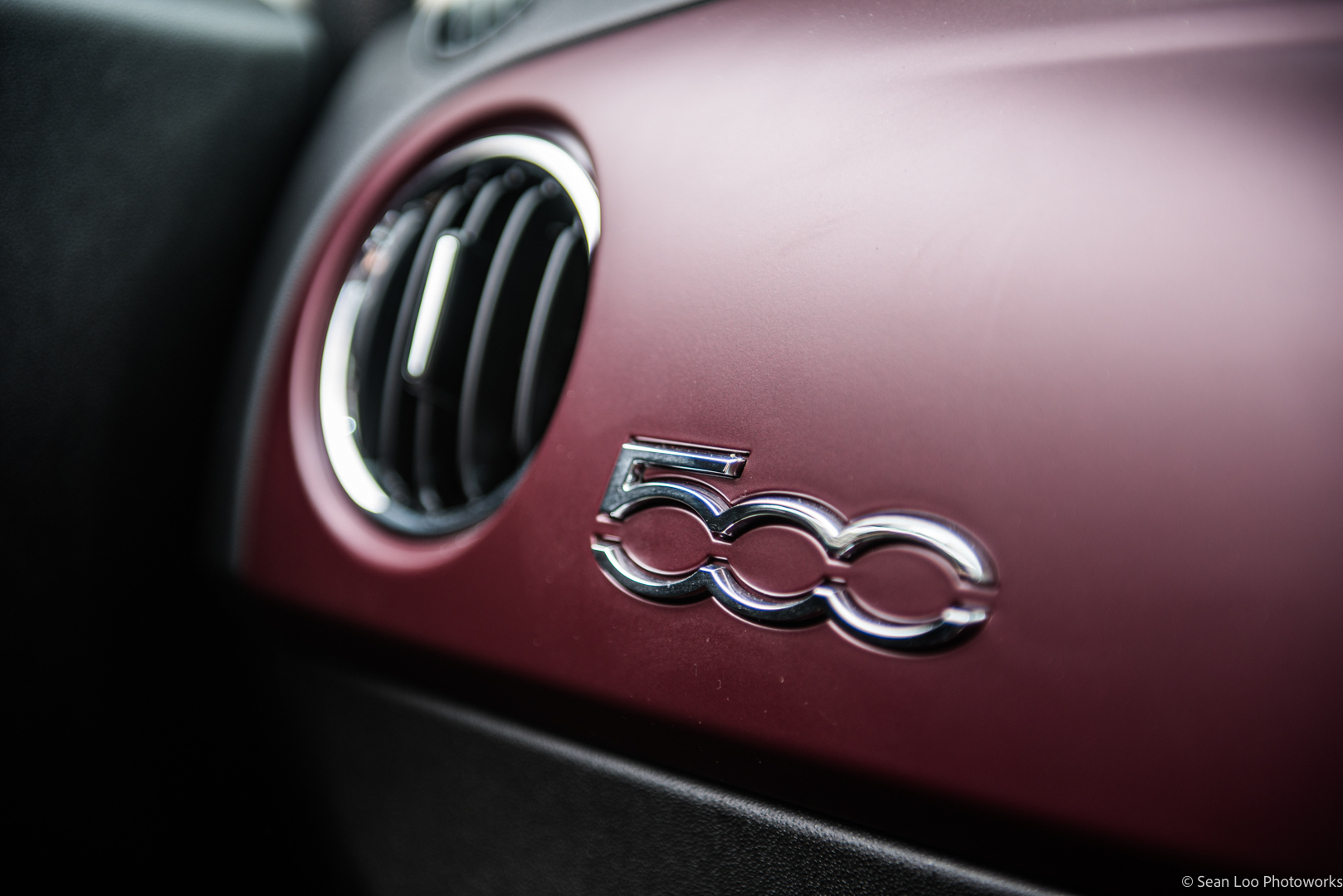 On my test drive, the biggest quirk I have encountered so far is the 6 speaker sound system, which has a feature that increases the volume level as you drive faster. So you can make this car quiet at the traffic light, and it will blast tunes while sprinting down the expressway. Not sure why this is a feature, but it is pretty entertaining to have on board.
Overall, while the 500 is a little outdated on the inside, it's still an easy to use interior. Everything is where you want it to be, and everything is easy to use.
Get used to it, and this car offers bountiful levels of fun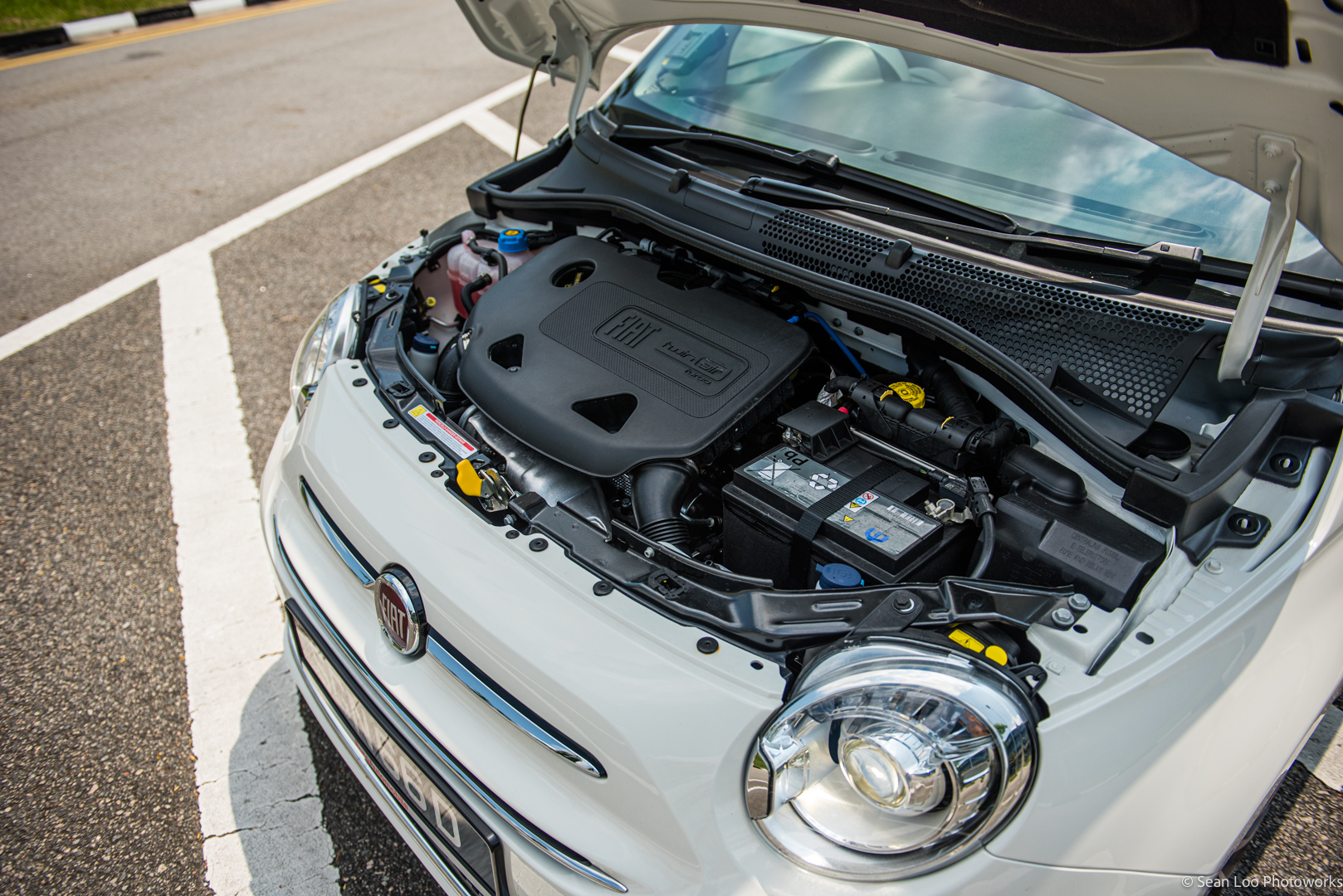 Even though this has a tiny 875cc turbocharged TwinAir engine which is smaller than some motorbikes, because the car is so light the engine is still able to cope and give you just enough power to keep up with other vehicles on the road.
Even so, don't expect to dart into other lanes or overtake easily driving this. With 140Nm of torque at your disposal, the 500 still needs time to warm up and coax in order to bring it up to speed. 
You feed all 84 of your available horses to the front wheels via a 5-speed automatic single clutch gearbox, propelling you from 0-100 in just a shy below 11 seconds. There is no park option; only neutral, reverse and your forward gears.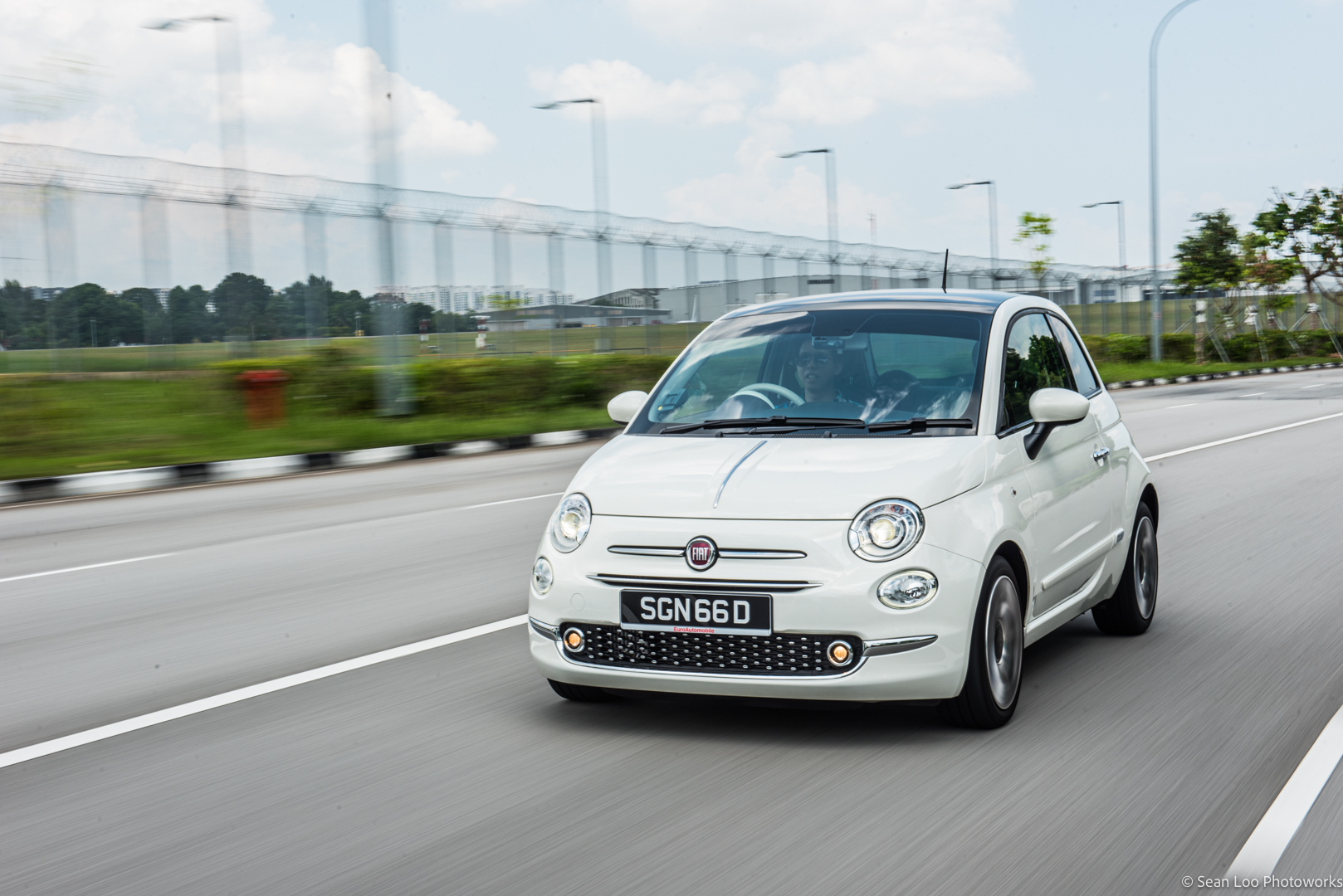 Fiat even threw in paddle shifters and a sequential shifter for you to row the gears yourself. You'll be very familiar with this if you're someone who frequents the Initial D machines at the arcade. I absolutely love this gear shifter.
Yes, each gear shift is noticeably slow, but this is a trait that arguably makes the 500 more fun to drive. It's like driving a manual car, albeit without the fun third pedal in the mix.
However, because each gear shift takes about 6 months to complete due to the single clutch design, driving in pure automatic mode can be quite a jerky and laggy experience, especially accelerating from a standstill. Once you get up to speed it's fine, but at low speeds this car just doesn't know which is the correct gear to engage. 
That's why ever since I've picked this car up, I've more or less driven it only in manual mode. It's way more fun, and makes the driving so much more engaging.
Minus the jerky transmission, the overall ride quality is decent for a compact car. You will feel bumps in the road, and the steering feel is slightly more on the stiffer side, but the 500 is quite a ball of entertainment to go round corners in. Especially since the rear wheels are positioned right at the corners of the car, it really gives you the stability and confidence to take turns at higher speeds.
Fuel consumption is pretty good too, since the engine is so tiny, and you don't have that much car to lug around. So far during my test, I've been getting around 13.8km/L on average. And that's with bountiful amounts of enthusiastic pedal pressing.
The 500 was built to be a city car, and its tiny form means driving into any car park is a piece of cake. Parking is literally the easiest thing to do in this bundle of joy.
Fiat doesn't supply you with a reverse camera, but honestly who needs one? All you need to do is employ a technique which people did all the time in the past, which is to turn your head and look. Heck, you can even park lopsided, and the car would be well within the confines of its parking lot.
Yes, it is underpowered. And yes, the gearbox takes time to get used to. But, that said the 500 is still quite delightful to drive on the roads.
Instead of the usual "full power slam the throttle" kind of driving, you need to instead adapt more to a momentum style of driving. Then, this car becomes fun to drive.
It has something a lot of other cars don't possess
If you're looking for practicality, you're probably better off buying other cars. If you're looking for speed, again you're better off buying other cars. Plus, coming in at $139k at the time of writing, this is hardly a bargain.
But, if you're someone who really wants a unique retro-looking car. And you're looking for something that attracts stares on the road. AND you are not just the basic "I'll just settle for a MINI or Beetle" kind of person.
Then, this may very well be an appealing choice. 
It isn't fast, nor is it very practical if I'm honest. But, from an automotive standpoint, this car does extrude a special "happy and carefree" feeling, and each time I get behind the wheel I just enjoy the drive. Something which I don't get in most other cars.
Like sipping wine by the Italian riviera and enjoying the picturesque sunset, I don't need to go fast, nor do I really need a destination. I just love driving this thing and savouring the moment, which Fiat really nailed that sensation down to a tee. 
That's why, to me, this Fiat 500 is simply charming.
Specs
Price

S$259,419 (inclusive of COE)

VES Banding: B
Performance

Motor: 0.9-litre Turbocharged TwinAir 2-cylinder

Power: 84 bhp

Torque: 140 Nm

Fuel Consumption: 26.3 km/L (From manufacturer)

0-100km/h: 11 seconds

Top Speed: 172 km/h

Drivetrain: 5-Speed Single Clutch Automated Gearbox

Brakes: Front (Disc), Rear (Drums)

Measurements

Dimensions (LxWxH): 3,571 mm x 1,627 mm x 1,488 mm

Kerb Weight: 930 kg

Fuel Tank Capacity: 35 litres

Boot Capacity: 185 litres

Tyres: 195/45/R16 (front & rear)

Features

Apple CarPlay & Android Auto

Electric Steering Rack with "Dual Drive System"

Exterior Chrome Kit

Front Head Restraints with Anti-Whiplash Protection

Front Seatbelts with Dual Pretensioner and Load Limiters

Multi Air Technology

Start and Stop Function

7-inch Fully Digital Instrument Cluster

7-inch Touch Screen Display
Photo Credit: Sean Loo (@cookiesncremee)
Download the Motorist App
The easiest and smartest way to manage your vehicle in Singapore.
Download Now
Read More: mReview: 2022 BYD Atto 3 - Bold Dreams, New Beginnings
---
Download the Motorist App now. Designed by drivers for drivers, this all-in-one app lets you receive the latest traffic updates, gives you access to live traffic cameras, and helps you manage LTA and vehicle matters.
Did you know we have a Motorist Telegram Channel? Created exclusively for drivers and car owners in Singapore, you can get instant info about our latest promotions, articles, tips & hacks, or simply chat with the Motorist Team and fellow drivers.