The Clubman has always been the obvious choice for the MINI enthusiast seeking more practicality than what the traditional hatch could offer. But can the JCW-ified F54 put the 'fun' back in 'fun-ctionality'?
There's nothing questionable about the MINI Clubman JCW (the same cannot be said for my taste in puns, unfortunately). It does all the things you'd want a family estate to do, with a large boot to haul groceries, and decent overall cabin space for four adults. But do not let the practicality fool you, for this car has a far more sinister side.
It's Not Really 'Mini', But Extra Space Pays Dividends
MINI might as well have been a misnomer at this point, as the Clubman actually dwarfs many of its traditional retro-styled competitors. Though the increase in physical dimensions does mean that the Clubman, and its Countryman stablemate, opens up the brand to a wider audience. These models capture the essence of what makes a MINI iconic, but in a package that is more usable day-to-day. These traits help the Clubman edge the brand ever closer to daily-driver status, instead of being just a special occasion car for those more financially blessed.
And there's no greater hallmark of a daily-driver than practicality. Four adults will comfortably fit in this vehicle - I'll set the record straight - you can get four adults in a MINI Hatch, but you have my word that rear seat passengers will not enjoy the commute at all.
On the flip side, in the JCW Clubman, rear seat occupants would have nothing much to complain about. Space is in no short supply here, with ample room for your feet, and the sculpted front buckets offering additional room for your knees. Upfront, the semi-buckets marry thoughtful ergonomic touches (like the additional extendable thigh cushion), with the support of a figure hugging sports seat.
A word of warning, you'll have to be more generously proportioned to reap the full benefits of the seat bolsters.
The MINI Quirks
As you'd expect from a product developed by the MINI boffins, the car plays its part as a status symbol very competently. This is especially apparent on the inside, as their designers and engineers have nailed the user experience. It's clear that every single touchpoint in the cabin has been lavished with liberal doses of attention. Push buttons? MINI doesn't do push buttons - most of the mission critical controls are properly satisfying hefty toggle switches, and it makes you feel like you are operating an analogue machine from a bygone era, or perhaps, even a fighter jet.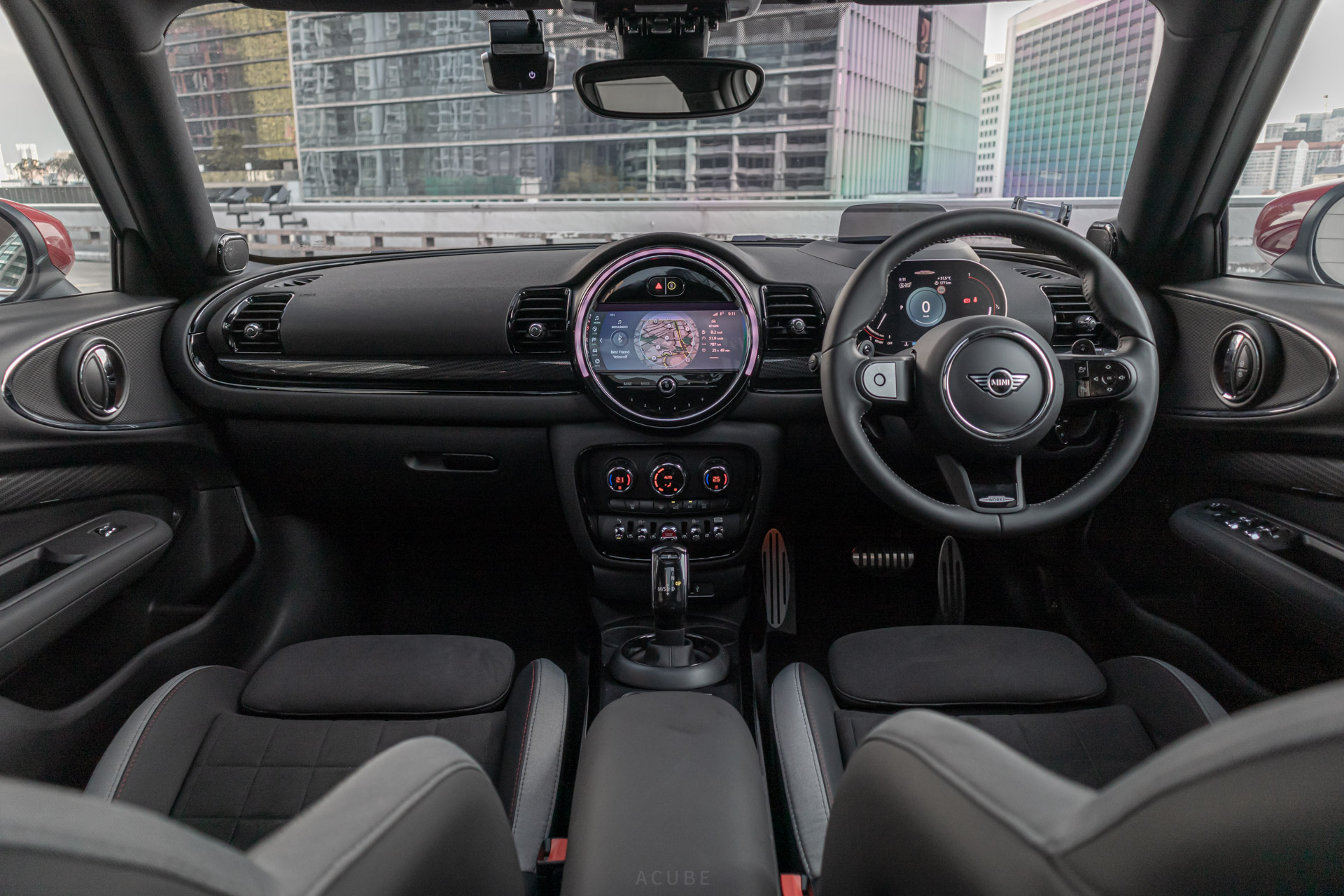 The retro touches are then paired with the pleasing, minimalistic aesthetic of the infotainment screen and the digital cockpit. It's the same as you'd find in any other MINI variant, save for the JCW-specific graphics. This also means that the system, built on an older system of BMW's iDrive, does not have an option for wireless Android Auto.
Whilst fit and finish is good overall, MINI opted to largely trim the car in darker interior colours. It can make for a more claustrophobic experience, as perceived can seem to be lacking. We'd recommend you option your JCW Clubman with Dinamica/Leather combination for the seats, and with MINI Yours Interior Style Fibre Alloy trim to help brighten the cabin.
Souped-Up Visuals
It may be a stretch, but if you optioned your JCW Clubman conservatively, it'd be a very subtle vehicle that can easily pass off as just another vanilla MINI estate. But alas, press cars are not understated, so passers-by can very easily figure out its performance credentials.
The red-on-white combo our test car came in exaggerated the alterations made by MINI during the hotting-up process. The JCW-spec front bumper, with its larger intake grilles flanking the iconic MINI front fascia, has real road presence. What also helps to finish the front end off, is the bonnet vent, which we're sad to report is purely for cosmetic purposes only.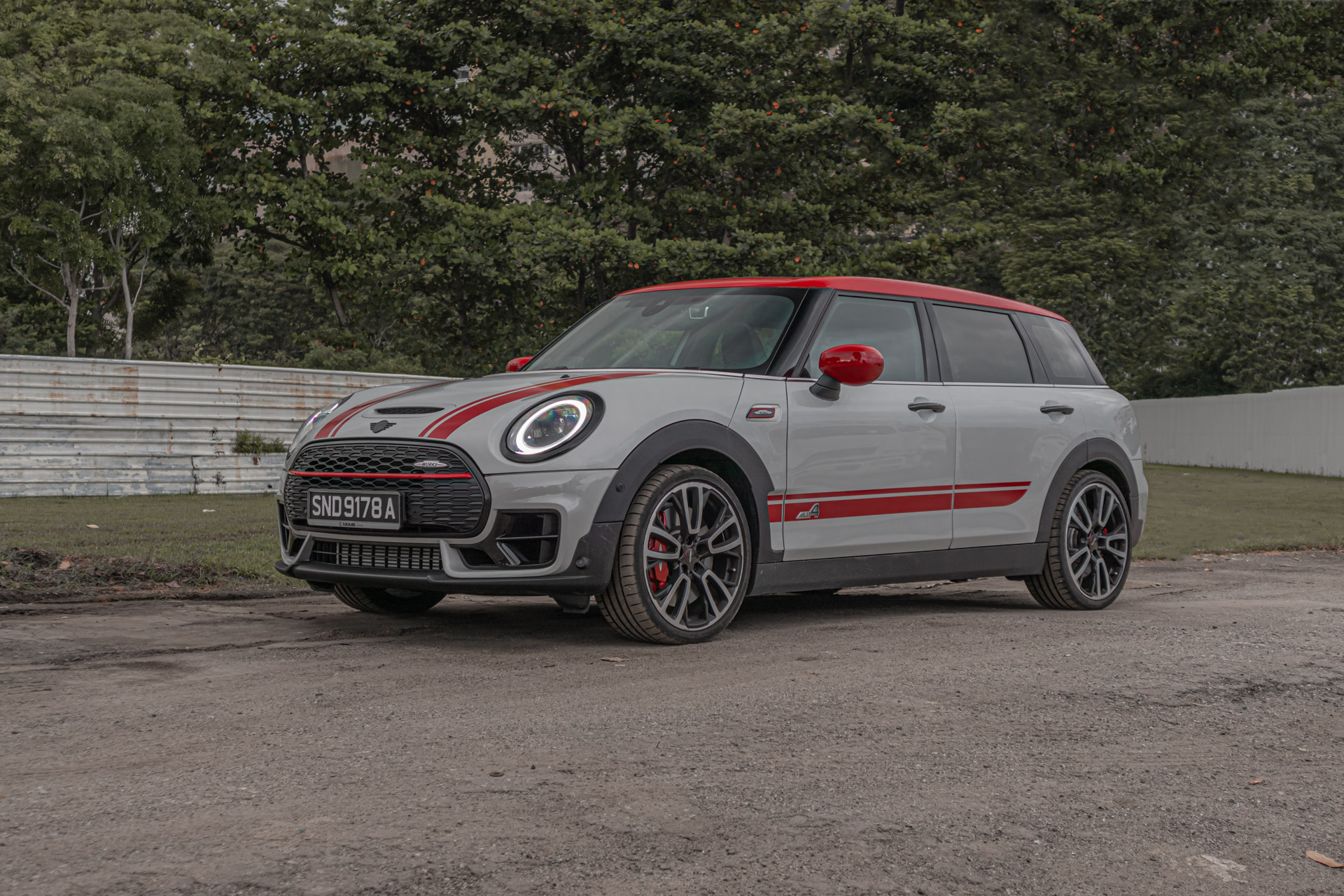 The hind end of this practical MINI now sports a faux diffuser and two real exhaust pipes. This serves as a reminder to motorists behind that you are not following just any ordinary MINI, but one that has proper pedigree - just in case the red accents aren't enough of a visual giveaway.
JCW-specific wheels, and four-pot JCW callipers complete the exterior makeover.
A Firecracker On The Move
You'd find a 2.0 litre BMW B48 engine under the bonnet. In Clubman JCW guise, this four pot develops a healthy 302 bhp and 405 Nm of torque. To help tame the ponies, power is delivered to all four wheels via a proper all-wheel drive system. There are some obvious benefits in adopting this mechanical setup, namely a reduction in torque steer, but also an increase in traction regardless of road conditions.
I'd prefer some extra feedback from the road through the rack, as that will equip the driver with some added confidence, but there's no faulting the wheel weight. The suspension copes with the pace and heft admirably too, offering a fairly neutral balance when you really carry some serious pace on a nice sequence of bends.
There's no faulting the stopping power of those JCW brakes, though pedal feel is lacklustre. It is when braking that you can also feel the sheer weight that you are shifting, something even the most tricked up of modern suspension engineering can never fully disguise.
Straight line pace is strong, and believe it or not, this is actually the most rapid JCW variant in MINI's current line-up. You'll have ready access to the bulk of the torque from fairly low down in the rev range (this makes overtaking a doddle), but you'll have to spin the engine up a little higher to unlock all of the power the car has to offer.
All Things, To All Men?
You aren't going to drive everywhere at max pace, and you'll find that the JCW Clubman is very liveable as a daily driver - on more comfort-oriented settings, the car, whilst admittedly still loud and stiff, can behave itself well enough that you will not second guess your choice of a hardened up performance vehicle.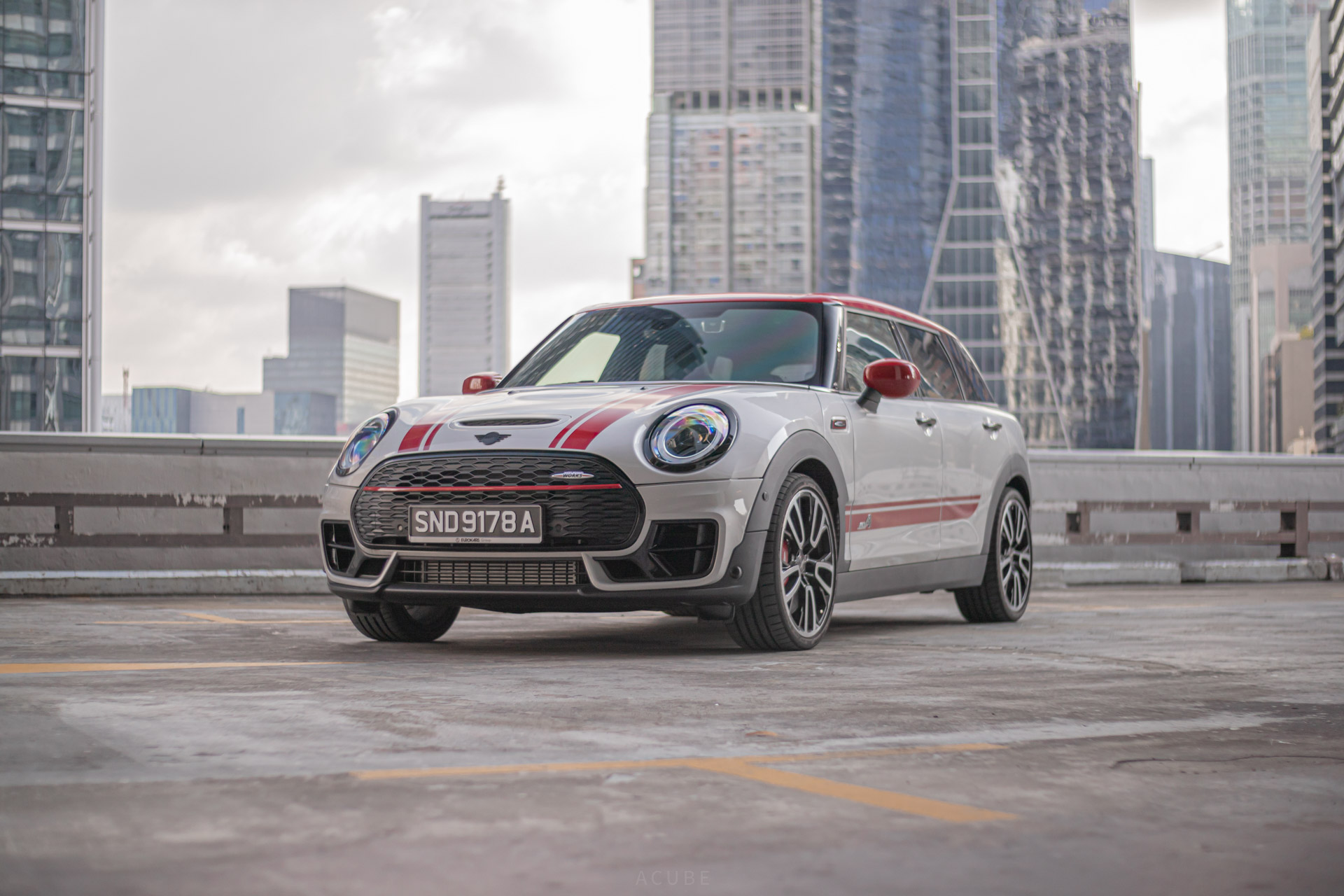 Aside from a certain fast wagon from a VAG brand, I really think the JCW Clubman is edging very close to being all things, to all men. MINIs, in general, make you feel special, and that hasn't changed despite the performance the car has been blessed with. The additional capabilities just add an additional dimension to the enjoyment of the vehicle.
A modern design icon, designed as a practical family hauler with hot hatch beating performance - what more can you legitimately want out of a car?
Specs
Price

S$295,888 (inclusive of COE)

VES Banding: C1
Performance

Motor: 1,998 cc turbocharged inline four cylinder

Power: 302 bhp

Torque: 450 Nm

Fuel Consumption: 13 km/L

0-100km/h: 4.9 seconds

Top Speed: 250 km/h

Drivetrain: 8-speed Steptronic Sport

Brakes: Ventilated discs (front & rear)

Suspension: MacPherson (front) / Multi-link (rear)

Measurements

Dimensions (LxWxH): 4,266 mm x 1,800 mm x 1,441 mm

Kerb Weight: 1,565 kg

Fuel Tank Capacity: 48 litres

Boot Capacity: 360 litres

Features

Keyless entry

Cruise Control

Wireless Apple CarPlay & Android Auto

Lane Departure Warning

Electronically Locking Differential

Launch Control

Automatic Headlights

Automatic Wipers

Ambient Lighting

Auto Engine Start-stop
Photo Credit: ACube Creative (@weareacube)
Download the Motorist App
The easiest and smartest way to manage your vehicle in Singapore.
Download Now
Read More: mReview: MINI John Cooper Works 3-Door - The One You Want
---
Download the Motorist App now. Designed by drivers for drivers, this all-in-one app lets you receive the latest traffic updates, gives you access to live traffic cameras, and helps you manage LTA and vehicle matters.
Did you know we have a Motorist Telegram Channel? Created exclusively for drivers and car owners in Singapore, you can get instant info about our latest promotions, articles, tips & hacks, or simply chat with the Motorist Team and fellow drivers.