The John Cooper Works brand is one that inspires excitement in MINI fans the world over. A sense of occasion arises when you let slip that the new MINI you just got is a JCW. 
But just why is that the case, and does this new one live up to that reputation? Perhaps a short history lesson would help to explain the mystique.
John Cooper Works started out as a tuner for MINI models, which was subsequently acquired by the parent brand. JCW is to MINI, what AMG is to Mercedes and NISMO is to Nissan - an in-house skunkworks division aimed at turning the common and garden-variety models from the main brand into frenzied, souped-up pieces of work. 
All JCW models come today from the factory with all manner of added performance, from more power, better brakes, and re-tuned suspension.
This latest JCW coupe produces 228hp and 320Nm of torque from its turbocharged 2-litre 4-cylinder engine. All that extra juice is put to the ground through an 8-speed automatic gearbox driving the front wheels, and that'll get you from 0-100km/h in 6.1s. 
Unfortunately, for some reason, there is an engine with even more poke that MINI chooses to only put in the Countryman and Clubman so the Cooper 3-Door is stuck with the option with a little less power. 
Other JCW goodies that the Cooper 3-Door has received include a redesigned front grille for added cooling, adaptive sports suspension, and a sports exhaust system. The JCW version also sports added aerodynamic bits like a rear wing and rear diffuser.
All that makes the JCW look and sound both fiercer and more aggressive, while still maintaining the classic MINI body shape and appearance that so many have come to love.
On the inside, the JCW 3-Door carries over a lot of the same interior features we've seen on other MINIs we've reviewed including the entire infotainment system and the bulk of the actual interior. 
If you want to find out more on that bit, you can have a look at our reviews of the MINI Cooper S Convertible or MINI Electric. 
The headline features still include a full touchscreen centre infotainment display, digital gauge cluster, and wireless Apple CarPlay. This car also gets a Harman Kardon sound system, a heads-up display, and a sunroof that spans the length of the car.
In practice, the JCW 3-Door still suffers from the classic MINI problems of hopeless cargo and rear passenger space and at least for my driving position, the heads-up display is also completely obscured by the steering wheel. But all of that is rendered moot very quickly when you feel how this thing drives. 
That's because the greatest importance for the JCW 3-Door lies, of course, with its driving experience. To get the gripes out of the way, ride quality is rather harsh on public roads as the stiffer sports suspension makes its presence known. 
At speed, the exhaust also drones quite a lot and the insulation from road noise is almost laughable. Cornering at high speeds is also not for those without grit, the short wheelbase makes it quite unstable and you get the feeling that it might just step out on you with barely any warning.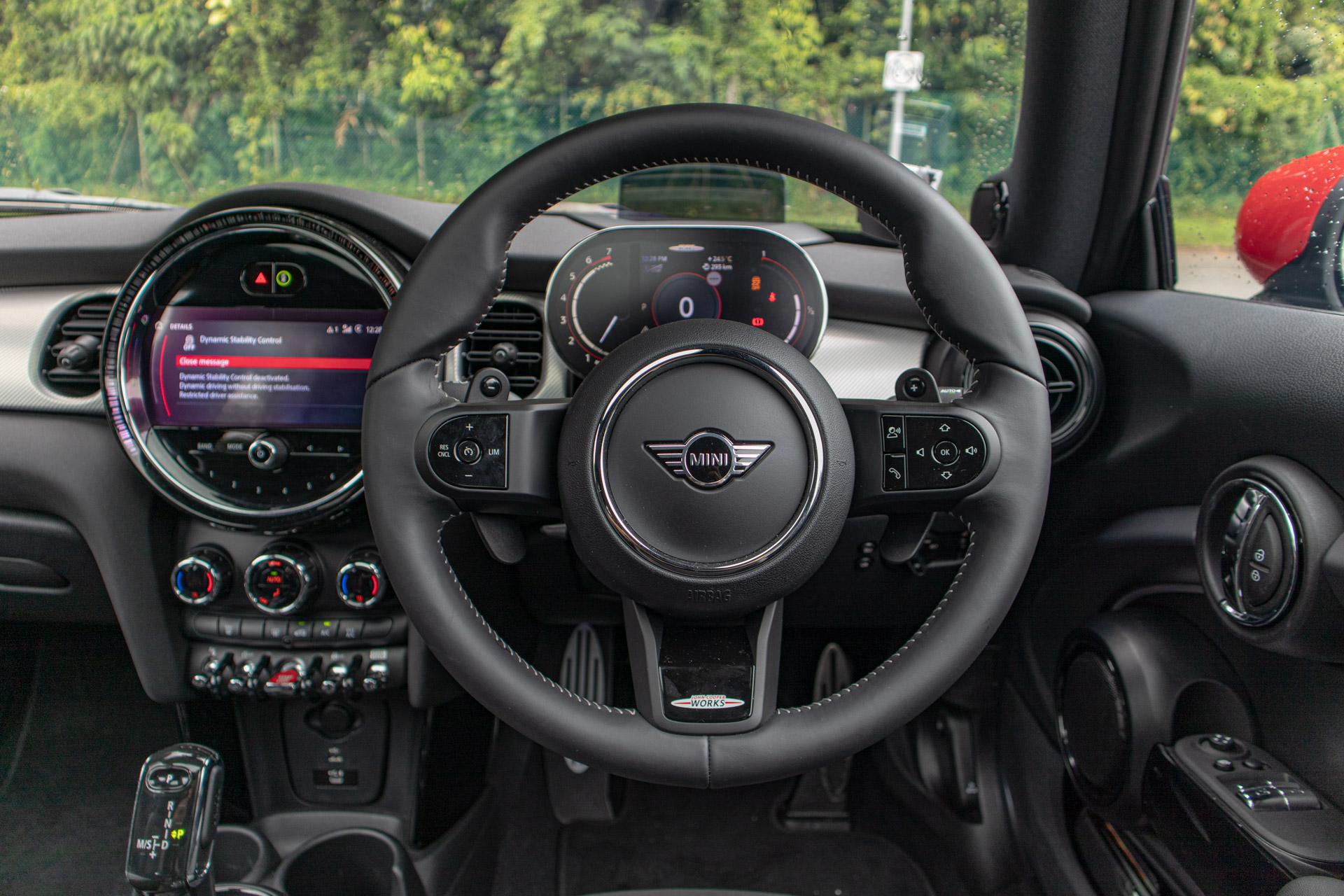 But, at low to medium speeds, this car is a gem to drive. As someone who's spent a good portion of his life racing go-karts professionally, I've long held the phrase "go-kart-like handling" in disdain. Very few, if any, cars actually handle like a go-kart and this phrase often pops up when reviewing a MINI.
I'm sad to say that as expected, the JCW 3-Door does not indeed handle like a go-kart, but that's not at all to say that it doesn't handle well. It is quite the contrary in fact. 
To start, we shall first deal with how the JCW stops. The brakes on this car are a stark improvement over those found in the other MINIs we've reviewed thus far, it doesn't suffer from the same lacklustre braking performance that they did. 
What that means is that you can aim this car straight at a corner and fire it in with well-founded confidence. You can stand on the brakes as you come down through the gears. 
The gearbox may not be a DCT but shifts are dealt with sharpishly and with a nice little kick as the shifts are driven home. As a sidebar and an added bonus, lifting off often creates a fun "psshh" from the blow-off valve of the turbo. 
Once you've slowed to your preferred entry speed, you can crank in the well-weighted steering to make full use of the gobs of mechanical grip and brilliant turn-in response to enter the corner aggressively yet precisely and hit your apex. 
Unwind the steering and feed the power back in to feel the torque pull you out of the bend, ready to rinse and repeat all the livelong day. 
The MINI John Cooper Works 3-Door, though impractical for anything more than a couple, is handsome, rapid, a joy to drive and will no doubt be able to hang with cars much bigger and faster than it whether through B-roads or at Sepang. 
But above all that, this car ranks highly on the smiles-per-mile scale which is a good thing because while it might not be the most affordable at S$230,888, there wasn't a moment during my drive with it that I wasn't grinning like a Cheshire cat. 
So for the discerning, fun-loving individual who knows exactly what you're looking for in a car, your search may be over. 
Head on down to Eurokars Habitat and give the MINI John Cooper Works 3-Door a try for yourself here.
Specs
Price:

S$230,888 (inclusive of COE)

VES Banding: B
Performance:



Engine: 2 litre 4-cylinder TwinPower Turbocharged

Power: 228 bhp @ 5,200rpm - 6,200rpm

Torque: 320 Nm @ 1,450 - 4,800 rpm

Fuel Consumption: 15.6 km/l

0-100km/h: 6.1 Seconds

Top Speed: 246 km/h

Drivetrain: 8-speed Steptronic Sport; Front-Wheel Drive

Brakes (Front): Ventilated Disc



Brakes (Rear): Disc
Measurements:

Wheelbase: 2,495 mm

Dimensions (LxWxH): 3,872 mm x 1,727 mm x 1,414 mm

Fuel Tank Capacity: 40 litres

Boot Capacity: 211 litres
Features:

Adaptive Suspension 

Electrically Operated Sunroof

Cruise Control

Wireless Apple CarPlay & Android Auto

Lane Departure Warning

Electronically Locking Differential

Launch Control

Automatic Headlights 

Automatic Wipers

Ambient Lighting

Auto Engine Start-stop
Prices are accurate at the time of writing.
Photo Credit: ACube Creative (@weareacube)
Download the Motorist App
The easiest and smartest way to manage your vehicle in Singapore.
Download Now
Read More: mReview: Audi e-Tron VM - A Germanic Sumo
---
Download the new Motorist App now. Designed by drivers for drivers, this all-in-one app lets you receive the latest traffic updates, gives you access to live traffic cameras, and helps you manage LTA $195,888 and vehicle matters.
Did you know we have a Motorist Telegram Channel ? Created exclusively for drivers and car owners in Singapore, you can get instant info about our latest promotions, articles, tips & hacks, or simply chat with the Motorist Team and fellow drivers.