Hyundai goes back to the future with their latest N Vision 74 hydrogen-powered concept car, and it's an insane blend of the company's forgotten past and a dystopian cyberpunk future. And we love every bit of it.
With aggressive and angular lines, sombre gunmetal grey paintwork, and vents galore, the N Vision 74 looks right at home in the backdrops of Blade Runner, Ghost in the Shell, or Cyberpunk 2077. 
Rather than taking reference from their current lineup of blobby-looking EVs, Hyundai have instead flipped through the history books and selected their Pony Coupe Concept from the 1974 Turin Motor Show. A wise choice then, as it was penned by none other than Giorgetto Giugiaro, a titan in the automotive design sphere.
Hyundai is well aware of its strong similarities with the iconic DeLorean DMC-12, also penned by Giugiaro. According to the carmaker's chief of design Sangyup Lee, "Please don't say there is a resemblance to the DeLorean, because we did it first!". 
The wedge design makes a comeback on the N Vision 74, along with the retrolicious rear window louvres. Unlike the original Giugiaro-penned Pony Coupe, however, this reimagined concept features restomod-style upgrades, such as widened box arches, massive grilles and spoiler, and get this: turbofan wheels. 
LED parametric pixel lights fill the front and rear fascias, not unlike the company's Ioniq 5 electric hatchback. And like a proper race car, it's outfitted with large diffusers at the back, and touring car-style skirts on the sides, complete with gargantuan air vents. We truly are living in the Golden Age of Hyundai.
Under all of this madness is, well...even more madness. The carmaker has elected to use hydrogen fuel cell technology for their Rolling Lab (a term coined by them for the N Vision 74), but with a strong focus on high performance. This was first shown in 2015 with the company's N 2025 Vision Gran Turismo, and they've made strides in FCEV engineering since.
Sitting on a rear-wheel drive architecture, the N Vision 74 is powered by twin motors for both rear wheels, and aided by the company's electronic Torque Vectoring by Twin Motors (e-TVTM) tech. With 235kW running through each motor, complete with torque vectoring, Hyundai claims that the cornering experience is enhanced. With hints of the car's tail-happy nature in the rendered images, we're inclined to believe this.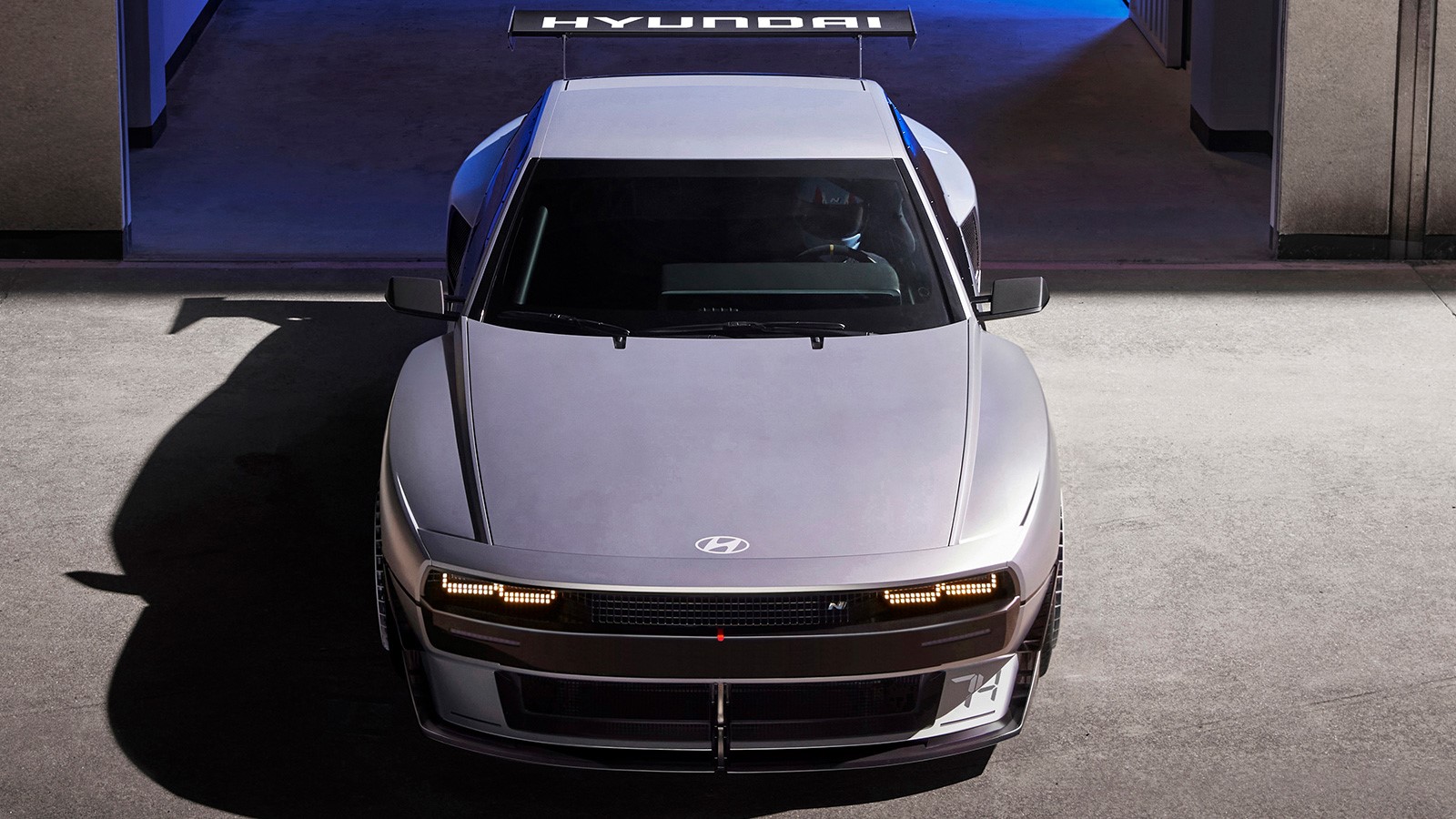 Hyundai has also given a serious thought about seamless delivery and integration between the two power sources available on the car. It features an integrated control system that manages optimal power distribution between the fuel stack (max 95kW) mounted in the front, and a T-typed battery (62kWh) at the bottom. Additionally, the carmaker states that the latter will have an 800V fast-charging capability.
The N Vision 74 also boasts a three-channel cooling system, to enhance heat management for the power electric system.
All in all, this retro-futuristic dreamboat puts out a respectable 671 horses and over 900 Nm of torque, and is capable of driving over 600 km. While technical details are still murky, the company says that its top speed is "over 250 km/h", making it a proper time (warping) machine.
Hyundai claims that it also has fast refueling characteristics, with the ability to refuel up to 80% SOF in just five minutes. According to the company, this opens up opportunities for the future of motorsports racing. In the words of Hyundai, "the courage to pursue this mission and the ability to embrace imagination will open a new chapter of driving fun". 
The cockpit calls back to the original Pony Coupe Concept, with its driver-centric dashboard and controls. In place of the traditional manual shifter is an array of physical dials and buttons. No analogue instrument cluster here, either. All that's been replaced by a widescreen digital display, tucked away behind a flat-bottomed racing wheel.
The N Vision 74 was launched on N Day last week, alongside the radical Ioniq 6-based RN22e racecar. And like the latter, the N Vision 74 remains a proof of concept with no visibility of being produced for the mass market anytime soon.  
Whether or not this becomes a production-ready vehicle, Hyundai's been putting their foot firmly on the throttle and pushing for exciting non-ICE cars for car enthusiasts lately, and we're all for this kind of progress.
Download the Motorist App
The easiest and smartest way to manage your vehicle in Singapore.
Download Now
Read More: Hyundai Showcases RN22e Concept, Is An Electric Racecar Of The Future
---
Download the Motorist App now. Designed by drivers for drivers, this all-in-one app lets you receive the latest traffic updates, gives you access to live traffic cameras, and helps you manage LTA and vehicle matters.
Did you know we have a Motorist Telegram Channel? Created exclusively for drivers and car owners in Singapore, you can get instant info about our latest promotions, articles, tips & hacks, or simply chat with the Motorist Team and fellow drivers.