We all know the recipe for brewing up a good economy car - sourcing for quality ingredients, extracting and distilling their essence, then combining it with equal parts quirky for a more full-bodied experience.
If you skimmed over the Opel Mokka, you'd find a car that very religiously follows this formula. It combines proven components from Stellantis (and some from General Motors), but wrapped up in a refreshingly unorthodox body shell that far betrays its actual price tag.
The Opel Mokka experience then, is very much like purchasing a beverage from a fast food joint, only to find out that it has the taste and packaging of a product from a far more prestigious establishment.
Breaking Down The Mokka's Grounds
The proof may very much be in the pudding, but as humans, we eat with our eyes. The Crema on top of the Mokka crop is definitely its exterior - a big part in the consumption experience is in the way something is packaged, and the Mokka does not disappoint in this regard. It steers well clear of the pitfalls other economy-oriented cars have fallen into, with Opel opting to create a chiselled outward appearance, reminiscent of their larger offerings.
The squared-off front end, blanked-off grille and integrated headlights imbue strong notes more premium in origin. The unpainted, colour-contrast body panels are actually properly incorporated into the overall design, offering a certain complexity to the overall outlook, a vastly superior approach as compared to the automakers that simply opt to keep various panels unpainted as an afterthought.
And whilst robust tyre sidewalls, a result of the small wheels, can visually break a car, the Mokka is proof that reducing production costs of a vehicle does not need to come at the expense of overall appearance - when done properly, smaller wheels can actually improve the (visual) flavour of a car!
Peeling Back Its Silverskin
The Opel Mokka does not know beans about life as a scarcely-equipped economy car, for it isn't one. Opel portioned enough visual zing to dish out a cabin that looks more premium than its price tag implies. There's no vast expanses of flat black plastics here - the Opel designers opted to create a driver-centric dashboard with plenty of colour-contrast bits. Faux carbon fibre panels grace much of the passenger half, whereas the driver gets his two screens mounted on a curved enclosure, which Opel has dubbed its Pure Panel, made out of piano black plastics.
Driving information is displayed on a 12″ Digital Instrument Cluster, whereas a 10″ Infotainment screen takes care of all your multimedia needs. Apple CarPlay and Android Auto are available, but you'll need a wired connection to activate either. The PSA-sourced screen is controlled by buttons and dials from the GM parts bin. Lower down in the centre console, you have GM switchgear for various car settings, but then paired with a PSA group shift rocker.
Thankfully, and unlike in other newer French cars, Opel has opted to preserve actual knobs and buttons to control the climate.
The separate temperature controls will have you believe that this budget-friendly compact German crossover actually has dual-zone climate control. The reality is that both knobs control the same function - i.e. the overall cabin temperature, with no fine tuning capacity to adjust the temperature on each individual half of the car. I am not a fan of the central vent underneath the infotainment screen, located there only because of the positioning of the other displays in the cabin.
'Venti' isn't a term that I'd used to describe the Mokka's rear occupant space. It's a car really only suited for four adult occupants. The high transmission tunnel and overall lack of width is a concoction that rear middle seat passengers will most certainly not get a buzz from, especially on longer journeys. The perceived space experience is also decently watered down as a result of the use of black fabrics across the cabin, exacerbated by a high window line and the resultant small window aperture.
What's Brewing (Under The Bonnet)?
The 1.2 litre turbocharged engine providing the pep in the Mokka is very similar to the units that we've tried on the larger Citroen C4 and C5 cars. As it is lugging around far less weight, the power plant actually feels less Decaf in this configuration, and more well, Mocha. The 130bhp really does mean the car feels decently spritely once you are up to speed, but do not be fooled into thinking that you'd be winning any traffic light Grand Prixes anytime soon.
There's no significant difference between the throttle response in any of the three driving modes, but there is a sizable gulf in the behaviour of the gearbox. The ride comfort pot is definitely stirred when the car is left in either 'Normal' or 'Sport' mode, as it cannot accurately ascertain what ratios are the most ideal for the car to be in at any given time.
Thankfully, Opel's recipe for an 'Eco' mode allows the Mokka to have a power delivery experience that bubbles over with far less discomfort than with either of the aforementioned settings - it can actually hold gears for just the right duration, and makes less unnecessary shifts for a smoother finish.
The suspension optioned by the Opel engineers is best described as 'safe'. It's too stout to waft you along, but too under-steeped to be competent when the car is pushed. This setup ensures that the car serves as a sort of jack of all trades, making it work decently in a wide range of conditions. There's also not a whole lot of feedback from the steering wheel or the brake pedal, but then again I'd suggest tempering your expectations as this was never designed to be an out-and-out driver's car.
Can This Matcha Mokka Be Your Cup Of Tea?
I guess it really depends on what you're looking for. It's really hard to beat the value offered by the Opel Mokka at its price point. Other economy-oriented vehicles often sacrifice key factors in the build and experience to meet a certain cost, but you really don't get that in the Mokka.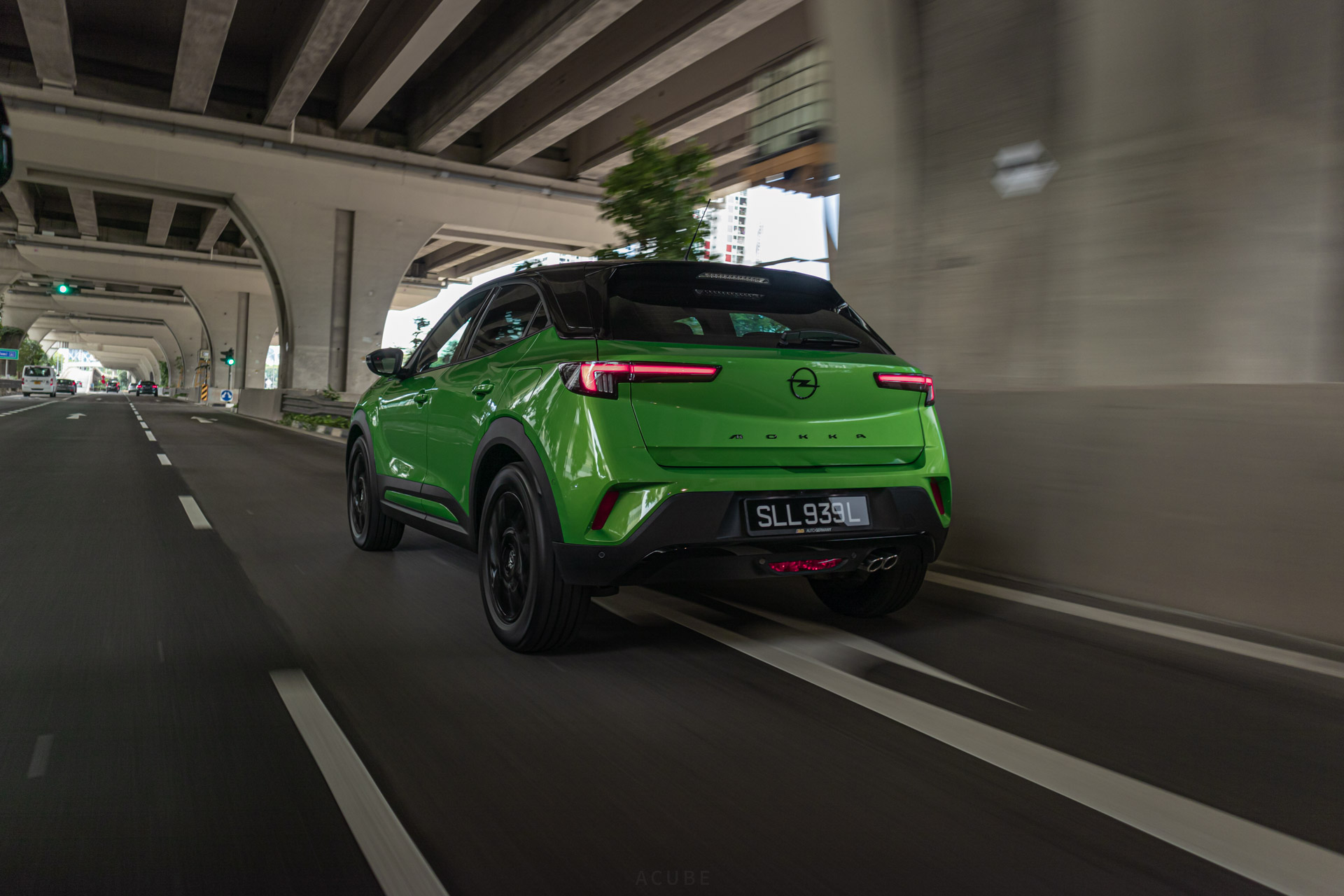 By no means is it the fastest car on the road, but that's not really the point of a Mokka. The quirks do not leave a bitter taste in the mouth - instead, it adds to the character of the vehicle, creating a sense of occasion that I've personally not felt in any vehicle at its price bracket. As a pure petrol vehicle in a sea of hybrids and EVs, it certainly does not have the most impressive fuel economy figure, returning 10km for every litre of fuel slurped.
In fact, that's really the only factor potentially putting a lid on car buyers looking for a stylish yet affordable ride. Still, if you want the dashing looks of a matcha Mokka, with a bit more zest and a more palatable running costs, there's an electric version coming later in the year - and perhaps that's the extra shot of caffeine needed to elevate the overall Mokka experience!
[cta_app_download]
Opel Mokka 1.2 Turbo GS Specifications

Price

$143,500

Performance

Engine: 1,199 cc Turbocharged 3-cylinder

Power: 129 bhp

Torque: 230Nm

0-100km/h: 9.2 seconds

Drivetrain: 8-speed automatic, front wheel drive

Brakes: Discs

Measurements

Dimensions (LxWxH): 4,150 mm x 1,790 mm x 1,535 mm

Wheelbase: 2,557 mm

Weight: 1,220 kg

Boot Capacity: 350L

Features

LED Headlights

LED Taillights

Opel Pure Panel

Apple Carplay

Android Auto
Prices are accurate at the time of writing.
Photo Credit: ACube Creative (@weareacube)
Read More: mReview: 2021 MINI One 5-door - Good Things Come in Small Packages
---
Download the Motorist App now. Designed by drivers for drivers, this all-in-one app lets you receive the latest traffic updates, gives you access to live traffic cameras, and helps you manage LTA and vehicle matters.
Did you know we have a Motorist Telegram Channel? Created exclusively for drivers and car owners in Singapore, you can get instant info about our latest promotions, articles, tips & hacks, or simply chat with the Motorist Team and fellow drivers.