Lightning flashes across the murky clouds, illuminating the somber sky above and land below faster than in the blink of an eye. As if determined not to be outdone by the spectacular light show, the unmistakable roar of thunder arrives.
Welcome, everyone, to the all-new Polestar 2. Hailing from the country that has brought us ABBA and IKEA furniture, Polestar is bringing the fight to the premium electric vehicle category – currently dominated by a certain Texas-based electric car company – equipped with all the Swedish sensibilities and nothing held back. 
But the burning questions that many observers have on their minds are: what exactly is Polestar? And can this company's latest model truly outperform Tesla's Model 3, the current poster child of the EV world?
Stepping Out of Volvo's Shadows
For those who are of a certain vintage such as yours truly, you may remember the Polestar as Volvo Cars' skunkworks motorsports division. They were responsible for tinkering around with and racing Volvo vehicles in various motorsports events, before being acquired by the Swedish company in 2015.
2013 Volvo S60 Polestar
Fast forward to 2017, and the Polestar brand has since spun off to become both a premium electric car marque and a testing ground of sorts for new technologies that would eventually trickle down to future Volvo products.
And today, we have the Polestar 2, the carmaker's second model in its lineup. It has plans in place to unveil a new model every year till 2024, with the Polestar 3 SUV already slated for a global premiere this October. It's evident, then, that the company has grand plans and won't play second fiddle to other established EV makers.
Does the Polestar 2 instill fear into its competitors with its booming arrival, or will it just be another passing cloud? I set out to find the answer.
Aiming For The Stars While Remaining Grounded
The Polestar 2 is unquestionably a well-designed car and resonates well with the masses, but what's its secret sauce? To sum it up in one word: familiarity.
It doesn't possess an absurdly futuristic design because it doesn't have to be. With a familiar and somewhat traditional form factor inside out, potential car buyers are more likely to give the car a go and not feel overwhelmed or behind the times, which is exactly what Polestar is aiming for.
Take the front fascia, for example. The Polestar doesn't require a grille (or the Grid, in Polestar-speak) for cooling purposes, but it's there, repackaged to seamlessly integrate advanced components like radar sensor technology and front camera into it. 
The automaker's design team clearly believes in presenting the future in a homely and almost-classical package, without feeling the need to reinvent the wheel just for the sake of it; a principle that I wholeheartedly agree with.
The Yin and Yang of Cabin Design
Emphasis on the Polestar 2's masculine yet understated looks has been made by giving the car angular dimensions, strong character lines and a high-riding stance, in stark contrast to other sleeker-looking premium EVs out there today. The fastback-style silhouette is also a bold design choice and may be polarising to some, if I am being frank. 
Yet somehow, Polestar has made it work.
And as expected from an automaker of this level, the Polestar 2's build quality is excellent, alleviating any concerns of its Made-in-China nature. Doors close with a reassuring thud, and panel gaps are consistent and tight. Ingress and egress is also rather good.
Practicality-wise, you have access to 405 litres of boot space behind, and 35 litres up front. And if you're worried about safety, don't be. It's equipped with eight airbags all-round, and features a suite of active safety features such as Collision Avoidance and Mitigation with braking and steering support, the latter of which we can confirm work as advertised.
Stepping inside the spacious cabin, you are greeted with a decidedly dark "Charcoal" shade of WeaveTech vegan upholstery, both supple and comfortable, if not a tad claustrophobic. A lighter shade, dubbed "Slate", is also available. If you prefer something more luxurious however, Polestar will soon offer customers with a leather upholstery option in light grey.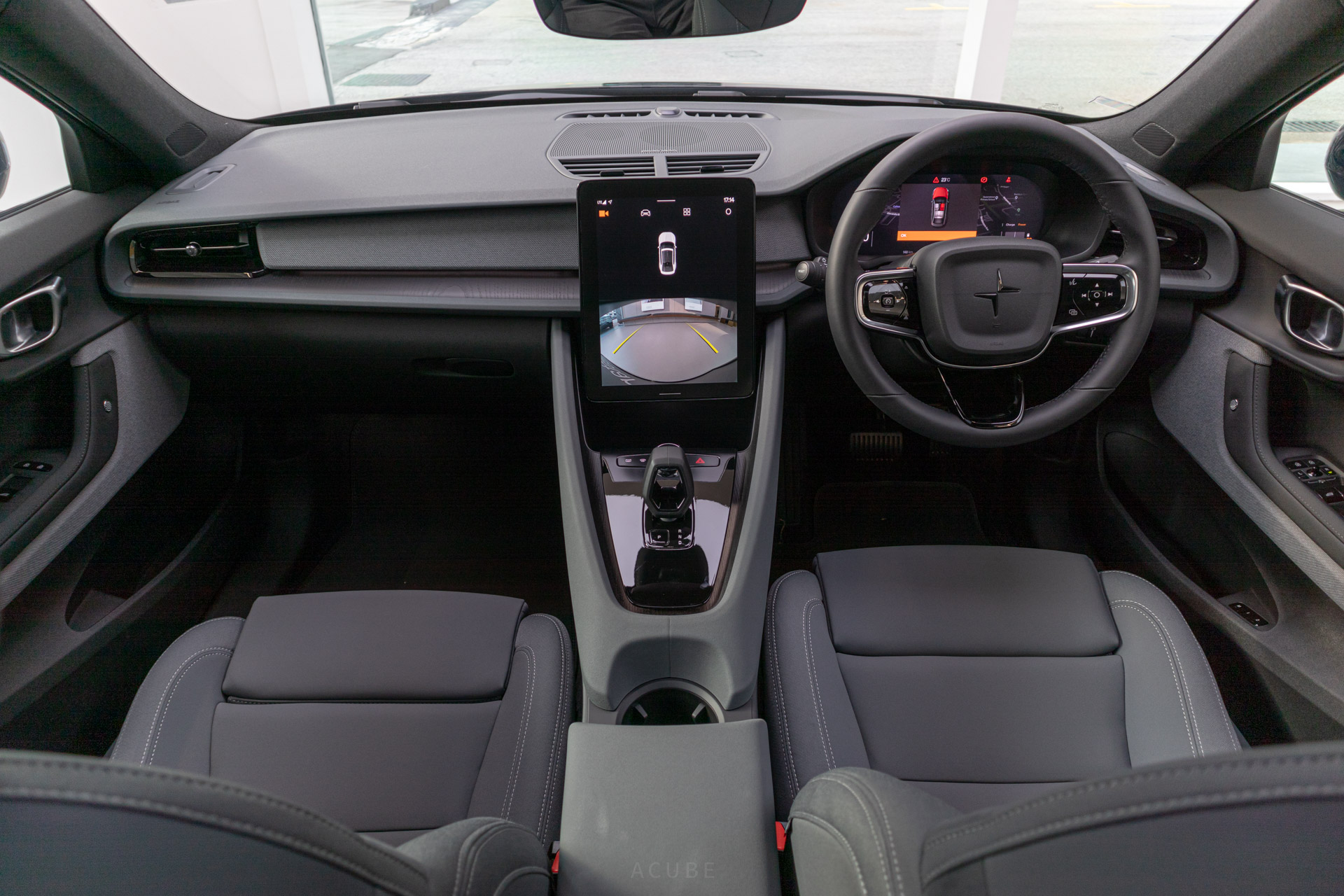 Complementing it are the rather classy Black Ash décor wooden inlays, with soft underside lighting to enhance the cozy living room-like environment. 
I found the presence of physical buttons and switchgear to be welcoming, akin to seeing an old friend again. See, it is possible to design a modern interior without reinventing the wheel.
The hexagonal gear selector features an illuminated Polestar symbol at the base, adding some visual flair to the cabin. It shifts with great tactility, as do the various buttons and dials present. The fully-electric front seats too are inviting and comfortable, with four-way lumbar support and mechanical cushion extensions for the front ones.
Is Polestar behind the curve in terms of onboard technologies then, with all these traditional elements? Certainly not. The Polestar 2's packed with an ultra responsive and user-friendly 11.15-inch central infotainment display that's powered by Android Automotive OS. Incidentally, it's the first production car in the world to feature this car-specific operating system, with other industry rivals soon to follow.
Polestar's even got fellow audiophiles covered, with a 13-speaker Harman Kardon audio system gracing the vehicle's interior. From Pavarotti to Seiko Matsuda, both driver and passenger are guaranteed a satisfying surround-sound aural experience.
A large tinted panoramic glass roof completes the in-car experience, giving occupants an unobstructed (read: no structural bar running across) view of the skies above. A subtle illuminated Polestar symbol is reflected off the front of the glass, an ode to the Scandinavians' quirky and subdued sense of design.
A Voyage To Remember
Just when you thought that Polestar has opted for an elegant but somewhat clinical approach towards car-making, it surprises you again at the next corner. Like Muhammad Ali walking into the boxing ring in a suit, there are not-so-subtle hints of this variant's thunderous nature behind the graceful metal shell. 
The model I had the keys to was the cream-of-the-crop Long Range Dual Motor, with Performance Pack equipped. That essentially means that this Polestar 2 has a 78 kW battery pack and all-wheel-drive, capable of clocking 482 km on a single charge.
That also means that visually, this particular Polestar 2 trim is immediately identifiable by its with four-piston brake calipers and drilled & ventilated discs, with the former finished in exclusive Swedish gold paint, and 20-inch alloy wheels. 
Similarly finished in gold paint are the Öhlins Dual Flow Valve adjustable dampers, as do the seatbelts inside. And for all variants, the iconic Thor's Hammer daytime running lights come standard. Who said EVs cannot be fun?
Like Muhammad Ali walking into the boxing ring in a suit, there are not-so-subtle hints of this variant's thunderous nature behind the graceful metal shell. 
Press the brake pedal and shift the gear selector to drive, and it's all systems go. Access to all 408 of its horses and a whopping 660 Nm of torque is immediate, with no unnecessary toggling of settings required. And with power being sent to all four wheels, nought to a hundred takes a mere 4.7 seconds.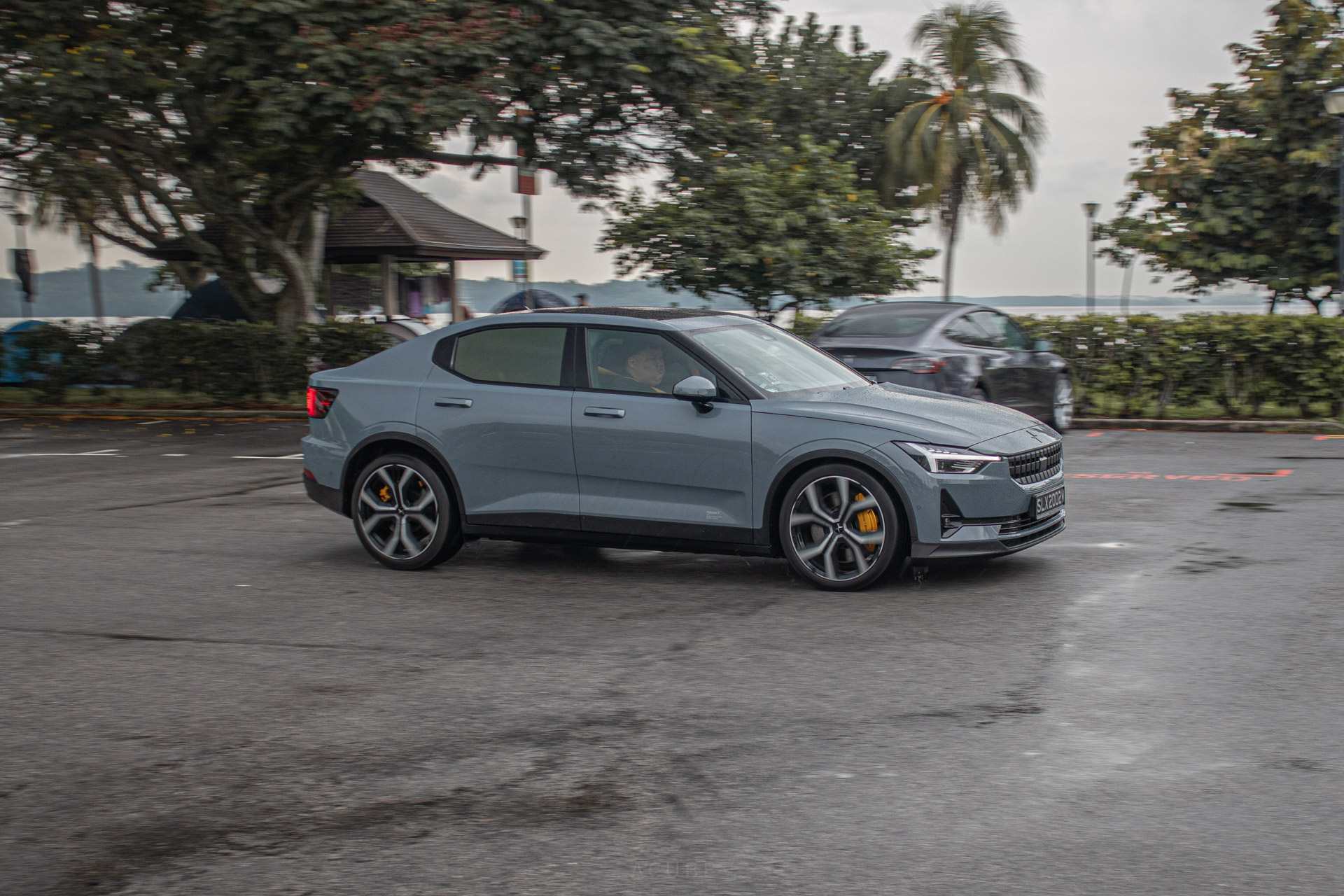 While acceleration is brisk with a capital B, it isn't nausea-inducing, unlike certain rivals. Much like being inside of a jetliner during take-off, the experience is immensely satisfying and confidence-inspiring.
Throw it around the various bends and corners across Singapore, and the Polestar 2 shows remarkably minimal body roll, in spite of its raised profile. The fastback hugs the road very well, with the Öhlins dampers and sticky 245/40/R20 Continental SportContact 6 rubber all working together to keep the car firmly in line and in control. 
Steering feedback is extremely precise, and you're actually able to direct the front wheels without second-guessing, which cannot be said for many other EVs. The Polestar 2's sheer agility definitely betrays its kerb weight, which measures just over two tonnes. Sport Mode can also be enabled, which essentially delays the ESC system and makes the car more agile as a result.
There are three settings for the steering response on the Polestar, and naturally, I favoured the firmest one for the sportiest and heaviest feedback, after several days of driving. 
If there's any feedback (no pun intended) to be had, I think the steering could have been programmed to be just a smidge heavier, but for many people, this is more than adequate.
Ride comfort inside is shockingly good even when the car is thrusted at enthusiastic speeds, both along straight roads and around bendy corners. NVH levels were so low, in fact, that we barely felt road bumps and undulations, and almost exceeded legal speed limits without noticing; all with four full-sized adults in tow.
Essentially, Polestar's forte at making quality go-faster cars was not consigned to the history books when it became a premium brand; it has simply evolved to become a much more comprehensive kit.
Of Power Efficiency And Environmentalism
Piloting the Polestar 2 under various conditions and driving styles, the fastback clocked 24.9 kWh/100 km, or about 4 km/kWh. Several efficiency-oriented features are present inside, such as One Pedal Drive. Just like its acceleration, the system is does not kick into effect harshly, but instead slows it down in a more forgiving manner.
Even the WeaveTech upholstery is mostly made up of recycled materials, minimal use of chemical plasticisers. The wooden inlays are also fully utilised to lower material waste, while still looking pretty darn premium.
Polestar prides itself in being the only carmaker now to publish the complete Life Cycle Assessment (LCA) of their cars, Polestar 2 included. Customers will also be able to find out the environmental impacts of their vehicle from the showrooms, down to tracing the source of cobalt that's being used in their Polestar cars' battery packs. This is definitely a step up from current eco-related efforts from other mainstream carmakers, and I'm all for it.
So, Should You Buy One?
In a word, yes. Of all the premium electric cars that we've tested this year, the Polestar 2 is by far the most comprehensive and well-packaged one so far.
It feels and drives like a dream, especially with the superb Performance Pack included. And with its stately yet unassuming looks, the Polestar 2 will satisfy many demographics who are keen on a top-shelf EV experience.
Apart from being an excellent carmaker, it also walks the talk with its environmental actions. If this is the direction that Polestar is taking, I have full confidence that the future of the company will be a bright one.
Prices start at S$226,000 for the Standard Range Single Motor, with this high-end Long Range Dual Motor going for $268,000, with an additional $16,000 for the Performance Pack.
Specs
Model
Polestar 2 Long Range Dual Motor (with Performance Pack)
Price

$268,000 (+ $16,000 for Performance Pack)

VES Banding: A1
Performance

Motor: Dual electric motors

Battery: 78kWh Lithium-ion pack

Power: 300 kW (408 bhp)

Torque: 660 Nm

Energy Consumption: 4 km/kWh (real-world testing)

0-100km/h: 4.7 seconds

DC Charging Rate: 155 kW (max)

AC Charging Rate: 11 kW (max)

Drivetrain: Single speed fixed gear, All Wheel Drive

Brakes: Ventilated and drilled disc brakes (with optional Brembo four-piston aluminium calipers)

Measurements

Dimensions (LxWxH): 4,606 mm x 1,859 mm x 1,477 mm

Wheelbase: 2,735 mm

Kerb Weight: 2,160 kg

Battery Capacity: 78 kWh

Boot Capacity: 405 litres (rear) / 35 litres (front)

Features

Electric front seats (with memory function for driver seat)

Four-way power adjustable lumbar support with mechanical cushions (front seats only)

Pre-entry Climate Control

CleanZone with pre-ventilation, multifilter 

Progressive 12.3-inch digital driver display 

4x USB-C connectors (2 Front, 2 Rear) 

Over-the-air (OTA) updated for life 

Integrated e-SIM with constant Internet connectivity 

Android Automotive OS, with Google built-in (Google service connectivity included for 3 years)

Inductive phone charger (15W) 

Cruise control and adjustable speed limiter with speed sign support 

Forward Collision Warning 

Collision Avoidance and Mitigation with braking and steering support 

Lane Keeping Aid with steering support 

Front and rear parking assist 

Driver Alert

8 Airbags 

Harman Kardon premium audio with 13 speakers (600W) 

Adaptive LED Headlights / Full-LED rear light bar with persistent light signature / Thor's Hammer daytime running lights 
Photo Credits: ACube Creative (@weareacube) and MM Creative (@mm.creativesg)
Download the Motorist App
The easiest and smartest way to manage your vehicle in Singapore.
Download Now
Read More: mReview: 2022 Tesla Model 3 Performance - Lightning In A Bottle
---
Download the Motorist App now. Designed by drivers for drivers, this all-in-one app lets you receive the latest traffic updates, gives you access to live traffic cameras, and helps you manage LTA and vehicle matters.
Did you know we have a Motorist Telegram Channel? Created exclusively for drivers and car owners in Singapore, you can get instant info about our latest promotions, articles, tips & hacks, or simply chat with the Motorist Team and fellow drivers.