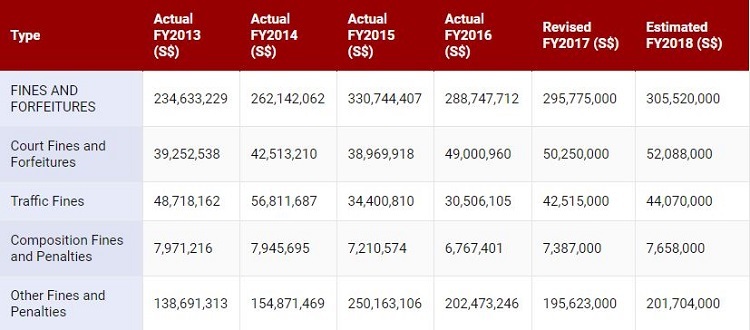 (Photo Credit: Channel News Asia)

Traffic fines are at a three-year high. In 2017, the Singapore government collected a total of S$42.5 million in traffic fines.
According to
Channel News Asia
, this amount is a "39% increased" from 2016. In comparison, S$30.5 million was collected in the 2016 financial year, while S$34.4 million was collected in 2015.
These figures were released by the Ministry of Finance (MOF) as part of the 2018 Singapore Budget.
Despite the 39% increase from 2016 to 2017, the fines collected in 2013 and 2014 were in fact higher, at S$48.7 million and S$56.6 million respectively.
For 2018, the MOF estimated that it will collect S$44 million in traffic fines, a 3.7% increase from 2017.
(Photo Credit: Singapore Police Force)
Although these figures might be worrisome to drivers, there are several positives that Singaporean drivers can be proud. According to the 2017 Annual Road Traffic Situation report by the Singapore Police Force, there were, in fact, fewer road traffic accidents last year. The number of fatal accidents and fatalities also fell to an all-time low.
In addition, 2017 also saw fewer accidents relating to drink-driving, speeding and red-light running.

If you are wondering, here are five things that can get you heavily fined in Singapore.
Source: Channel News Asia and SPF

Claim your free car valuation today!
Read more: Should the Parking.sg App Replace Coupon and Electronic Parking?
---
Download the new Motorist app now. Designed by drivers for drivers, this all-in-one app lets you receive the latest traffic updates, gives you access to live traffic cameras, and helps you manage LTA and vehicle matters. Download it now and stand a chance to win $1,000 worth of petrol vouchers monthly.