Other names in the Nissan range are much easier to read out. Sunny, Note, Leaf. But, I'm pretty sure most Singaporeans cannot agree on how to pronounce the word "Qashqai".
The name of the Qashqai sure is an oddity, but what isn't odd is the new 3rd generation model Nissan has packaged.
The Qashqai has always been a popular model due to its size, power and usability. It's a front runner in the compact crossover segment. Your aunty probably has one.
Therefore, this latest iteration has frankly a bit of a reputation to live up to. Does it have more than enough charm to attract potential buyers? 
Bold new looks
The new Qashqai looks radical in terms of styling, but the design cues are actually an evolution of the previous generation. It certainly looks more futuristic and sleeker than before, with a larger V-shaped grille, shaper angles and slim LED headlights all round.
It even looks more "atas" with the optional two-tone roof, which is actually a free option offered. Good guy Nissan.
The Prestige trim comes fitted with 19-inch alloy wheels, with a similar two-tone colour scheme that is in theme with the rest of the Qashqai.
Large rear badging is spread across the tailgate, in case other drivers want to know what car you are driving. And with poised looks like this, I'm sure they will want to know too.
Refined comfort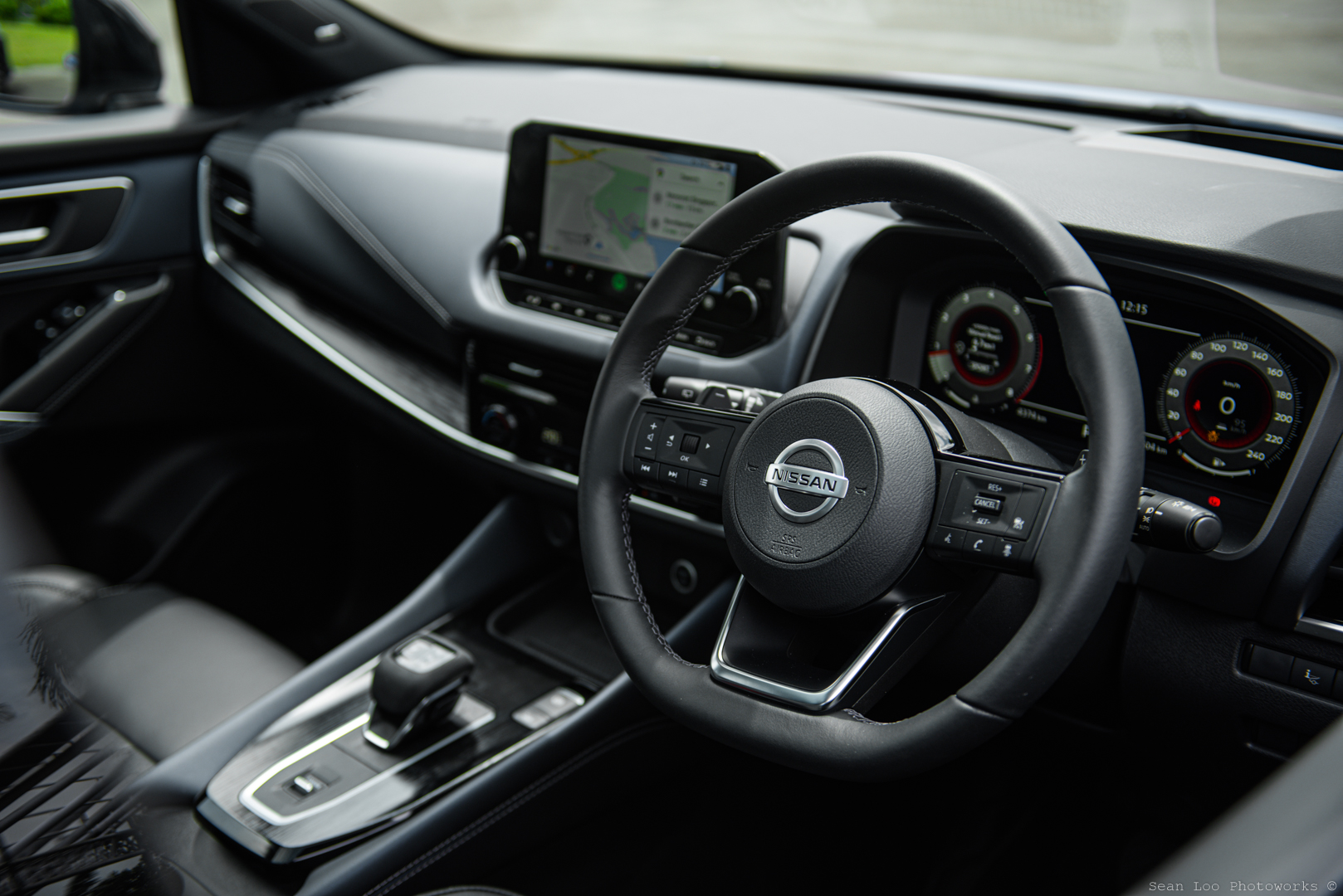 The good news continues on the inside too. Sitting behind the wheel, you are greeted with a 12.3-inch digital instrument cluster that, while limited in customisability, does a handy job in providing you with clear and easy-to-read graphics.
A 10.8 inch heads up display is also at hand displaying driving information, so you don't have to glance down to see if you're within limit of the dreaded TP sniper perched up on the bridge.
A 9-inch infotainment system dubbed 'NissanConnect'. Responsive and fairly easy to navigate, with easy assess buttons located on the bottom and dedicated dials for tuning and volume controls, not those touch or swipe kind of rubbish. Nice.
You get a wireless charging pad which is great when paired with wireless Apple CarPlay. Sadly, the Android boys do not get the same treatment, with only a wired connection to suffice.
The Prestige has the added advantage of having a 10-speaker Bose sound system, which works well in tandem with the otherwise quiet interior.
Good for the family
The Qashqai's prime target demographic are families, and it does well in rear occupant space. 3 Adults can fit in the back with ease, and ingress egress is easier thanks to the rear doors being able to open up to 85 degrees.
This wider opening also benefits parents with more manoeuvrability when fixing child seats.
The Prestige features and auto tailgate with a kick sensor, handy when your hands are full. Whilst the 504 litres of boot space is not commodious, it is still plenty for most applications.
For those big buy trips to the furniture store, the seats fold down too giving you 1593 litres of space. Partitions are also adjustable to create different storage spaces, preventing cargo from shifting around while driving.
Don't push it, and you'll enjoy it
The Qashqai gets a considerable upgrade from its predecessor performance wise, now with a 1.3-litre 4-cylinder beating heart underneath working in tandem with a 12-volt mild hybrid system.
This engine is derived from the Renault-Nissan-Daimler alliance, and it's the same power-plant found in cars like the Renault Captur, Kadjar, and even the "200" range models from Mercedes like the A200, CLA200 and GLA200.
With 156bhp and 270Nm of torque on hand, this peppy SUV can rock the century sprint in just 9.2 seconds. 
You won't attract lots of attention too, as this engine does not induce the same garish drone that some other cars produce when stretched to the limit.
Now, before you click away upon hearing the words "CVT", I will say this is one of the better ones I've tested in recent times. It certainly isn't up to chat like a proper dual clutch (DCT), but the continuously variable transmission in the Qashqai does a decent job in applying power where its needed.
You also get paddle shifters enabling you to select "gears". Although I don't see many future Qashqai owners even bothering to use such a feature.
Nissan clearly designed the Qashqai to deliver comfort and a gentle ride. Give it the beans, and the car starts to buckle a little in the corners.
A car for the family man, and not for the keen driver who drives vividly to shave 2 minutes off his GPS arrival time.
It accentuates an upmarket demeanour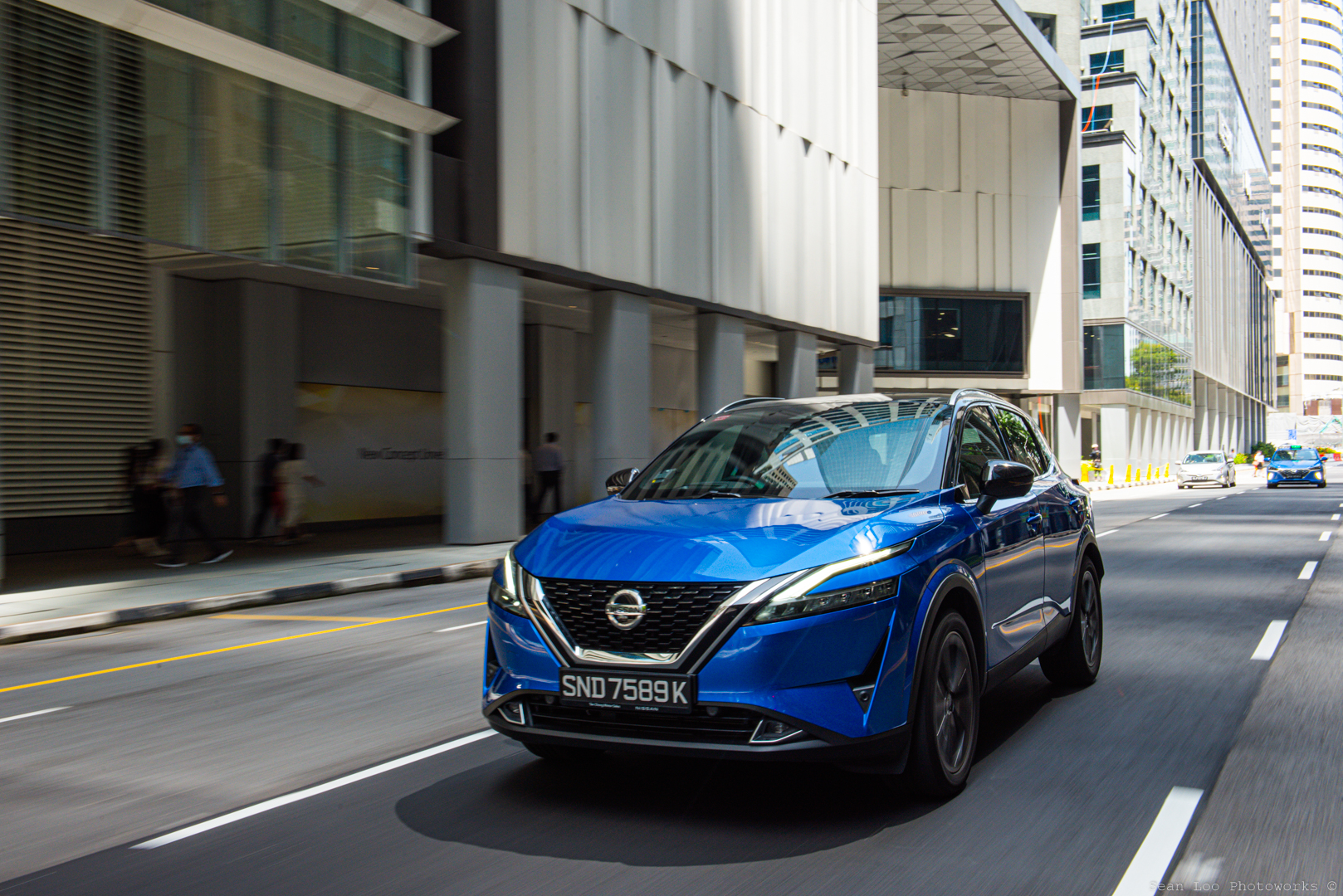 The biggest game changer of the Qashqai above all else is its refinement. If I cover the badge on the steering wheel and let someone else have a go, they might not even guess this is Japanese. Best of all, it's not trying to show off or flex to others that its good. The silence and sleek looks speaks for itself.
Cabin insulation is a big big plus, and even at speed you can hear your cargo rustling about in the back. Combine that with trinkets like the Nappa leather, and you have a car that can impress even your strict mother-in-law during Chinese New Year. 
With such a well rounded car, I expect it to be a smash hit for buyers… once the COE prices decide to come back down to Earth.
Give the Nissan Qashqai a shot by booking an appointment today!
(Prices are accurate as of time of writing)
Specs
Price

S$179,800 (inclusive of COE)

VES Banding: A2
Performance

Engine: 1.3-litre Turbocharged DOHC inline 4-cylinder, petrol mild-hybrid

Power: 156 bhp

Torque: 270 Nm

Fuel Consumption: 18.2 km/L (official) / 15.4 km/l (recorded)

0-100km/h: 9.2 seconds

Transmission: Advanced XTronic CVT, Front-Wheel-Drive

Brakes: Discs (front & rear)

Suspension: MacPherson (front) / Independent Multi-link (rear)

Measurements

Dimensions (LxWxH): 4,425 mm x 1,835mm x 1,625 mm

Kerb Weight: 1,380 kg

Fuel Tank Capacity: 55 litres

Boot Capacity: 504 litres

Tyres: 235/50 R19

Features

Adaptive Driving Beam

Apple CarPlay & Android Auto

Black Headliner

Centre Console + Front Doors Ambient Lighting

Electric Driver Seat

Front & Rear LED Turning Indicators

Hands-free Electric Tailgate

Intelligent Cruise Control

Panoramic Moonroof

Two-Tier Cargo Floor with Divider

Two-tone roof

10-speaker Bose Sound System
Photo Credits: Sean Loo (@cookiesncremee)
Download the Motorist App
The easiest and smartest way to manage your vehicle in Singapore.
Download Now
Read More: mReview: Toyota RAV4 Hybrid - Ticking All The Right Boxes And More
---
Download the Motorist App now. Designed by drivers for drivers, this all-in-one app lets you receive the latest traffic updates, gives you access to live traffic cameras, and helps you manage LTA and vehicle matters.
Did you know we have a Motorist Telegram Channel? Created exclusively for drivers and car owners in Singapore, you can get instant info about our latest promotions, articles, tips & hacks, or simply chat with the Motorist Team and fellow drivers.