(Photo Credit: Pexels)
Build positive energy in your car with these eight simple feng shui tips.

To help you usher in the Year of the Dog, we've put together these eight simple tips for improving the feng shui of your car.
These tips might be useful to individuals who are born in the year of the Rat, Dragon, Monkey, Rooster, and Dog. According to the Way Fengshui Group, these respective animals will have a tougher year ahead, as compared to the other animals of the Chinese zodiac.

Learn more about these tips below, and may 2018 bring you an abundance of good luck, wealth, and of course, health. Huat ah!
1. Decorate your car with auspicious colors.
(Photo credit: Pexels)
As we usher in the year of the Dog, there are several auspicious colors that you can decorate your car with to improve its feng shui. Please refer to the zodiac list below to find out your lucky colours.
Rat: Yellow and Grey
Ox: Red, Orange, Yellow and Grey
Tiger: Green, Blue and Black
Rabbit: Yellow and Brown
Dragon: Blue and Black
Snake: Red and Orange
Horse: Yellow and Brown
Goat: Yellow and Brown
Monkey: Red, Orange, Blue and Black
Rooster: Red, Orange, Yellow and Grey
Dog: Green, Red and Orange
Pig: Green, Yellow and Brown
2. Keep the interior of your car clutter-free
(Photo Credit: Jiji)
Clutter is the number one enemy when it comes to feng shui. Not only does it build negative energy over time, but it also promotes depression and tension while driving. By removing clutter from your car, it allows trapped, negative energy to flow free.
Besides the standard vacuuming, remember to give the nooks and crannies of your car a thorough cleaning as well. Some rarely cleaned areas of the car include under the seats, the boot of the car, the creases of your seat cushions, the air-con vents, the door side pockets, and the glove compartment.
3. Keep your car windows clean
(Photo Credit: Pexels)
There's a saying that windows are a representation of our eyes. To have a clear vision towards the future, be sure to give your car windows a thorough cleaning. If they happen to be cracked, be sure to get them fixed as soon as possible.
4. Wind the windows down
(Photo Credit: Pexels)
Besides keeping your windows clean, you should also try driving with the windows down. Just like opening your windows at home on Chinese New Year, it is believed that winding the windows down will bring good luck and fortune to your car.
5. Keep a bottle of water for drinking in your car
(Photo Credit: SheFinds)
Water represents clarity and thoughtfulness in feng shui and helps drivers improve their road awareness. Drinking water might even help you deal with stressful road situations.
This is especially vital if you're carrying devices that transmit Bluetooth or WiFi in your car. These devices create electromagnetic fields, which might block positive energy from flowing.
6. Improve your temperament with music and essential oils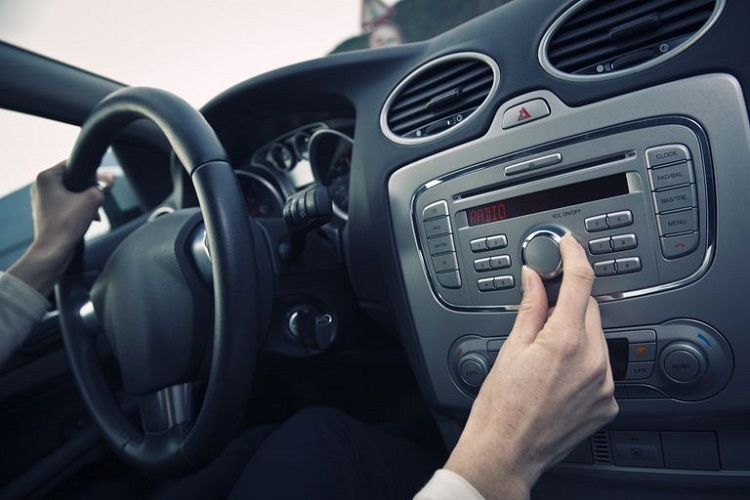 (Photo Credit: Lifewire)
Feeling stressed and overwhelmed on your drive home? Get rid of these negative feelings and energies by listening to some calming music or by using a car aromatherapy diffuser. If you aren't sure what songs to listen to, the following list of songs is said to be "the safest" to listen to on your drive home. They are:
As for essential oils, scents like Lemon, Lavender, Jasmine, and Rosemary are good choices for their calming and uplifting properties.
7. Decorate your car with auspicious ornaments
(Photo credit: The Spruce)
Do you decorate your home with auspicious ornaments to ward off bad luck? Well, you can do the same with your car. Some common auspicious ornaments that you could keep in your vehicle include golden coins, a pair of Pi Xiu pendants, or a tiny crystal tree. For a full list of feng shui ornaments to improve your luck, click here.
Another symbol that seems to be growing in popularity is the Gecko Lizard Emblem. Usually silver or gold in colour, this emblem is said to help drivers "stay out of accidents" in China.
8. Keep mood-enhancing minerals in your car
(Photo credit: KnowFengShui)
Remain grounded and level-headed by keeping mood-enhancing minerals in your car. Besides improving your temperament and strengthening your personal energy, some of these stones are said to have special properties like protection, improving your wealth and career, and helping you find love. Refer to the list below to discover a suitable mineral or stone for your zodiac.
Rat: Sodalite - Improves creativity and relieves stress
Ox: Fancy Jesper - Improves self-confidence and enhances your analytical skill
Tiger: Persian Agate - Increases wealth luck
Rabbit: Golden Jade - Attracts wealth opportunities
Dragon: Green Phantom Quartz - Improves finances, stabilises emotions, and boosts wealth luck
Snake: Black Tourmaline - Eliminates stress and negative thoughts
Horse: Bronzite - Attracts benefactors and enhances mental well-being
Goat: Strawberry Quartz - Improves interpersonal relationships and charisma
Monkey: Blue Eye Tiger - Calms emotions and relieves stress. Act as a third eye to help you see a clearer path ahead
Rooster: Sardonyx - Prevents illnesses and alleviates depression
Dog: Suntone - Lowers stress level, keeps you positive and energetic
Pig: Red Garnet - Enhances circulatory system and improves blood circulation
The following information was taken from the Way Fengshui Group, The Spruce, and The News Wheel.
Download the Motorist App
The easiest and smartest way to manage your vehicle in Singapore.
Download Now
Read more: 4 Things Singaporean Drivers Waste Their Money On
---
Download the new Motorist app now. Designed by drivers for drivers, this all-in-one app lets you receive the latest traffic updates, gives you access to live traffic cameras, and helps you manage LTA and vehicle matters. Download it now and stand a chance to win $1,000 worth of petrol vouchers monthly.