The Lexus ES has always been renowned for being a classy and refined package, but can sprinkling F-Sport toppings make the car any better?
There are certain performance terms that are instantly associated with a particular automotive manufacturer. You have "AMG" from Mercedes, "M" from BMW and "RS" from Audi. From the land of the rising sun, performance-oriented Lexus vehicles are bestowed with the coveted "F" badge. 
More power and performance is certainly a good thing, but does it make the Lexus ES better?
Goodbye Dreary, Hello Style
When you think of Lexus, we're pretty sure the first image that appears in your mind is a dreary monotonous looking luxury saloon, almost certainly found in the carpark of your local golf course. 
However, the ES250 F Sport thankfully, and more importantly refreshingly, has none of that. With an exclusive Heat Blue paint job, blacked out grille and bigger 19-inch black alloy rims, it is a stark contrast to its corporate counterparts. The changes are honestly not too flamboyant, but they really give the car a breath of fresh air, and accentuate the flowing lines of the ES more distinctly. 
While you do lose a little bit of the traditional "sterile" Lexus look, you gain so much more in flair. It's almost like that crush you used to like back in secondary school.
On normal days, all you can see is the same ol' school uniform, but come graduation or prom night, that person wears something that will make you instantly do a double take.
Simply put, the F Sport is gorgeous.
Signature tranquil inner comfort, albeit slightly more brash
If you thought the outside was adventurous for Lexus, the designers really went to town on the inside to distinguish it apart.
The red and black leather seats really scream at you, and the red accents and stitchings are dotted throughout the interior.
Instead of a traditional gauge cluster, the ES is outfitted with the F Sport meter, a circular display inspired by the legendary LFA that can be shifted into the centre.
It's a subtle difference, but one that looks much more sporty as opposed to just a flat digital display. Apart from the fancy gauges, you also get a HUD that displays key driving information. 
Even though the interior is brash, you still get that quintessential refined experience Lexus is renowned for. The 10.3-inch touchscreen is responsive, and can be connected via Apple CarPlay or Android Auto. Music is pumped into the cabin with a premium Mark&Levinson sound system, and you can blast tunes all you like without worrying about others judging your music tastes, thanks to the fantastic sound insulation found on the ES.
Small detail, but we love the analogue timepiece located beside the touchscreen. In a world where most clocks in cars are now digital, this adds a subtle layer of class to the interior.
While the ES250 F Sport is catered more to drivers, rear passengers aren't left out either. Like regular ES models you get copious amounts of legroom, a multi-functional centre armrest, and type-C charging ports. 
With 420L to boot in the... well boot, the ES ensures that it can easily fit all of your cargo (and golf bags). An electric tailgate adds even more convenience.
Same power, slightly sharper handling
As with all new Lexus models, the ES250 F Sport is updated with the new 'Lexus Driving Signature'. But, aside from minor changes to the tuning, rear suspension, brakes and the larger rims, the F Sport does not add any other mechanical changes. 
These changes do become apparent when driving, with the ES rounding through tight corners with gusto unlike its regular counterpart, which felt like you were essentially driving a land-yacht.
Total power from the 2.5L four-cylinder engine remains the same, and although it does not provide instant bursts of power, it does deliver smooth acceleration across the rev range. Pair that with the butter smooth eight-speed automatic gearbox and the ES can waft around city traffic gently one moment, while also being able to overtake over cars with ease on the expressway.
You get three driving modes - Eco, Normal and Sport. However, without things like adaptive suspension this only changes internal mechanics like the drivetrain. In testing we managed to hit somewhere in the region of 10.5km/L for fuel consumption, which is surprisingly decent in a car this large with an NA engine.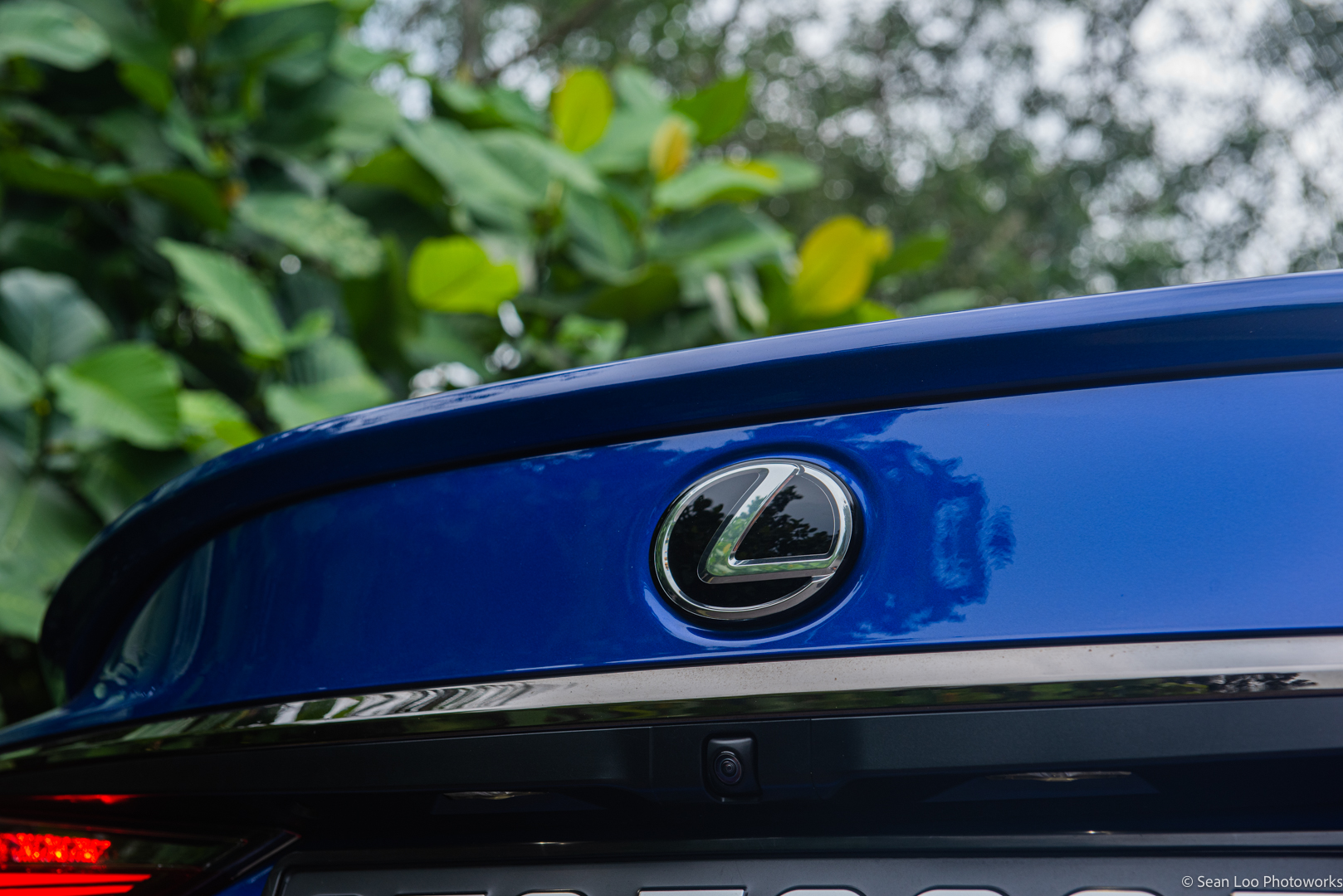 The biggest upside to this whole ES package is the comprehensive safety systems included as standard. When cruising on the expressway, you can easily toggle the adaptive cruise control on, and the lane keep assist does a great job of keeping the car in check within the lanes.
It works well, and you can sit back and relax (of course still keeping an eye on the road) while the car trundles on towards your destination.
Identity crisis, or a welcome change?
While on paper the F Sport upgrades may seem a little sketchy when offered on the ES, Lexus has managed to pull it off, striking a nice balance between a demure and sporty luxury saloon. Plus, for its price there really isn't another luxury German offering that comes close, with similar sized models priced way above what Lexus is quoting.
However, in today's fuel-saving crazed world, this ES does stick out a bit, remaining as a fuel dinosaur amongst the endless sea of hybrid-this and electric-that. This is the main disadvantage to an otherwise nice car, as most people who want better fuel efficiency would pick the ES300h any day of the week, and forgo the sporty trim in favour of more old-school luxury opulence. While the F Sport upgrades do make the ES more fun to drive, it isn't game changing like the similar treatment done on the IS.
But, if you're someone who is looking for that unique Lexus experience, whilst wanting a more responsive drive, then this car may just be the one for you.
Test drive the ES250 F Sport at the Lexus Boutique today!
Download the Motorist App
The easiest and smartest way to manage your vehicle in Singapore.
Download Now
Specs
Performance:

Engine: 2,487cc Inline-4 DOHC, Petrol

Power: 203bhp

Torque: 247Nm

Fuel Consumption: 15.2km/L

0-100km/h: 9.1 seconds

Top Speed: 210km/h

Drivetrain: 8-speed Automatic; Front-Wheel Drive

Brakes (Front): Ventilated Disc

Brakes (Rear): Disc

Measurements:

Wheelbase: 2,870mm

Dimensions (LxWxH): 4,975mm x 1,865mm x 1,445mm

Weight: 1,486kg

Fuel Tank Capacity: 60L

Boot Capacity: 420L

Features:

Adaptive Cruise Control

Apple CarPlay

Android Auto

Electric Front Seats

Electric Tailgate

Rain Sensing Wipers

Sunroof

360-Degree View Camera
Read More:  mReview: Lexus UX300e - Comfort, Control and Confidence
---
Download the Motorist App now. Designed by drivers for drivers, this all-in-one app lets you receive the latest traffic updates, gives you access to live traffic cameras, and helps you manage LTA and vehicle matters.
Did you know we have a Motorist Telegram Channel ? Created exclusively for drivers and car owners in Singapore, you can get instant info about our latest promotions, articles, tips & hacks, or simply chat with the Motorist Team and fellow drivers.