A new contender in the hotly contested SUV market, the Arkana couples SUV practicality with coupe styling into a package that boasts a distinctive French flair.
In the endless sea of new SUV models, a new design trend has emerged - the SUV-coupe. Wanting to get in on the action, Renault has released their own take on the genre, the Arkana Fastback.
Aside from the flamboyant styling, the Arkana is also debuting as the first hybrid model in the Renault lineup here in Singapore. 
Sexy SUV Curves
The Arkana offers design traits that define it as a quintessential Renault model. Upfront, you get the signature C-shaped LED DRLs that is synonymous with Renault's brand identity.
Embracing the sleek SUV-coupe body style, the car is not boxy like most traditional SUVs, but rather slender looking all around. She's definitely got curves, and no other part of the car shows this trait off more than the sloping roofline.
This demo unit is also the higher-spec Bose edition, donning larger 18-inch alloy rims. Personally, we're really big fans of the Flame Red body colour and two-tone black roof.
Since you're already driving a sleek and stylish SUV-coupe, might as well complement it with a bold colour to make it stand out even more right? 
Round the back, you get a full LED light strip and chrome accents on the rear bumper. With the sloping roofline, when you open the tailgate the rear glass goes up too, giving you easy access to the 480-litre boot. 
The seats can also be folded down 60:40, and they pack up nicely leaving you with a flat cargo floor. These may be small traits, but they make the car so much more practical in everyday use.
Overall, Renault has pulled off the SUV-coupe styling rather well. Its tall stance makes it look very macho on the roads, and coupe design traits like the sloping roofline make it look sleek. What this entails, is one eye-catching package.
Styling does not compromise space
Even though the Arkana has a sloped roof, you don't feel cramped or claustrophobic in the back. You get decent headroom, and plenty of legroom to boot, a one-up over other similarly styled SUV-coupes.
Rear passengers are also provided with amenities like a wide centre armrest, and a centre console with air-con vents and charging ports.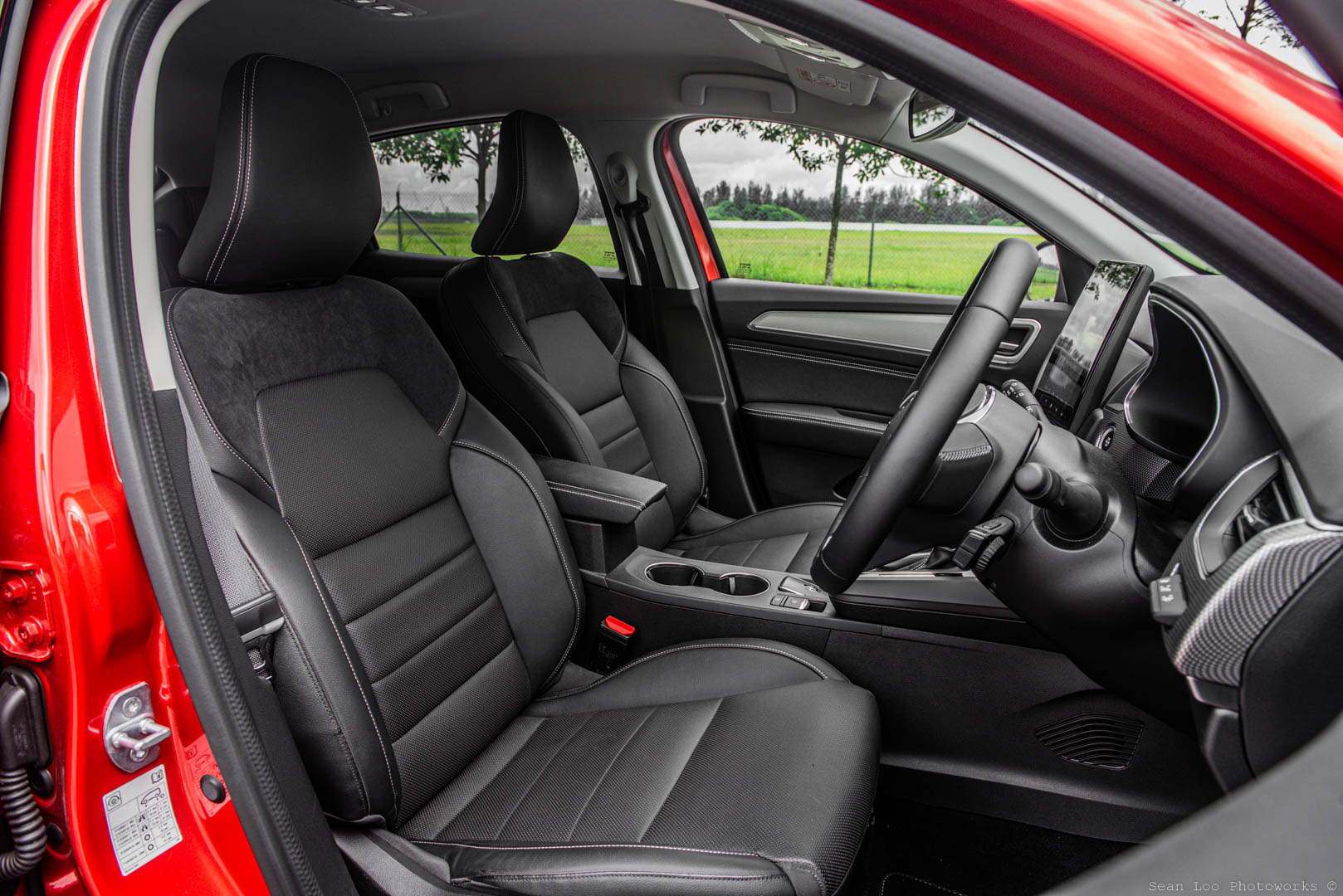 All of the seats in the Arkana are leather and come with suede panels, with the front seats featuring a unique headrest design and heating functions.
Opting for the more premium BOSE edition also grants you electric seat controls for both driver and front passenger.
The steering wheel is wrapped in soft leather and is decked with an array of function buttons for hands-free access.
Behind it, a 10.25-inch digital instrument cluster displays all essential driving information. This display also changes appearance depending on which mode the Arkana is currently engaged in.
Crucially, with the BOSE edition trim level, you get a better sound system and a larger 9.3-inch touchscreen display. The display is also configurable too, allowing you to shift the different tiles to place them wherever you want. Still, if you insist on using your own apps, the Arkana also features Apple CarPlay & Android Auto.
Charging devices is no problem in the Arkana, coming equipped with a wireless smartphone charger, 4 USB ports (2 in the front, 2 in the rear) and a 12V outlet.
The only small gripe that bothered us was that you have to toggle the volume settings from the screen itself, and not a dial or button. The only other way to change volume is to use a function stick located behind the steering wheel, but the position of this makes it cumbersome to use.
Thankfully, the rest of the controls in the cabin such as central locking and air-con have dedicated dials or switches, and these worked flawlessly without a hitch.
Plus, the best feature by far is the hands-free walk away auto-lock. It's a really simple feature, but one that we love so much. It just makes locking and unlocking the car so much easier, and we never had to worry about whether we had indeed locked the car after parking. 
Powerful and reliable, but with a slight handicap
The Arkana's beating heart is a 1.6-litre four-banger petrol engine that develops 141bhp and 148Nm of torque. Combine that with the dual electric motors, the powertrain produces 250Nm of torque.
At low speeds this is great to have, allowing you to overtake with ease thanks to the near-instant torque. However, this car does run out of breath as the speed starts to climb, with the 0-100km/h century sprint coming in at 10.8 seconds. 
Considering this is Renault's first foray into the Singapore hybrid market, the drive is actually really good. The system keeps the car in electric mode as much as possible, even when cruising on expressways. This means you can save on fuel, which is something the Arkana excels at.
During our few days with the car, we averaged about 16.2km/L, and that's even with some enthusiastic throttle pressing. If you're a more frugal driver, you can definitely hit the estimated 20km/L mark touted by Renault.
However, the car's Achilles' heel is its gearbox, which is a little tricky to understand. Renault dubs it a "Dog clutch Multi-Mode" automatic, incorporating its E-Tech hybrid technology. It does sound sporty, but it just doesn't engage the gears efficiently.
After hard acceleration, it can take a while for it to engage higher gears. Even if you wanted, you can't shift the gears yourself, as the Arkana does not feature paddle shifters or any manual override on the gear shifter. We're not sure why Renault fitted a sportier gearbox in a car that… doesn't really have a need for it.
Aside from the gearbox, the Arkana is actually a very competent car on the roads. Don't expect it to attack corners like a hot hatch, as this car is more gentle and calm around corners with its soft suspension. Additionally, you get a host of safety features:
Active Engine Alert
Auto-hold function (Available on the BOSE Edition only)
Electronic Stability Control (ESC)
Electronic Brakeforce Distribution (EBD)
Emergency Brake Assist (EBA)
Hill Start Assist
Lane Departure Warning
Traffic Sign Recognition System
The Arkana also comes with a party trick up its sleeve, which is its Easy Park Assist. This features guides the driver into parking spaces, and it can be toggled depending on what kind of lot you are attempting to manoeuvre into. You'll still need to control the pedals, but the computer takes care of the steering for you.
Overall, don't look at it as a performance SUV, but rather a gentle cruising machine that can eat up the miles while keeping your wallet happy in the process. If you're not an aggressive driver, it is pretty comfortable and fuel-efficient.
An Unorthodox Choice
In summary, the Arkana is quite a uniquely packaged car. It's got stylish looks, it's fuel-efficient, and it's pretty practical for an SUV coupe. However, all of this comes at quite a steep price - S$172,999 with COE to be precise (at the time of this article). 
But, for the price, you're getting something different, an interesting and eccentric alternative in the mass market of cookie-cutter styled SUVs. If you're looking to get an SUV but don't want something that is commonly found on the roads, this car might be something to consider. And please, get the red.
Head down to the Renault showroom to see the Arkana for yourself here!
Specs
Price:

S$172,999 (Inclusive of COE)

VES Banding: B
Performance:



Engine: 1,598cc 4-cylinder in-line 16-valve, Petrol-Electric

Power: 141 bhp

Torque: 148 Nm (Petrol engine only), 250 Nm (Combined)

Fuel Consumption: 20km/L

0-100km/h: 10.8 Seconds

Top Speed: 174 km/h

Drivetrain: 6-speed Automatic, Dog Clutch Multi-Mode

Brakes (Front): Ventilated Disc



Brakes (Rear): Disc
Measurements:

Wheelbase: 2,720 mm

Dimensions (LxWxH): 4,568 mm x 1,821 mm x 1,571 mm

Fuel Tank Capacity: 50 L

Boot Capacity: 480 L

Features:

Apple CarPlay & Android Auto

Easy Park Assist

EV Button

Hands-Free Key Card

Remote Control Central Locking

Walk-away Auto Lock

Wireless Smartphone Charger

9.3-inch Customisable Touchscreen Display

7-inch TFT LED Instrument Cluster Display
Prices are accurate at the time of writing.
Download the Motorist App
The easiest and smartest way to manage your vehicle in Singapore.
Download Now
Read More: mReview: Hyundai Santa Fe Hybrid - The Gentle Giant
---
Download the new Motorist App now. Designed by drivers for drivers, this all-in-one app lets you receive the latest traffic updates, gives you access to live traffic cameras, and helps you manage LTA $195,888 and vehicle matters.
Did you know we have a Motorist Telegram Channel ? Created exclusively for drivers and car owners in Singapore, you can get instant info about our latest promotions, articles, tips & hacks, or simply chat with the Motorist Team and fellow drivers.