With our government's plans for a cleaner and greener city, electric vehicles are getting increasingly popular in Singapore, and it seems more manufacturers are hopping onto this e-bandwagon.
If you're in the market for a commercial vehicle, and want something that screams "sustainability", then the new Citroën e-Dispatch may just be right up your alley.
But, how does it compare to its traditional petrol or diesel rivals?
Efficient
The e-Dispatch is powered by an electric motor that pumps out 260Nm of torque and 100kW (approximately 134bhp) of power. The big 75kWh battery that comes with the van is good for roughly 330km of range. 
You can even get some juice back while you drive with the van's regenerative brakes. You don't have to worry about battery issues either, as Citroën covers it under an 8-year or 160,000km warranty.
Being electric, this van has a very respectable 0-100km/h time of 11.9 seconds, and you'll realise that quickly too as the annoying speed module will start beeping soon after you put your foot down. 
As with all commercial vehicles in Singapore, you're limited in terms of speed, in this case, 70km/h, which you'll very easily hit. Thankfully, this van does come with cruise control, so you can just set it to 70, and cruise on the expressway.
You get three driving modes with the e-Dispatch - Power, Normal and Eco. While the van does have more than enough power in Normal and Eco modes for your daily errands, carrying a full load with the Power setting does help to give it a bit more grunt. 
Alternatively, it can also get you off the line in an instant, to the amazement of bewildered motorists.
The steering is light, and even though it is huge, parking is actually very easy thanks to the myriad of sensors and digital rear-view mirror, which projects an image from a rear-mounted camera. 
Traditional vans are usually loud and noisy due to their engines and poor insulation. But in e-Dispatch, it sounds like a library compared to them. You really feel separated from the rest of the world; in fact, it feels calming to drive this. You just pop it into drive and whoosh away in silence. No fuss or problems.
Easy to live with 
Now, at first glance, this looks just like any normal van, minus the striking decals which this demo unit wears. Only upon closer inspection would you spot the charging port, located at the front left tyre. This van gets both AC (Type-2) and DC (CCS Combo) support.
A 0 to 100% charge would take roughly 1.5 hours, so you can drop your kid off at tuition, plug the van in, and it's full by the time your kid is done.
What we wouldn't suggest you do is to place your kids in the cargo area. Even though there is tons of room, you do not get ventilation from the front air-conditioning, so it is HOT. 
The cargo space measures about 2.4m by 1.2m by 1.2m, and has a payload capacity of 1,000kg. Even though it is electric, the batteries do not get in your way, and you still get a nice flat floor.
Round the back, there's not much going on. You get split rear doors, and an "E" badge to let other motorists know you are driving something futuristic.
You do get a tall driving position, and the seats are made from a combination of fabric and synthetic leather. This being a van means you can sit 3 in the front, although the middle person will have some awkward legroom due to the position of the electronic gear shifter.
The e-Dispatch also comes with an electronic parking brake, toggled by a small switch located between the driver and middle passenger seats.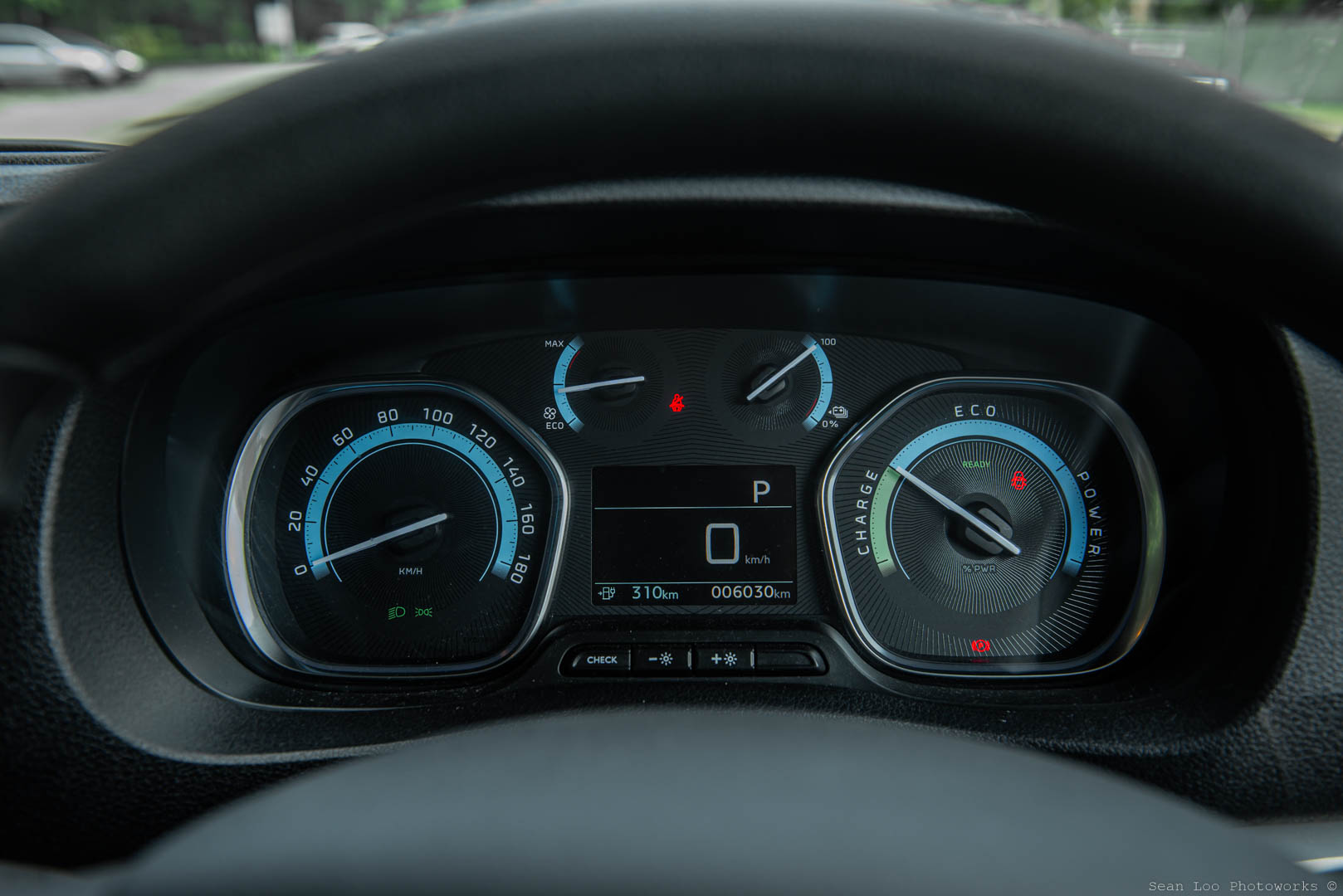 The instrument cluster is mostly analogue, apart from the small display in the middle. You can see your speed and battery level among other things, and the most important dial - your power consumption. This lets you know how much power or regenerative braking you are utilizing while driving.
Not noticeable at first glance, the cup holders are actually located on the dashboard. They are not very deep though, so think twice before putting your precious cup of teh ping.
You get tons of storage space everywhere in this cabin - the doors, dashboard, and even underneath the passenger seats. These seem insignificant but are extremely useful in a pinch when you don't want items bouncing around when driving.
Your air-con settings and volume controls are physical dials. Old school, but they work perfectly fine, no complaints there.
Interestingly, the volume knob symbol actually turns as you increase or decrease volume, which is either insignificant to you, or will immediately trigger your OCD.
The 7-inch touchscreen is compact but is pretty responsive. You get easy access menu buttons along the sides, and even wired Apple CarPlay and Android Auto. 
Expensive?
There's really not much to complain about the e-Dispatch. It is extremely silent, can carry loads of cargo, and has a spacious cabin with decent creature comforts. 
But, as much as the van is nice, it needs to be first and foremost practical. The question that needs to be answered now is, who is this van for?
At S$79,999 without including COE, this is quite an expensive van. It is pricey, and yes you will need to spend considerably more time charging up.
However, it is definitely cheaper to top up, and maintenance costs are arguably way cheaper because there are fewer mechanical parts as compared to regular petrol or diesel vans. When you factor all of that in, this may be a viable option for the more eco-conscious business owner.
While other competitors have their vans stuck in workshops, yours will still be silently on the roads… or at a charging station.
Head on down to Cycle & Carriage Singapore and give the Citroën e-Dispatch a go here.
Specs
Price:

S$79,999 (Excluding COE)

VES Banding: A1
Performance:



Engine: Permanent magnet synchronous motor 

Power: 100kW (134 bhp)

Torque: 260 Nm

Energy Consumption: 4km/kWh

0-100km/h: 11.9 Seconds

Top Speed: 132 km/h

Drivetrain: Single-speed (Automatic)

Brakes (Front): Ventilated Disc



Brakes (Rear): Disc
Measurements:

Wheelbase: 3,275 mm

Dimensions (LxWxH): 4,959 mm x 1,920 mm x 1,902 mm

Battery Capacity: 75 kWh

Features:

Apple CarPlay & Android Auto

Electronic Parking Handbrake

Electronic Rear-view Mirror

Hill Start Assist

Rear Reverse Sensors

Under Seat Storage

7-inch touchscreen display
Prices are accurate at the time of writing.
Download the Motorist App
The easiest and smartest way to manage your vehicle in Singapore.
Download Now
Read More: mReview: Audi e-Tron VM - A Germanic Sumo
---
Download the new Motorist App now. Designed by drivers for drivers, this all-in-one app lets you receive the latest traffic updates, gives you access to live traffic cameras, and helps you manage LTA $195,888 and vehicle matters.
Did you know we have a Motorist Telegram Channel ? Created exclusively for drivers and car owners in Singapore, you can get instant info about our latest promotions, articles, tips & hacks, or simply chat with the Motorist Team and fellow drivers.