It wasn't too long ago that SUVs were purely utilitarian vehicles - any semblance of luxury or comfort was seemingly slathered on as an afterthought.
But times and tastes have changed.
Manufacturers have ditched the steel ladder frame chassis and crude diesel engines, for unibody construction and refined modern powerplants. Whilst hardcore 4x4s still exist, the vast majority of SUV-type cars you see on our roads are really only suited for use on tarmac.
The Q5 Experience
With intricate design elements adorning the lower regions of its bumpers, it's hard to imagine that Audi would have designed the Q5 to tackle some really rough terrain.
Then again, with its advanced Quattro system, the Q5 would be capable of at least some rudimentary off-roading. But without the locking differentials or advanced off-road software that the likes of the Mercedes G-class or Land Rover Defenders have, it is hard to imagine that the Q5 can make it very far off the beaten track.
The 20-inch wheels and on-road tyres certainly would hinder its tractability on surfaces other than tarmac too.
But you don't buy an Audi Q5 because you want to go off-road. In this regard, Audi understands its target market very well, designing the Q5 to play to its strengths.
Stylistically Speaking
To be clear, there are owners of the last generation Q5 that have found some success off-road with some knobbly tyres and a suspension lift kit. But there's always a sense that it has been designed with on-road manners first.
It's just an added bonus that its Quattro system is capable if equipped with the right set of wheels and tyres. With this in mind, the Q5 Sportback doesn't feel the need to sport styling cues lifted from actual roughty-toughty, go-anywhere vehicles.
There's no big bull bar, bash plates or big spotlights here. The Q5 is as stylish and restraint as any other offerings from the Audi catalogue.
This pays dividends when you're in a city swamped with luxury cars. The sharp and stylish exterior, as well as its sheer size, means it looks at home in a city as built up as our own. It can very much hold its own beside large saloons that perhaps cost up to twice as much as itself.
The reprofiled roofline in the Sportback version adds an extra element of sophistication to the vehicle, much unlike earlier attempts by some of its rivals. To cap off the surprisingly muscled yet curvaceous body, Audi has adorned the front and rear end of this car with some eye-catching 'jewellery'.
Each vent/grille has its own metal or metal-effect trim piece. The front and rear light clusters are also delightfully over-engineered and designed, which really satisfies our inner geeks. It also helps that they look and feel robust and solid!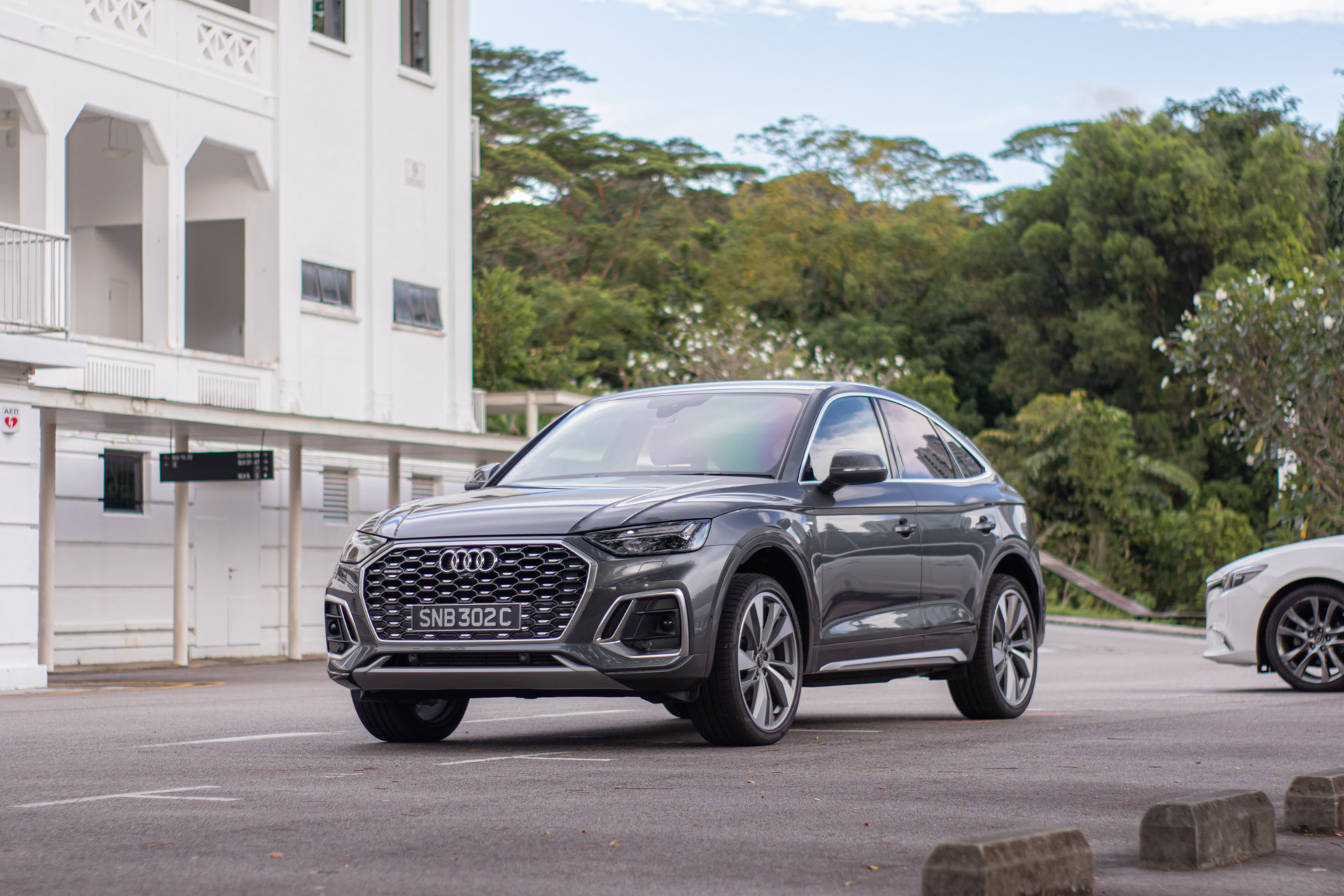 The Cabin
The interior is unmistakably Audi. It is sensible, well laid out, but we can't help but feel like it lacks some visual oomph, even when compared to recent offerings from within the VW-Audi Group.
But that isn't to say that there is anything inherently wrong with the Q5's interior – it just looks dated compared to some of its rivals. Build quality is excellent throughout – no squeaks or rattles even when the car is driven over rougher roads.
As expected with a European car, there's liberal use of soft-touch materials across the cabin. There are even suede-effect fabrics employed on the seat inserts and on the door cards. However, we question the use of lower-rent plastics in the bottom half of the dashboard.
Panel gaps and overall fit-and-finish haven't been compromised as a result though.
As part of this car's facelift, Audi has fitted options that were otherwise non-standard previously. This includes the digital driver's display and the new MMI Navigation plus infotainment system.
We are not faulting the efficacy of the former. The MMI system, whilst generally usable, still lacks the functionality you'd find using Android Auto or Apple CarPlay, so we recommend you use those instead.
The interior has copious amounts of room – you'll be able to find a comfortable position regardless of where you choose to sit. The front seats are electronically adjustable, and also come equipped with seat warmers, something we realistically don't see anyone ever needing in this country.
It's this sense of familiarity, and the car-like sitting position (you can tweak this so you tower over others!), that makes you forget sometimes that you aren't in a low-slung saloon but in a decently-sized SUV.
The Drive
You get a rude reminder when you decide to throw the car into a corner though. At low speeds around town, we felt the steering was precise and responsive enough for the car to be manoeuvrable.
The power assistance also means that despite the car's heft, it was light and easy to use. The optional 360-degree camera also further assists you in the navigation of tight and tricky spaces.
Increase your velocity though, and you'll realise that what makes it a breeze to use in low speeds around the city, makes it mildly terrifying to use when driving sportily down some corners. The over-assisted steering doesn't give you sufficient feedback on the surface you are driving on – you're almost relying on muscle memory to judge the steering input.
A true track day warrior would be just as interested in the Q5 as a hardcore off-road enthusiast. This is why it is unlikely that this would ever be an issue in the real world – you don't drive an SUV quickly expecting it to behave like a sports car or a hot hatch!
We expected a more supple ride in the Q5. But it judders and almost hops over the larger surface imperfections. For something so stiffly sprung, we were puzzled at that it had any bodyroll at all. The low-profile sidewalls certainly doesn't help to cushion any harshness from permeating into the cabin.
But where the car excels is its drivetrain. The 2.0-litre turbocharged mild-hybrid lump delivers smooth power through the rev range. Audi's 249bhp claims seem to be confirmed by our butt dyno.
Off the line, there is a very slight delay in power delivery. Above 2,000 rpm though, there is an almost linear wave of torque that takes you to the redline. The seven-speed DSG gearbox this engine is coupled is a real peach too.
Regardless of the mode we left the car in, it always knew what to do. The car drops a couple of gears when you stomp on the loud pedal, and almost instantaneously puts the car in the correct ratio for maximising acceleration.
Upshifts are crisps, with power delivery not being interrupted between shifts to any noticeable degree. Downshifts are surprisingly fun too - equally fast, and the car actually blips the throttle for you on the way down!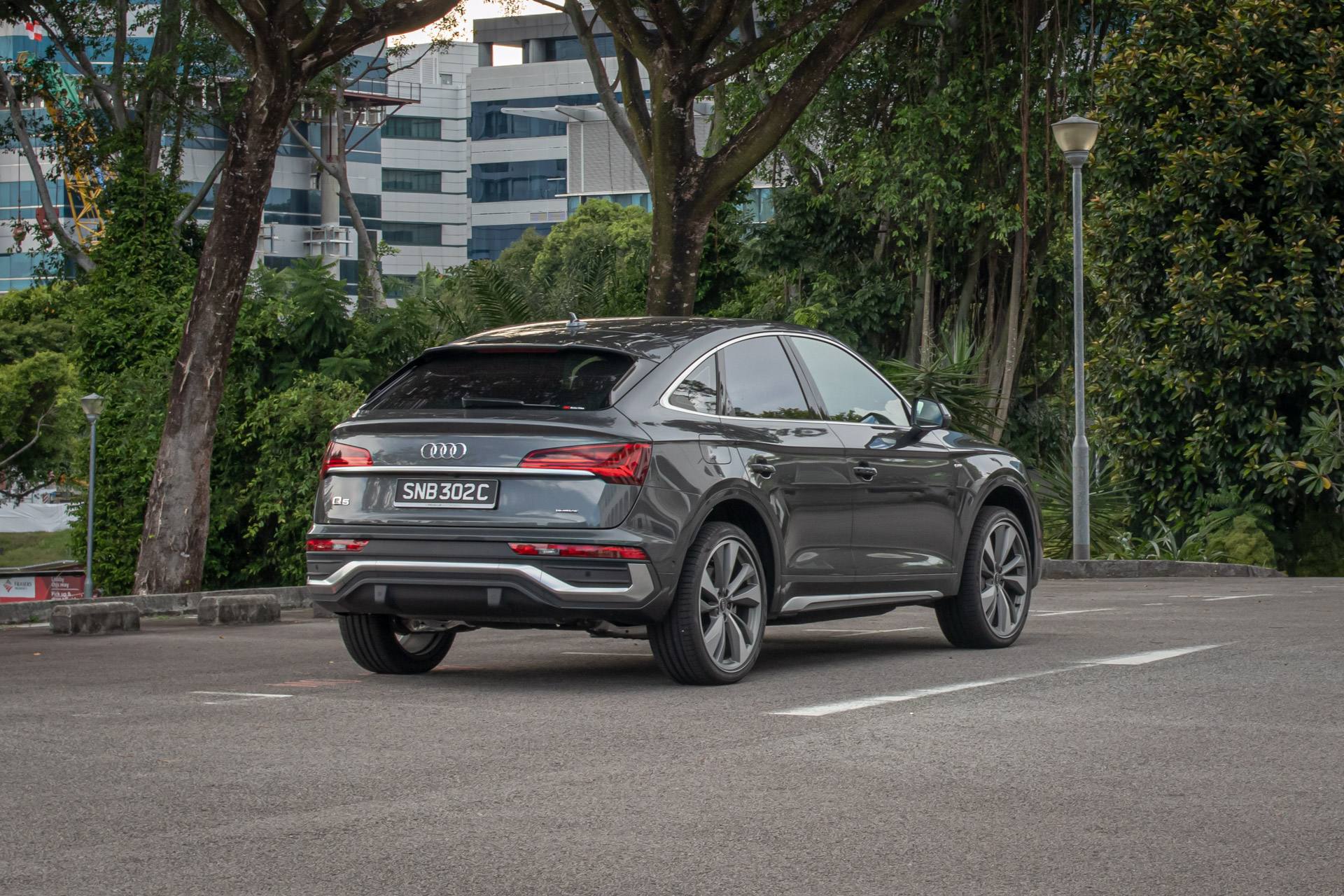 The car returned 7.6km/l throughout the duration of our tests, on a good mix of low-speed city driving and expressway runs.
To round out the overall user experience, it makes a giggle-inducing 'pssh' sound when the turbo's wastegate opens – we still cannot fathom an SUV making that noise!
In Summary
It's hard to put the Q5 experience into a succinct paragraph. If you are looking for a substantial European SUV with a name-brand badge on the front and can live with some of the issues we brought up above, we think the Q5 Sportback is a handsome-looking, practical, and perhaps even entertaining car for your daily commutes.
If you're only after the SUV/CUV shape, there are other brands offering a similar size for much less. However, if you're only after this unmistakably Germanic experience, you'll have to fork out the S$302,167 for this Q5 Sportback S Line!
Visit Audi Singapore to book your test drive of the Q5 Sportback today!
Specs
Price:

S$302,167 (inclusive of COE)

VES Banding: C3
Performance:

Engine: 2.0 litre Inline 4-cylinder engine

Power: 250 bhp

Torque: 370Nm from 1600 rpm - 4500 rpm

Fuel Consumption: 12.5 km/l

0-100km/h: 6.3 Seconds

Top Speed: 237 km/h

Drivetrain: 7-speed S tronic Quattro AWD

Brakes: Ventilated Disc Brakes
Measurements:

Wheelbase: 2,819 mm

Dimensions (LxWxH): 4,689 mm x 2,140 mm x 1,660 mm

Fuel Tank Capacity: 70 litres

Boot Capacity: 510 litres
Features:

Keyless Entry

Electric front seats

Audi park assist

Audi virtual cockpit plus

Park assist with parking aid Plus Cruise Control System
Photo Credit: ACube Creative (@weareacube)
Download the Motorist App
The easiest and smartest way to manage your vehicle in Singapore.
Download Now
Read More: mReview: CUPRA Formentor - Damningly Distinguished Debutante
---
Download the new Motorist App now. Designed by drivers for drivers, this all-in-one app lets you receive the latest traffic updates, gives you access to live traffic cameras, and helps you manage LTA and vehicle matters.
Did you know we have a Motorist Telegram Channel? Created exclusively for drivers and car owners in Singapore, you can get instant info about our latest promotions, articles, tips & hacks, or simply chat with the Motorist Team and fellow drivers.