In this episode of In The Passenger Seat, we have everyone's favorite mReview host, Jackie! He talks about his love for cars and his experience as a car host!
If you have been a loyal follower of mReview, you'd be familiar with Jackie by now. He is the star of our mReview YouTube series, and we are sure his wits and charisma have won him many fans over the years. He has reviewed many cars for Motorist, but if you're sure you've seen him somewhere before, then it isn't just a sense of jamais vu - some may know him for his days with Clutched.
We'll be taking a deep dive into Jackie's personal life, and stories on his love for cars. He will also answer some burning questions from our audience, and find out why he has 3 cars - a Volvo XC90, 1989 Honda Accord and his pride and joy, a 1991 Honda Civic EG!
Without further ado, let's get into it.
Can we have an introduction for our readers who aren't familiar with your work?
Jackie. 21. Father, husband, son, businessman, director of a cleaning and maintenance company, most annoying host for Motorist, freelance DJ and emcee.
How did your love for cars start?
Like many kids, I had a keen interest in basically anything with wheels. My earliest memory of cars would probably be my dad's 89 Accord, which is basically what you see above. My dad had a soft spot for this dame. So much so he bought it brand new from the agent Kah Motor, TWICE!
First was a manual, which he sold a couple of years later. He then bought another Accord, this time with an automatic gearbox. My brother and I grew up in the back seat of this car.
The Accord left an indelible impression on me - from the happy days when we had trips to the McDonalds along Farrer Road (which had a ball pit!), to the not-so-happy days when my mo and po used to quarrel while I stared at other cars out the back window, trying to make sense of what was going on. BLISS!
A few years ago, I saw one parked near my place. I walked up to the owner, started chatting with him and now it's mine! This may sound like Bollywood, but when I drive this Accord, I feel like I'm reliving my childhood. The smell, sound, and even the way the engine judders sometimes - it takes me back twenty years ago, to the carefree periods, and surreal moments.
It's the feeling you get when you visit your primary school or the neighbourhood you grew up in. They don't make cars like this anymore and owning this makes me feel I still own a piece of my childhood. I want to get this restored back to its original glory, once I can find the time…
A lot of our mReview viewers want to know, "Why did you stop doing Clutched?"
Simple - Money. Clutched was a result of the 2 things which make me happy - cars and hosting. But as production cost rose, and more time and resource was required, passion alone wasn't cutting it. Unlike mReviews, during my Clutched days I was doing pre-production and post-production. 
Everything from sourcing the cars to buying the correct camera equipment, and spending hours upon hours editing videos - which I had to learn from scratch, was starting to take a toll on me and my business. As we all know, this isn't exactly the correct industry to be in as a Singaporean.
Oh, plus my wife got knocked up! LOL. The idea was to take a break… but whether or not Clutched will be back, I guess you'll have to wait and see. 
After many years of car reviewing, what is the one car that left a special memory for you?
Not a particular car but I would say the episode showcasing the 90s Civic, as well as the FK2 Civic Type R, simply because we had Civics and Type Rs from the 4th to the 9th generation, and a whole bunch of JDM Civics involved as well!
It was something very close to my heart. I was the only one who knew it was gonna be the final episode for Clutched so, yeah, very emotional shoot. I will forever be grateful to everyone who made Clutched possible and all those who took part in our final episode! Watch the behind-the-scenes as well here!
Up to this point, what was your favourite mReview moment and car that you have shot?
As for mReviews I'd have to say it's the Rolls Royce Ghost. I'm still surprised they allowed me to drive the car. It's really a masterpiece and we all would think "Ah it's a Rolls Royce, just another premium car I can't afford…"  
But when you get into the details of what goes on to make one and the heritage it has, you'll realise that this is a brand on a whole other level.
Apart from the Volvo XC90 that was featured in mReview, what other cars do you own and drive?
A 1989 Accord and my pride and joy, a 1991 Civic EG.
Which car that you owned is your favourite and why?
Favourite is the wrong word. You have a favourite restaurant or colour, or pair of shoes. My EG isn't my 'favourite'. Come on, it's a part of me.
I bought it way before I was supposed to be able to afford a car. And it wasn't a "Po, I need some help with the down payment" kind of thing; I struggled, how much only I will know, and I've owned it for the past 15 years.
I want to save it for my son - or I should say I'm gonna try and save it for my son! There is no other car I've ever driven which I feel so connected to. It's not because it's fast, (though it really is a fast car!) it's that when I drive this, I feel one with the car even if I'm just cruising. It's got a lot to do with all my life's experiences I've shared with it. We grew up together! 
Simply put, this is a very well-made car. No frills, no bells and whistles, all of Honda's R&D budget focused on making a simple yet good car. This car is a testament to Honda's hunger - a hunger to be noticed as a brand that can make something solid for the everyday man.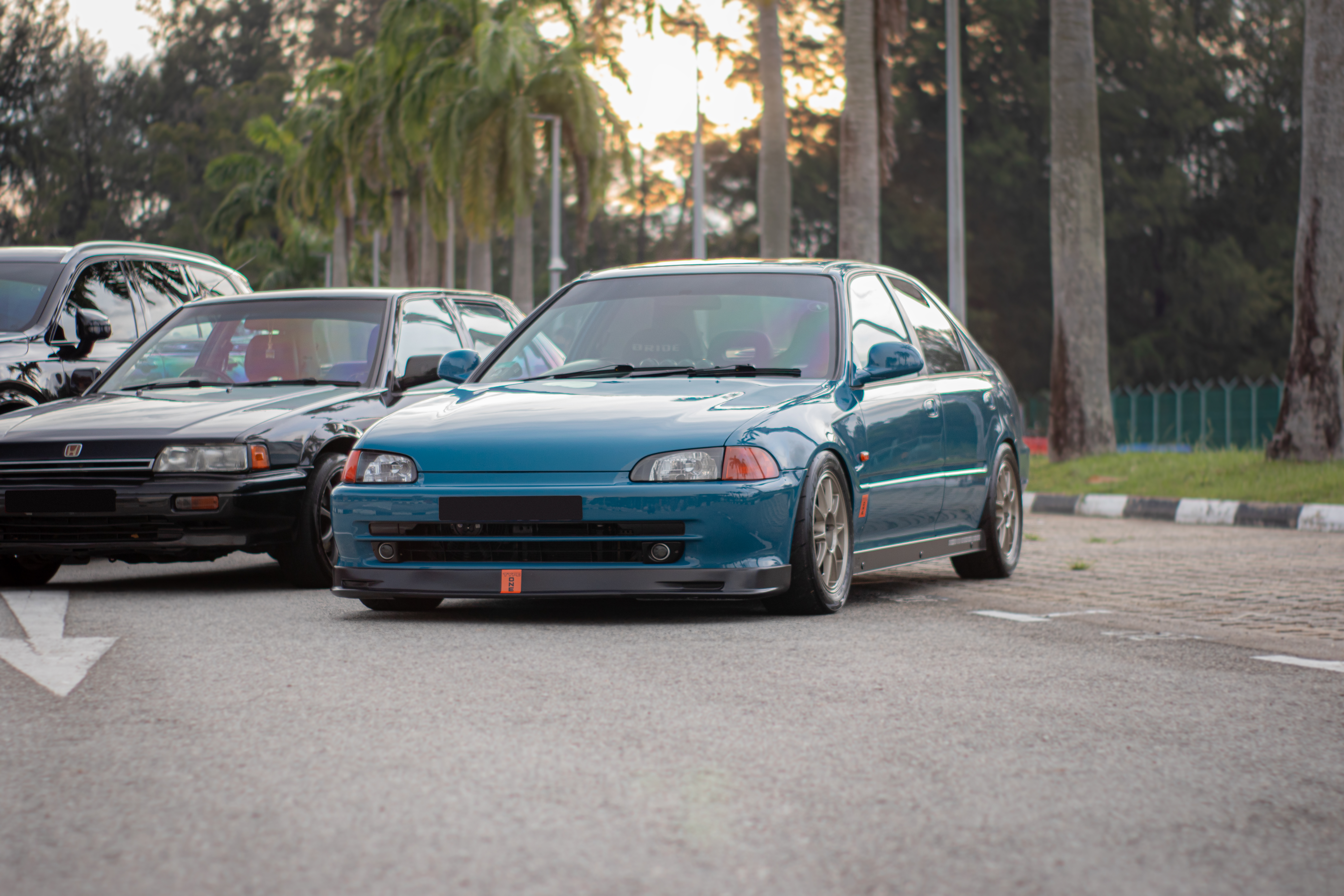 This car was made during a time when there weren't stupid plastic covers covering engines… they showed you what they wanted you to see like the Honda DOHC. And then there's this tiny little thing called VTEC. If you want to know what the hype is about, drive it!
But the irony is, you probably wouldn't get it because this car needs time. Time for you to connect with her and understand what she's about, time for you to recognise her simplicity and inner beauty. She's not a head-turner, she is both wife and mother material. 
Photo Credit: Jackie
It will rattle and squeak and sound like it's gonna fall apart but nooo… that's the sound of the car reminding you of the many years of experience and how much it has matured… New cars are great, trust me I've driven many, but none comes close to the feeling you get when you drive an EG.
You're not gonna get this and you're probably gonna think I'm biased, but this little car is as close as you can get to perfection!
If you could race on any racetrack in the world, which one would it be and why?
Nürburgring and Tsukuba.
The ring because it's the ultimate test of man and machine. How much of a machine and how much of a man you are to handle the death trap. 
Tsukuba because I think I've watched every single episode of Best Motoring and I would love a time attack attempt with my EG!
Do you prefer Continentals or JDMs?
Jackie's cars are taken care of by the guys at Detailing Studio: Automotive Atlier
That depends on the purpose. There's an equal amount of really good and shitty, Continental and JDM cars.
What is your dream car? Why?
(Photo Credit: Designboom)
It's a Jaguar XJ220. I recall as a kid I saw a poster of the XJ220 and I don't believe in love at first sight unless it's with a car.
You know what I mean. Jeremy Clarkson thinks it's the 61' E-Type but I think it's the XJ220. Didn't know much about engines as a kid so it has, in fact, everything to do with the way the car looks. It looks totally out of this world and it's the definition of sexiness.
What are your thoughts on the car scene in Singapore?
What car scene?
Stay tuned to Jackie on the Motorist Youtube Channel for his mReviews and various appearances in our other series! You can also follow Jackie on his Instagram over here!
Photos by:
Ryan Hong (@ryangotcam)
Jek Ray Low (@vrvprod)
Jordan
Read More: In The Passenger Seat: Fabian, Founder of SGretroCAR
---
Download the new Motorist App now. Designed by drivers for drivers, this all-in-one app lets you receive the latest traffic updates, gives you access to live traffic cameras, and helps you manage LTA and vehicle matters.
Did you know we have a Motorist Telegram Channel? Created exclusively for drivers and car owners in Singapore, you can get instant info about our latest promotions, articles, tips & hacks, or simply chat with the Motorist Team and fellow drivers.