5 Telegram Groups Every Driver In Singapore Should Join (Dec 2023)
Published by
Cheyenne
on
7 Nov 2019
. Updated on
1 Dec 2023
Almost everyone has access to Telegram. But did you know there are a few groups out there that can help drivers on the roads? Let's take a look at them.
Sometimes, the radio just doesn't give you sufficient information while you're on the road. They may warn you of an incident at a certain area, but it may not be as detailed to avoid it completely.
Besides having conversations with your loved ones, Telegram offers more to users through the use of channels, groups and bots. Some of these are dedicated towards traffic and road conditions, and can aid drivers immensely.
Let's have a look at five Telegram groups that every driver in Singapore should join!
*Take note that all figures below are rounded off.
1. SGRoad Blocks / Traffic News
The first on the list is a group chat which primary purpose is to inform drivers of road blocks, as well as the occasional update for traffic news.
The group has slightly more than 32,300 members, as of today (1 December 2023). Being a group chat, you will see fellow drivers chit-chatting with each other, asking if certain areas have road blocks or not.
For example, if Driver A asks if Woodlands has any road blocks, Driver B who is currently driving in Woodlands could reply if they had spotted any road blocks.
The chat is super useful for motorists when they're rushing off to work. After all, nobody likes getting stopped at road blocks.
You can join the group here.
Read Also: Why Do You Get Stopped at Road Blocks?

2. SG Rd informers 

With roughly 14,000 members as of today, this group chat updates motorists of any accidents or obstacles on the road. It also updates drivers about the traffic flow at certain areas. 

The chat forwards traffic updates from 'SG Rd Updates', which is a channel that informs drivers about whatever is happening on the roads. You can subscribe to the channel here. 

What's the difference between the 'Update' and 'Informer' chats? Well, 'SG Rd Informers' is a group chat, where you can send messages and talk to other users. 'SG Rd Updates' is a channel, which means that only admins can send messages.
The 'Update' chat has about 25,500 subscribers as of today.
Although, we feel that the 'Informer' group is a better fit as you can get the updates, as well as converse with other.
You can join the group here.

3. LTA Singapore

For all motorists, our biggest boss is the Land Transport Authority (LTA) so what better way than to find out the latest road and public transport updates than straight from LTA's own Telegram channel. 
Join almost 29,000 members to get updates on things like road closures and updates to road layouts. 
You can also get information on adjustments to public transport services like train breakdowns or early closures for maintenance.
You can join the group here. 
4. SGMYCustom & Msia Road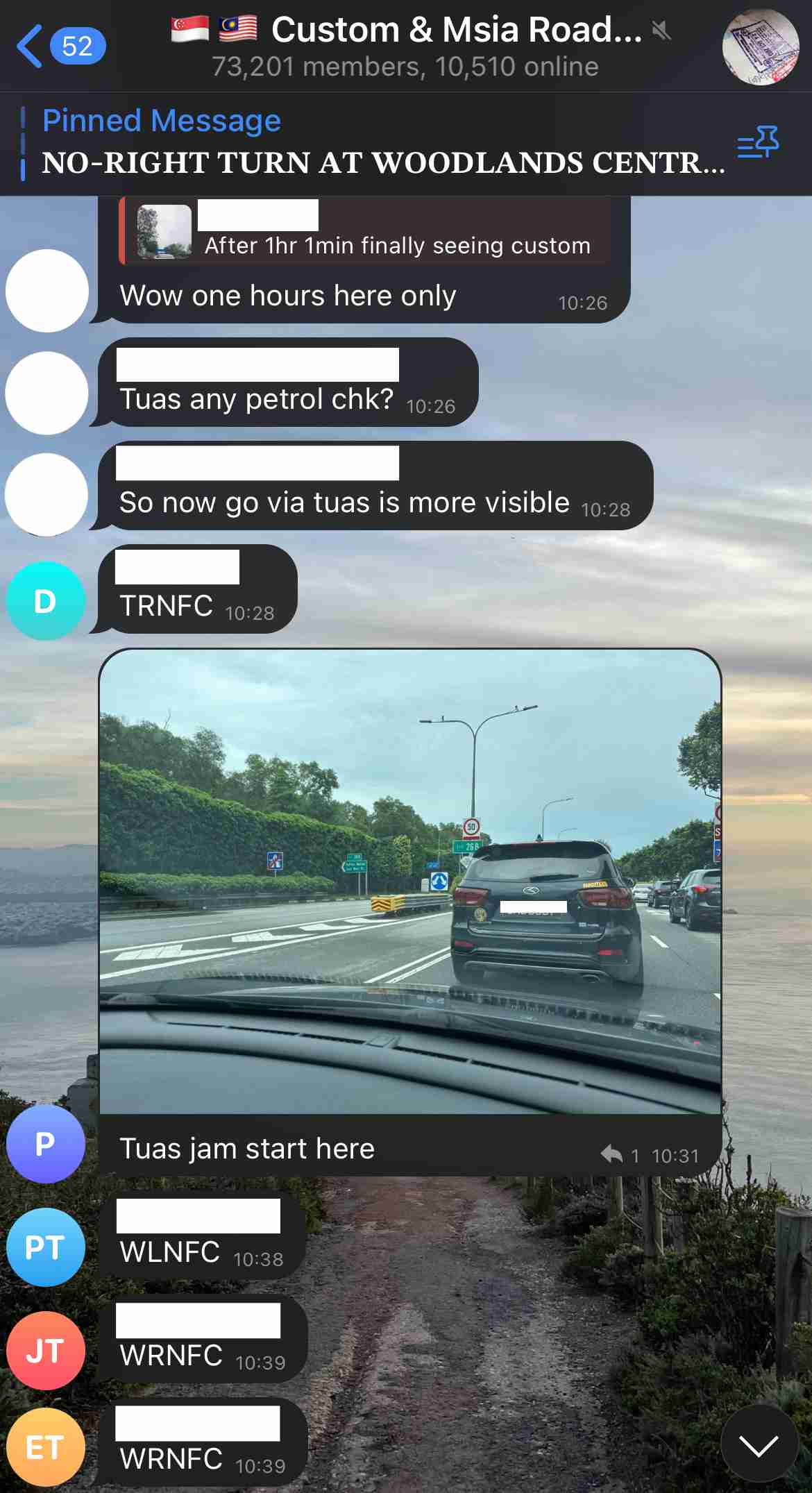 With over 73,000 members as of today, this group chat is intended for motorists who travel in and out of Malaysia on the daily. It constantly updates members about the road conditions in Malaysia, and allows motorists to converse with each other.
When you first join the group, a bot will welcome you with a long message that has a long list of acronyms. Although, with so many members, sometimes the bot doesn't send the welcome message to everyone, so you might be confused.
Let's break down the list of acronyms together.
WLNFC – Woodlands Left No Fuel Check
WRNFC – Woodlands Right No Fuel Check
WLFC – Woodlands Left Fuel Check
WRFC – Woodlands Right Fuel Check
TLNFC – Tuas Left No Fuel Check
TRNFC – Tuas Right No Fuel Check
TLFC – Tuas Left Fuel Check
TRFC – Tuas Right Fuel Check
Basically, these inform drivers whether there are any fuel checks at the Woodlands or Tuas checkpoints. These acronyms are also used by members to inform each other of fuel checks.
Aside from this, the group chat also sends updates on road cameras at the checkpoints for drivers to check. It even provides useful information like the current exchange rate and the weather forecast in Johor.
You can join this group here.
5. Motorist Community Channel
Did you know that we here at Motorist have our own Telegram channel that you can join? Yep, we do, and you can join us here.
The channel updates the second something new is posted, such as an article or a question asked on our website. It even informs about fuel checks and traffic police sightings.
The channel also shares information on giveaways, promotions, and other announcements that we'd like to share!
We hope that these Telegram groups will help you and fellow drivers stay safe on the roads, as well as to keep up-to-date on the latest news in the automotive industry.
We're not encouraging drivers to use their phones while driving, as that is a very dangerous thing to do, but we hope that the information shared in these groups can help drivers when traveling.
Download the Motorist App
The easiest and smartest way to manage your vehicle in Singapore.
Download Now
Read More: Here's How You Can Get an International Driving Permit
---
Download the new Motorist app now. Designed by drivers for drivers, this all-in-one app lets you receive the latest traffic updates, gives you access to live traffic cameras, and helps you manage LTA and vehicle matters. 
Did you know we have a Motorist Telegram Channel? Created exclusively for drivers and car owners in Singapore, you can get instant info about our latest promotions, articles, tips & hacks, or simply chat with the Motorist Team and fellow drivers!