mReview: Subaru WRX GT-S Wagon 2.4 EyeSight - What's In A Name?
Published by
Aiden Chong
on
6 Nov 2023
. Updated on
13 Nov 2023

WRX. World Rally eXperimental. These three letters have been a source of inspiration for car enthusiasts the world over since the early 90s. Originally based on the Impreza models that Subaru created to compete in the World Rally Championship, it quickly became a cult favourite. Since 2015, Subaru has split the Impreza and WRX names and have spun off the WRX into its own product line but does it still carry the WRX essence?
The particular model in question today is the new WRX Wagon. Launched in Singapore in early 2023, the WRX Wagon is the second generation of this spun-off WRX brand and the first to utilise the Subaru Global Platform. But before we get into the technical details, let's touch on the design.
The WRX Wagon's design was actually first shown to the public back at the 2018 Geneva Motor Show when it was known as the Viziv Tourer Concept. Props to Subaru, they actually brought the key design elements of the concept car over to production. Now I will be the first to admit, I am rather biased to wagons. I've loved how they look for as long as I remember and there's always something cool about a sporty wagon. With that said, I do think that the WRX Wagon is a handsome car.
With a couple tasteful black accents around the front and rear of the car, the WRX Wagon looks pretty mean, especially with that whacking great hood scoop. How can you not love a hood scoop? The WRX also has well placed body lines that give it a sort of "flared-fender" look without actually having them. I believe the rear 3/4 angle is the best and most flattering for this car, you can see that long, slim body as well as a nice squared-off rear end. In my opinion, one of the best design cues on the WRX Wagon are the taillights, I just think they're superb and look sharp without looking too over-the-top.
Plenty of boot space to hide dead bodies store your barang-barang.
Since we're talking about the rear end, the WRX Wagon has, as you might expect, a very spacious boot. We're talking 492 litres with the rear seats up and 1430 litres with them folded down. For comparison, the Subaru Forester has 505 litres of boot space. As a wagon should be then, the WRX is more than capable of hauling around your groceries, large dogs, or whatever else you might want to transport.
The interior has also been upgraded from the Subarus of old, with the WRX now featuring an assortment of cushy materials to pad your surroundings. Even the gear knob has been wrapped in leather. Legroom is ample and the roofline doesn't interfere with headroom either, with both aspects seeing an increase over the previous-generation Wagon.
The front occupants are also treated to the massive 11.6-inch touchscreen display that houses all of the infotainment features. Now while most of the car's functions are indeed found in the screen, Subaru has placed lots of physical buttons to adjust the more commonly used ones like volume and the aircon temperature and fan speed. There is also Bluetooth as well as wired Apple CarPlay and Android Auto for your phone connectivity needs. The driver also enjoys fully electric, 10-way adjustable memory seats and a digital info screen in the gauge cluster.
But the real kicker in the tech department are the safety features that Subaru now prides itself on. First up is the Driver Monitoring System (DMS) that uses an infrared camera located in the dash to detect if the driver is distracted or falling asleep at the wheel and can then sound off an alarm to notify the driver. The DMS can also use facial recognition so that you can register up to five driver profiles and the car will automatically revert the seating position and most recent aircon setting to that of the driver at the wheel. 
For example, if my mother were to drive the WRX Wagon (she's short), she would be able to adjust her seat height and back rest to her preferred position (very high). When I then get back in the car to drive next, the car will automatically recognise that I'm at the wheel and return the seat to my position (all the way down). This is an absolutely fantastic feature that I first saw and loved in the Subaru Outback and I am very happy that they have included it across most of their other models.
The stereo cameras used by Subaru's EyeSight 4.0.
The second and arguably more important tech feature is Subaru's EyeSight 4.0. This set of driver assistance systems use stereo cameras that allow the EyeSight system to act as a "co-driver" (also the name of a feature on our Motorist app *wink*). 
The WRX Wagon is fully capable of Adaptive Cruise Control with Lane Centering, Pre-Collision Braking with the ability to steer itself out of the way, Pre-Collision Throttle Management, Lane Departure Warning and Prevention as well as other various warnings and alerts. Having all of these features in place make the driving experience of the WRX Wagon a safe and relaxing one knowing that the car is also looking out for me.
So now that we know this car is brilliant as a Wagon, how is it as a WRX?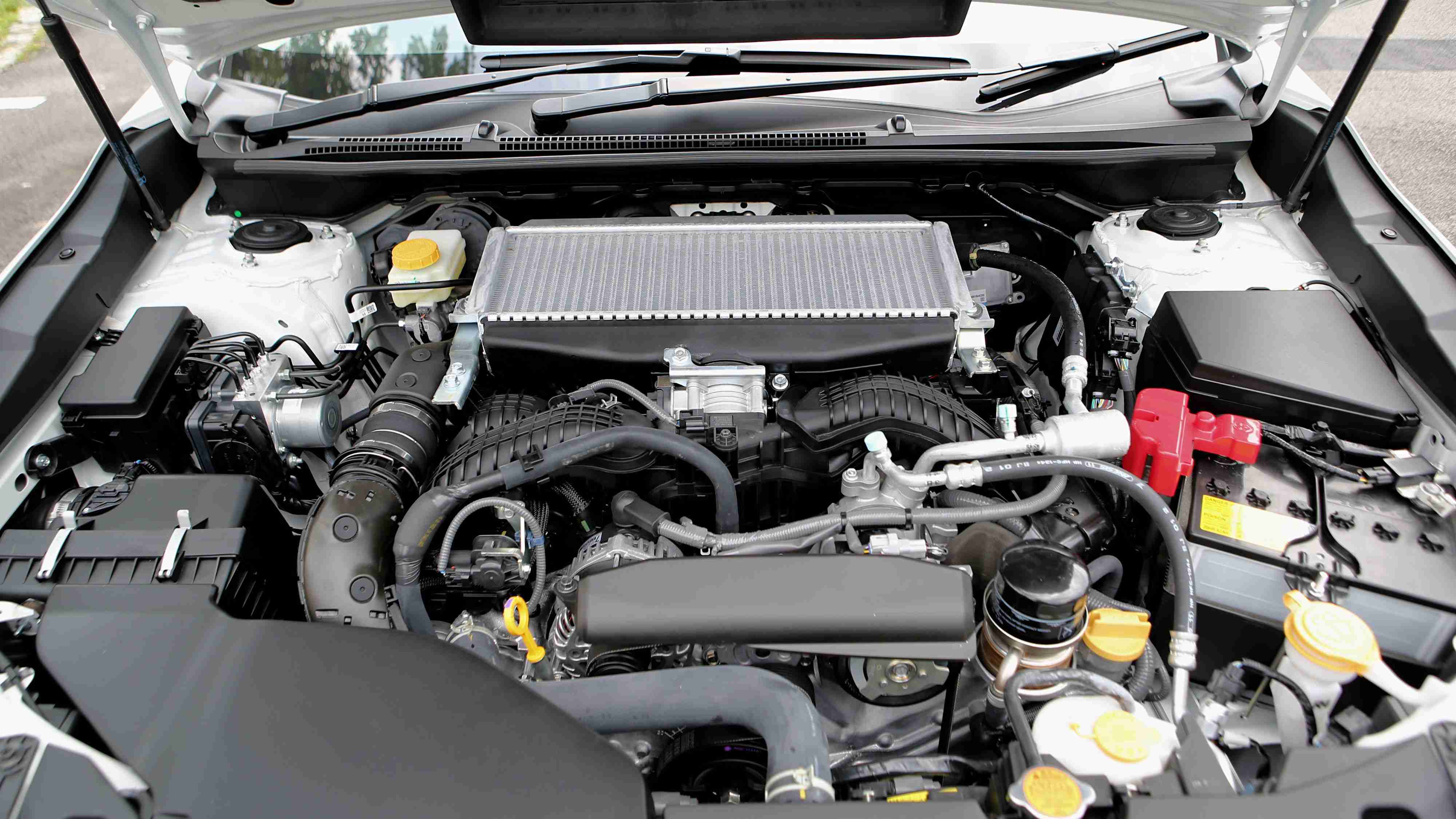 Powertrain-wise, the WRX Wagon is fitted with the FA24 2.4-litre, turbocharged, four-cylinder boxer engine that pushes out 271hp and 350Nm of torque. In today's world of high-powered monsters, sometimes we get desensitised to what normal power figures are like and what's actually enough for the real world. 271hp and 350Nm is nothing to scoff at and with linear power delivery with lots of oomph down low, not once did I feel like I was wringing its neck trying to hustle it along. It's got more than enough to get you and your family from the supermarket to home at a decent lick.
The interesting bit is that that engine is mated to Subaru's "8-speed" Lineartronic CVT gearbox. CVTs are hardly the last word in performance and it's definitely a polarising decision to fit this supposed performance wagon with such a gearbox. Subaru have tuned this CVT to drive like a normal automatic for the most part, with noticeable "gear changes" that have been programmed in. 
This is even more pronounced when using the paddle shifters to "change gears" yourself, with a distinct "shift time" whenever you pull an upshift. Now you might be expecting a rant and rave about the fact that they've put a CVT in but honestly, it's really not that big an issue. Would I rather a normal torque converter automatic or dual-clutch 'box (or dare I dream, a manual)? Sure, of course I do. But in this car, the CVT it has works just fine.
My biggest gripe on the other hand, is actually with the steering. While there is loads of grip thanks to the extremely capable Subaru Global Platform chassis, well-tuned suspension, and Subaru's signature full-time all-wheel-drive, the steering itself is absolutely devoid of any feedback whatsoever. It's an odd feeling to be able to feel what the car is doing through your bum but not through your hands at the same time. It's a real shame because apart from the steering, the rest of the car performs well when it comes to spirited driving.
The different drives modes – Intelligent, Sport, and Sport# – give the WRX Wagon distinct personalities that affect how eager the car is to bound through some windy roads with great brake feel despite the brake-by-wire system. The gearbox behaves when you want to select your own gears and variable torque distribution between the front and rear axles mean the WRX Wagon is almost infallible when pushed.
Now there is a WRX Wagon tS, which stands for "Tuned by STI" variant of the WRX Wagon available to order that further increases its performance capabilities by adding adjustable dampers that can be controlled electronically through the car's menus. While this would undoubtedly firm up the handling characteristics even more, I have my doubts over whether this would make any difference to the steering feel.
So overall, is this vehicle deserving of the WRX name? The lack of steering feel properly takes me out of the immersion that I crave and desire. But there's no denying that the rest of the car has been put together well and is very capable at what it does and I'm sure buyers of the WRX Wagon will be well satisfied with their purchase too. I recommend going to try it out for yourself to see if this one caveat mars your experience of an otherwise great vehicle.
Now make a real STI version, you cowards.
Read More: mReview: Porsche Cayenne Coupé Platinum Edition - The Little SUV That Could
Subaru WRX Wagon GT-S 2.4 CVT EyeSight
Price (at time of publishing): $282,800 including COE
 VES Band: C2

Engine:
Turbocharged boxer 4-cylinder, DOHC 16-valve 

Capacity:
2,387cc

Power & Torque:
271hp @ 5,600rpm &
350Nm @ 2,000 - 5,200rpm


 Transmission:
"8-speed" Lineartronic CVT

Driven Wheels:
All

Consumption:
10.5 km/L

0-100 km/h:
6.1 seconds

Top Speed:
215 km/h

Fuel Tank Capacity:
63 litres


Dimensions (L x W x H):

4,755 mm x 1,795 mm x 1,500 mm

Cargo Capacity:
492 - 1,430 litres
Download the Motorist App
The easiest and smartest way to manage your vehicle in Singapore.
Download Now
---
Download the Motorist App now. Designed by drivers for drivers, this all-in-one app lets you receive the latest traffic updates, gives you access to live traffic cameras, and helps you manage LTA and vehicle matters.
Did you know we have a Motorist Telegram Channel? Created exclusively for drivers and car owners in Singapore, you can get instant info about our latest promotions, articles, tips & hacks, or simply chat with the Motorist Team and fellow drivers.