ELF Lubricant Showcases New Motorcycle-Specific Products at Kawasaki Ninja ZX-4RR Launch
Published by
Mutasim
on
10 Oct 2023
Last week, French motor oil maker ELF Lubricant showcased a lineup of their latest motorcycle-specific lubricants at the Kawasaki Ninja ZX-4RR launch.
The event was held at Handlebar Singapore in Gillman Barracks on Thursday evening, where famed bike manufacturer Kawasaki unveiled the latest iteration of their ZX-4RR track-focused sports bike to fellow Kawasaki owners and enthusiasts. 
ELF brought out various bike-specific motor oils to the party, including their MOTO⁴ series of lubricants – the Pro Tech, Road, and Tech – plus the Scooter⁴ Maxi City oil that's been optimised for scooters.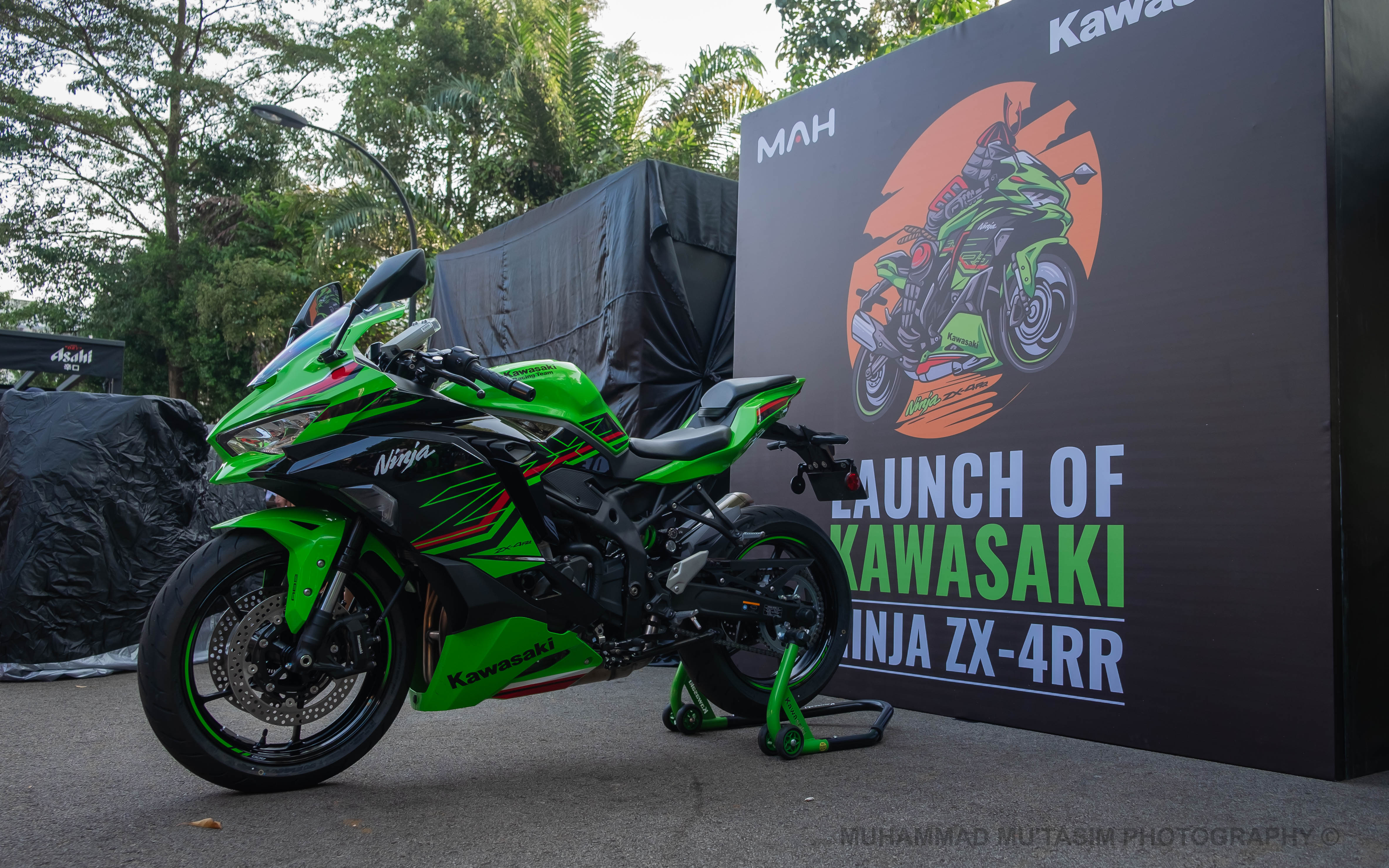 According to ELF representatives present at the event, the MOTO⁴ Tech 10W-50 is highly recommended for all types of high-performance four-stroke engine motorbikes, including the Ninja models on display. 
The multigrade oil has undergone severe testing in competition before being offered for consumer use. It's also effective in the harshest of conditions, being able to handle temperature variations in the engine's metal components, ranging from -25°C up to 330°C. It also boasts high thermal stability, remaining fluid and efficient throughout the wide temperature range.
Where long-term reliability is concerned, the MOTO⁴ Tech also creates a protective layer via special additive formulation, allowing for smoother gear changes, a reduction in mechanical and transmission noise, and added protection for metal parts in contact, all of which help to prolong gearbox life.
The lubricant's base oils and additives also prevent deposit formation, maintain hydrodynamic lubrication and preserve your engine's original power.
The MOTO⁴ Road lubricant, on the other hand, is suitable for all types of four-stroke engine motorbikes and is optimised for severe road conditions in urban traffic and long-distance runs.
ELF states that it has controlled viscosity that adapts to the surrounding temperatures, thickening at higher temperatures and becoming more fluid as the readings drop This makes cold start-ups easy, helps oil pressure to rise more quickly, and ensures low friction between moving engine parts.
Using MOTO⁴ Road also prevents clutch slippage and premature disk wear, thanks to the base oils forming a homogenous film between the clutch disks.
The ZX-4RR bike on display, which falls under the Class 2A category due to its 399cc inline-four engine, was decked out in the brand's trademark lime green, with contrasting black-and-red accents around.
It displaces 77 hp, and goes up to 79 hp once the Ram-Air intake is fully pressurised, revving up to 15,000 rpm. It's mated to a six-speed gearbox, and the SE model even comes with an up-and-down quick shifter as standard. 
Displaying all critical riding information is a 4.3-inch TFT LCD display positioned up front, with the option to toggle between Normal and Circuit modes. Four ride modes – Sport, Road, Rain, and Rider – are available, along with two power delivery modes and three levels of traction control.
Over 10 newly-registered Ninja ZX-4RRs were also lined up at the front of Handlebar, awaiting their proud new owners.  As a surprise for all attendees, Kawasaki brought out the 2024 ZX-6R sports bike, a 636cc sports bike that delivers over 127 hp with Ram-Air in full effect and 69 Nm of torque peaking at 10,800 rpm, eventually redlining at 13,000 rpm.
The ZX-6R comes with upside-down fully-adjustable front forks and monoshock at the back, courtesy of Showa. And just like the ZX-4RR, it comes with a 4.3-inch display with four ride modes, three-stage traction control, and a quick shifter that comes as standard.
We would like to thank our partner YHI Singapore for inviting us to this event. To find out more about about ELF motor lubricants and other products which are distributed by YHI Singapore, simply click here!
Photo Credits: Photo Credits: Muhammad Mu'tasim (@mutasimdrives)
Download the Motorist App
The easiest and smartest way to manage your vehicle in Singapore.
Download Now
Read More: New Subaru Crosstrek Debuts in Singapore
---
Download the Motorist App now. Designed by drivers for drivers, this all-in-one app lets you receive the latest traffic updates, gives you access to live traffic cameras, and helps you manage LTA and vehicle matters.
Did you know we have a Motorist Telegram Channel? Created exclusively for drivers and car owners in Singapore, you can get instant info about our latest promotions, articles, tips & hacks, or simply chat with the Motorist Team and fellow drivers.