Porsche turns 75! The Stuttgart-based sports car manufacturer's anniversary also coincides with the 100th instalment of the Le Mans 24 hour endurance race, so a sizable celebration is in order.
With many endurance racing successes over its storied history, a celebration worthy of the Porsche brand and of the iconic endurance race has to be thrown. So what better way to pay homage to a legendary manufacturer and race by allowing members of the media to actually sample some of that pedigree?
Now, it'd be ridiculously expensive to let a bunch of overly enthusiastic journalists (and the odd influencer) loose on a closed course in some Porsches. Instead, we got the next best thing, as Porsche booked out KF1's Expo track and organised a 2.4 hour endurance race to channel our inner endurance racing drivers.
12 teams would do battle on track, each driving a specially-liveried kart paying tribute to a bevy of legendary Porsche race cars from throughout its history. Two of the 12 karts would be fielded directly by Porsche themselves, so we really only had 10 media teams.
There'd be three drivers per team, and driver allocations were to be drawn at random on the actual day itself. This was to introduce an element of randomness to promote fair competition, as there were some seriously quick drivers amongst us.
Now, KF1 Expo isn't a track that we are unfamiliar with. The under-30s journo gang actually spends a lot of time hanging out at the kart track, so they are fully aware about the pace that certain drivers have over the others. I am usually one of the faster journalists, matching the pace set by traitor our former writer Sean Loo, who now works at a rival publication.
Initially, we agreed to not take this too seriously. But as the lots were drawn and tensions started to rise, I got the sense that all semblance of being there for the vibes slowly withered away. The competitiveness peaked when we felt a collective sigh in the room, when, and by pure chance, Sean and I got put on the same team.
For some fairness, we ended up with a non-journo as our third driver. Though this is a character that you'd be familiar with if you are into your local music. Yes, our third driver is Benjamin Kheng, of the Sam Williows fame. 
With teams formed, and briefings out of the way, it was time to hit the track. Practice was up first, and we decided to let Benjamin have a taster of the track.  Afterall, Sean and I have driven this track too many times to count, and it'd be nice to give our team mate some additional seat time.
Or so we thought. We assumed that practice would be a free-for-all of sorts, perhaps with the organisers allowing us to run any programme as we deemed fit. Unfortunately, we were told by the track staff that each member of the team would be allocated the same amount of track time.
Benjamin had a tentative start as this was essentially his very time karting. Fair play to him though, he got into the groove fairly quickly, and his lap times showed for it. He ended his 10 minute stint some three seconds off the pace, which was impressive, if you keep in mind his lack of track experience.
Sean then went out for the next bit of practice, and I completed the session for our team. Sean laid down a scorcher, and I massively over-drove trying to prove a point. Dead tyres and traffic meant that my confidence was definitely shaken going into the race.
We decided that Sean should do qualifying, and he proceeded to put us on the front row on only his first flying lap.
I struggled with brake locking throughout practice, so I adjusted the brake pedal for additional travel for finer adjustments in the race. This gave me the additional precision needed to better regulate my tyre temps and also my entry and exits.
With that done, all 13 drivers were told to form up opposite their chariots. We were to then run towards our karts, jump in, strap on and then start the race proper. I only started running when I heard the 'GO' command from the commentator, who happened to be Brendan Mok, Head of PR & Communications at Porsche Asia Pacific.
In the sheer panic that ensued, I struggled to find my seatbelt. Doesn't help that my visibility was limited too, as my helmet had a tinted visor. P2 on the grid turned out to be P4 on the road, as two other teams got the jump on me. At the end of lap one, the grid was still fairly bunched up, but the front four, us included, were starting to pull away from the grid
A couple of laps in, I caught the kart in front, driven by the Porsche APAC team, napping. Into T2, he failed to realise that I was right on his tail. I made a maniacal lunge down the inside, as he moved across the track at the very last minute in a desperate bid to defend.
I dispatched the next kart fairly quickly, and set about chasing down Team #1's kart, driven by Noah from Horizon Driver's Club. Our race pace was very similar, though I was definitely slightly more consistent. At this point in the stint, I was about three corners behind Noah, and closing in ever so slightly lap-by-lap. We then hit traffic, with me getting the short end of the stick. Noah would catch these lapped runners at the corner exits, meaning he could take an uncompromised line and not sacrifice too much lap time.
I, on the other hand, had to contend with actually passing these backmarkers, since I would catch them mid-corner. My biggest battle was with my fellow Motorist colleague, now driving the #6 kart. Despite being a lap down, he put a valiant effort in defence, holding me off for six laps, with the battle costing both of us about four seconds of lap time in pace per lap.
Frustration turned into desperation. We were told that blue flags would be implemented, but they weren't. I made lunges wherever an opportunity would present itself. I got ahead two or three times at the corner entry, but had no pace to stay ahead after that. Finally, he made a small mistake and I got through, but Noah in P1 had built a comfortable, half-lap buffer.
Benjamin took over the kart for the next stint. For a first timer in battle, he did very well. Most teams have put their really quick drivers in for this bit of the race, so naturally, he fell back. Still, after his 15 minute stint, we were only P6. Sounds disastrous, but remember - this was his first time having proper tussles out on track, and he did an admirable job.
Sean commandeered the kart for the next 30 minute stint, methodically picking off karts and gaining back the laps and the positions that we lost. There was a period of time in which the HDC/sgcarmart folks in Kart 1 were literally within striking distance of our kart. Things got really dicey when we found ourselves trying to lap four backmarkers, and some contact was made between us and P1.
And that really was the story for the next two stints. We weren't that far behind the lead kart, and the race could really go either way. They pitted 15 minutes before we did for their final stint, sending Noah back out again on track. In clear air, Sean managed to pull out just enough of a gap that'd make sure we end up undercutting them.
Finally, it was my turn to climb back into the kart. And the choreography for the final driver swap was apparently mesmerising to the bystander. It certainly didn't feel like that to me, as I fumbled for the belts. Sean tapped me on the helmet and told me to "bring it home".
So I did. I had a decision to make. Do I continue pumping in fast laps and capitalise on the fatigue of our competitors? Or do I do a few push laps to build a safe buffer, then coast the kart home? This has been a race of attrition, with many teams suffering from various mechanical woes throughout the race.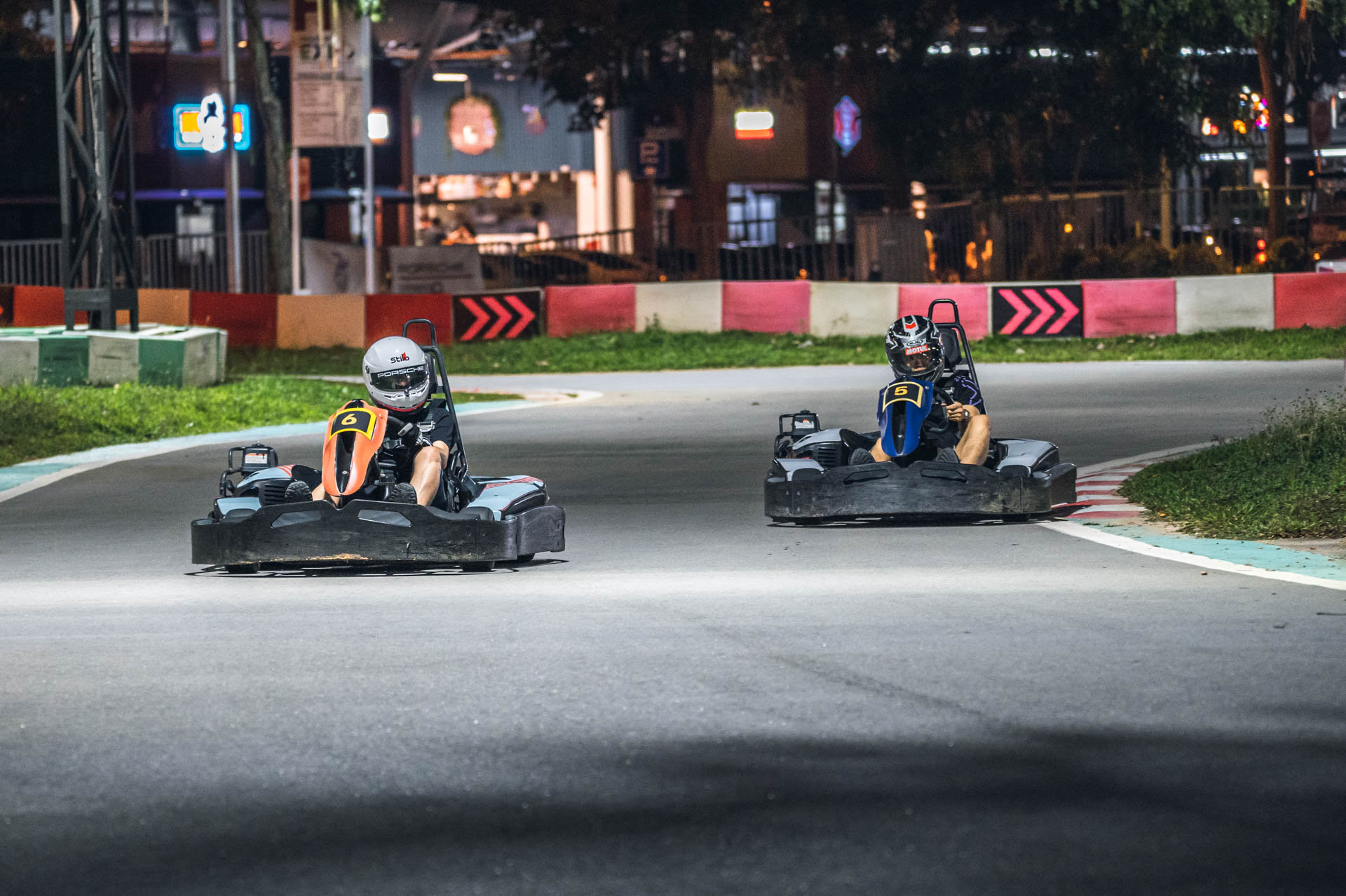 I opted for the latter. I had five flatout push laps, all within hundredths of a second of each other, and then coasted for the remainder of the stint. And the coast would soon become a crawl, as with three laps to go, I heard a loud pop from the rear left, which was then accompanied by the kart's inability to track straight on full power.
My heart rate matched every bump, vibration and sputter that the kart was experiencing. We've gone through so much, set fairly impressive lap times, and there's a chance we may not even finish? After more than two hours on track? Surely not? My mission switched from driving quickly to just coasting as much as I could to nurse it home.
To add some additional jeopardy, Noah was closing in fast. Before the mechanical fault, I estimated that we had close to about 3/4s of a lap on them. But he was gaining significant ground with every passing lap. I wasn't sure I had the machinery to keep him behind, since I'd probably be unable to fight when he does catch up.
Thankfully though, the chequered flag soon dropped, and we finished some four kart-lengths ahead of the HDC/SGCM trio. My Motorist colleague, driving the #6 kart, ended up finishing P6, after having to hard carry the team as one of their drivers fell ill during the race.
All in all, this was a brilliant way for the local journalists to spend an evening, immersing ourselves in the racing heritage of an iconic automotive brand. We'd like to thank Porsche Singapore for the invite, and look forward to taking part in more events like this!
Download the Motorist App
The easiest and smartest way to manage your vehicle in Singapore.
Download Now
Read More: mReview: Porsche Taycan - Mission Accomplished
---
Download the Motorist App now. Designed by drivers for drivers, this all-in-one app lets you receive the latest traffic updates, gives you access to live traffic cameras, and helps you manage LTA and vehicle matters.
Did you know we have a Motorist Telegram Channel? Created exclusively for drivers and car owners in Singapore, you can get instant info about our latest promotions, articles, tips & hacks, or simply chat with the Motorist Team and fellow drivers.