Many Singaporeans would be familiar with Melaka. Its impressive historical significance and UNESCO World Heritage Status aside, the state is also known for its good food and massive night markets!
We simply could not ignore Melaka during our Great Malaysia Trip, and decided to drive straight to their city centre, our tummies still full from the amazing delicacies tried in Desaru.
As we barrelled down the expressway, the Yokohama Advans fitted by YHI proved to be an excellent choice as it maintained impressive levels of grip despite the rain causing the road conditions to get challenging!
Replenished and Recharged
We finally arrived at Melaka City after three hours of hard driving. Both our hosts were completely drained of energy, but thankfully, our first stop was The Baboon House. 
Set in a traditional Peranakan house, this retro-modern cafe provides customers with a decidedly old-school ambience that is both charming and homely. They offer all sorts of beverages, desserts, and delicious burgers, meaning you can definitely get stuffed pretty quickly here!
Our hosts opted to get mouth-watering burgers with cheese literally melting down the patties, and some refreshing homemade drinks to go along with them. And with the Peranakan motif going all-out in the dining area, it genuinely felt like we were having a hearty meal at home, rather than in a restaurant.
We left the quaint cafe feeling 100% recharged. A walk towards Jonker Street to digest the food was in order, and we also took the time to take in the sights and sounds of Malaysia's oldest city along the Malaccan Straits.
Address: No. 89, Jalan Tun Tan Cheng Lock, Taman Kota Laksamana, 75200 Melaka, Malaysia
Opening Hours: 10AM - 5PM (Mon to Sun, closed every Tue)
Sky High in the Jungle!
Retail therapy is fun and all, but if you're looking for something truly exciting, very few locations in Melaka can beat Skytrex. 
This adventure park specialises in high-elements courses, with unique challenges that include skybiking, rope-walking from tree to tree, and even the flying fox! Our hosts were given a safety briefing and tutorial by the friendly and experienced Skytrex staff prior to tackling the actual courses, to ensure that all participants are competent and fit enough.
As this activity involves high levels of risk, our title sponsor DirectAsia strongly recommends all participants to take the necessary safety precautions at all times, and put on the required safety equipment to protect themselves from being injured.
Our hosts were game enough to try some of the courses on offer, and soon found themselves exploring the lush greeneries of Melaka's forested areas very high up from the ground. As they slowly (or swiftly, depending on the course) made their way from point to point, words of encouragement were given by the Skytrex staff to keep the morale up!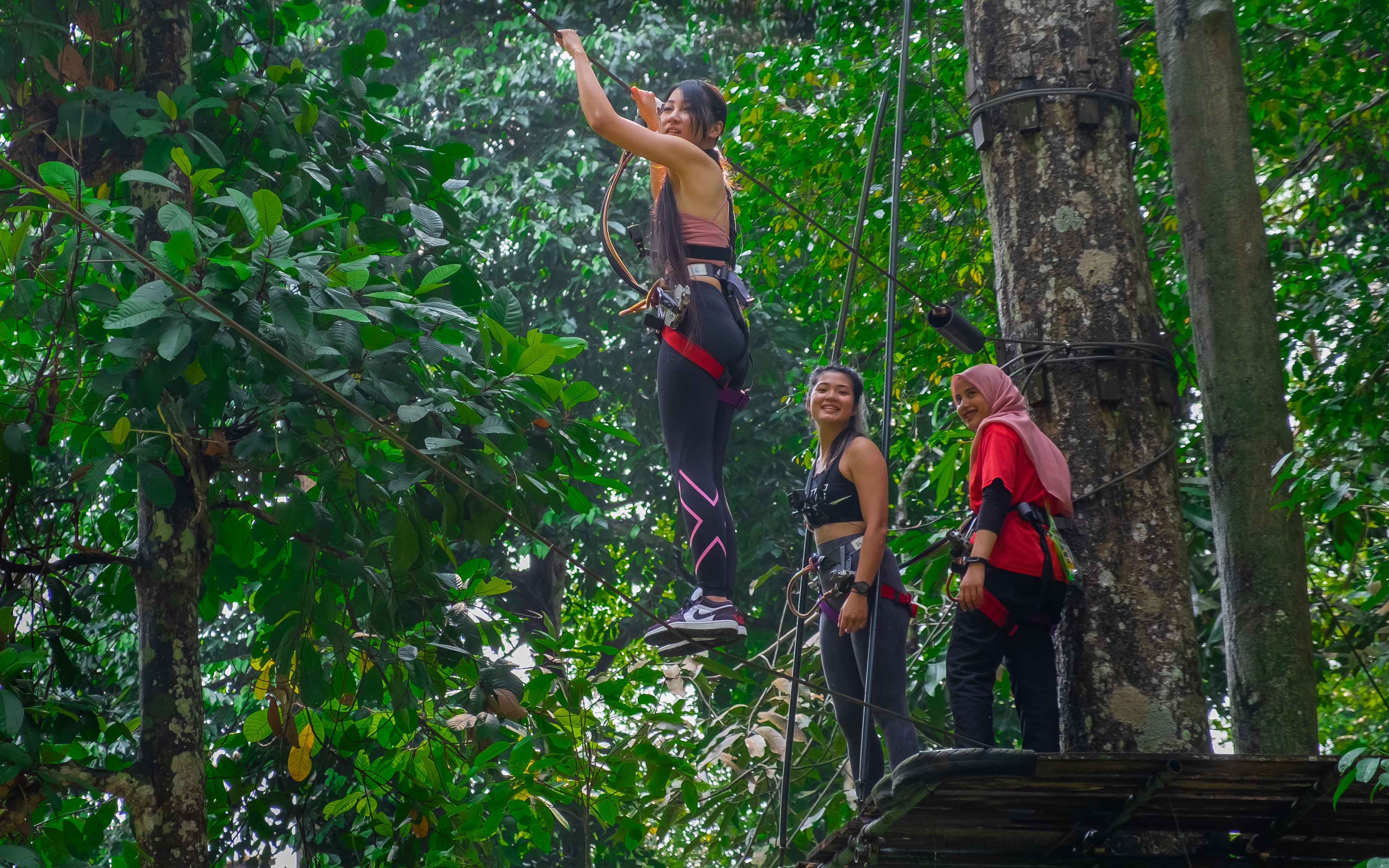 Those who prefer to be on terra firma can also seek refuge at the open-air seating area next to the office, where refreshments are readily available. We also found that there's a surau available nearby, making this attraction perfect for Muslim visitors!
Our hosts completed the set courses several hours later, exhausted but satisfied that they finally got to get their adrenaline fix. And before long, it was once again time to head to our next destination.
Address: Jalan Taman Botanikal, 75450 Durian Tunggal, Melaka, Malaysia
Opening Hours: 9AM - 6PM (Mon to Sun)
Tricky Tufting!
Our final destination in Melaka was The Moment Studio, which organises tufting classes to both children and adults.
Located in a quaint shophouse that's flanked by convenience stores and eateries, the air-conditioned studio provides everything you could possibly need to create your own artwork!
Our hosts were given their very own equipment, including a tufting gun and canvas, plus helpful instructors to guide them at every step of the way. They were also allowed to choose the most suitable yarn colour to go with their design!
While it may look simple, the process requires patience and full concentration as a stitched thread cannot simply be undone. Despite their best efforts, our hosts were unable to complete their artworks due to time constraints. They did leave feeling very happy and content, and definitely wanted to give it another go whenever the opportunity came by.
Address: 18-1, Jln KLJ 4, Taman Kota Laksamana, 75200 Malacca, Malaysia
Opening Hours: 10AM - 7PM (Tue to Sun, closed every Mon)
Click here to watch our full Day 2 video coverage!
If you had not seen our Day 1 coverage already, click here to read all about it or watch our video here!
We'd like to once again thank our title sponsor DirectAsia and supporting sponsor YHI Singapore for supporting us on this Great Malaysia Road Trip! We'd also like to thank SGRentaCar for providing us with a smooth and reliable Honda support vehicle for the crew that made this trip possible.
Photo Credits: Muhammad Mu'tasim (@mutasimdrives) and ACube Creative (@weareacube)
Download the Motorist App
The easiest and smartest way to manage your vehicle in Singapore.
Download Now
Read More: The Great Malaysia Road Trip: There's Much to Do in Desaru!
---
Download the Motorist App now. Designed by drivers for drivers, this all-in-one app lets you receive the latest traffic updates, gives you access to live traffic cameras, and helps you manage LTA and vehicle matters.
Did you know we have a Motorist Telegram Channel? Created exclusively for drivers and car owners in Singapore, you can get instant info about our latest promotions, articles, tips & hacks, or simply chat with the Motorist Team and fellow drivers.