4 Automotive Activities To Look Forward For The Rest of 2022! - mGuides
Published by
Motorist
on
9 Oct 2022
. Updated on
10 Oct 2022
It has been almost two years since we last had a sizable automotive-themed event. A pivot to coronavirus endemicity means large scale events can now be held once again.
And unless I'm very much mistaken, car meets and/or events very much fall under this category. A not-insignificant subset of car culture locally, the COVID-19 measures put in place to stem the spread of transmission has whetted up the appetites of the average automotive enthusiast for car events.
Event organisers know this. This is perhaps why large scale automotive events are now back - and with a vengeance. Let's celebrate the fact we can gather once again, and look forward to these five exciting car events for the rest of 2022!
1. International Automodified Singapore
With the constant development of the automotive aftermarket in the region, there's an ever growing need to ensure that those in the car modification community have proper representation. It is only then that public awareness and appreciation can be cultivated. And these are the goals that the folks at International Automodified are aiming to achieve. This event aims to bridge the gap between the enthusiast and the aftermarket, showing off customised cars to the masses and educating the end user about what's possible if you have the vision (and the pockets) to modify your vehicle.
The show is currently the market leader in automotive exhibitions in the region, providing a high quality and professional platform for automotive hobbyists/enthusiasts, automotive products manufacturers, dealers and automotive service providers to converge and exchange the latest trends and technology in the automotive dress-up and tuning industry. For a bit of background, the first ever IAM Singapore was held in Singapore Expo back in 2019, with more than 110 cars and 8,000 attendees.
Date & Time: Sat, Oct 8 – Sun, Oct 9, 10:00am - 10:00pm
Venue: Singapore Expo Hall 6A
Website: https://iamautomodified.com/iamsg/
2. National Bikers Weekend 2022
The aim of this event is to provide a platform for motorcycle enthusiasts to showcase their passion for their two-wheeled vehicles, as well as foster better relations between the owners, riders and even the bike and parts distributors. This 'Celebration of Motorcycling Lifestyle' was last held in 2019, and the 2022 iteration marks the first post-pandemic running of the event. Meet new like-minded people, share your love for the motorbike and forge genuine and lasting friendships!
You'll also get to meet the people behind the most successful distributors of motorcycles, dealers of motorcycle accessories and parts, motorcycling-related trade and services. Most crucially though, you'd feel a sense of camaraderie between your fellow bikers!
Date & Time: Fri, Nov 4, 10:30am – Sun, Nov 6, 8:30pm
Venue: D'Marquee 1 Pasir Ris Close Singapore, 519599
Website: https://www.eventbrite.sg/e/national-bikers-weekend-2022-tickets-414131407187
3. SuperKarts Underground @ RWS
Experience the thrill of karting on a low-grip, temporary track at KF1's SuperKarts Underground @ RWS. The (mostly) flat-out track requires a certain level of driving precision and finesse to master, as you thread the kart at speed through the various columns and tecpro barriers used to demarcate the track!
Battle with your mates as you navigate the tight and twisty course, constantly battling oversteer as the kart attempts to find adhesion over the painted markings and smooth concrete surface that RWS typically uses as a carpark.
Each session is 10 minutes long, and you'll need to fork out $35 for an Advanced (up to 40km/h) session, or $28 (25km/h) for a novice session. Do note that in line with BCA's Amusement Ride Regulations, you'll need to present a valid driving/motorcycle licence for the former.
Date & Time: Mon, Oct 4 – Sat, Dec 31, Weekdays: 1pm to 9pm, Weekends/PH: 10am to 9pm
Venue: RWS East Carpark (Orange Zone)
Website: https://kf1karting.com/pages/rws
4. Motorist mCARnival
Be part of Singapore's biggest car festival of the year! Motorist's mCARnival aims to bring together like-minded motorists, vehicle owners and automotive partners to build stronger ties within the car community.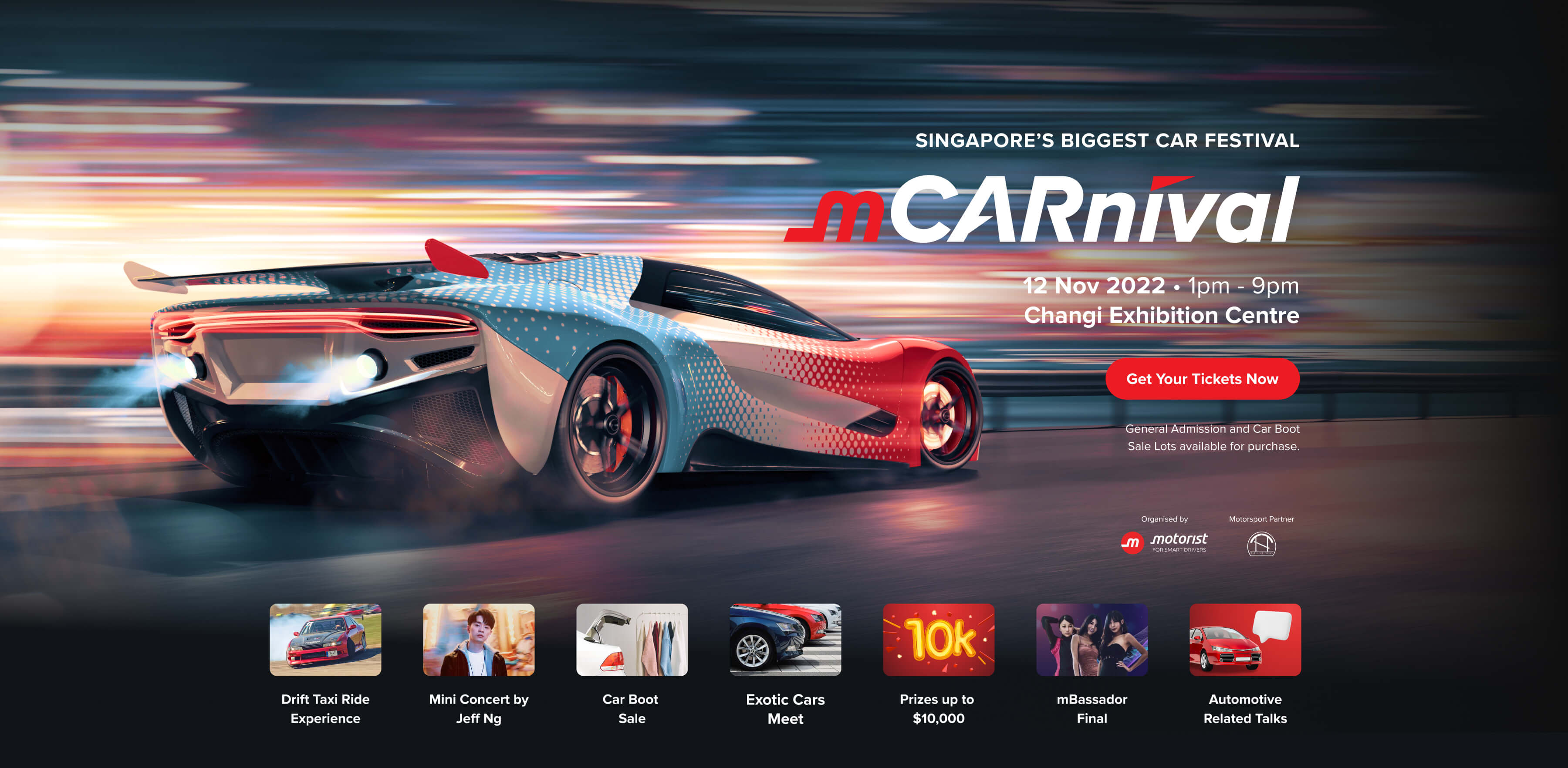 Join us for a day filled with fun and exciting events for the whole family! Some of the attractions include Drift Taxi Passenger Experience with @thenextthingsg, Car Boot Sale, mBassador Finals and Jeff Ng.
You'll also stand a chance to win prizes of up to $10,000, as well as an iPhone 14, in our lucky draw! Early bird admission fee is only at $10 (U.P. $20), so hurry and get your tickets now. Head over to https://bit.ly/mcarnivalfb for more details. We hope to see you there!
Date & Time: Sat, Nov 12, 1pm to 9pm
Venue: Changi Exhibition Centre
Website: https://bit.ly/mcarnivalfb
Car Culture is Very Much Alive
Cars may be really expensive in Singapore, but these activities show that car culture is very much well and alive in the little red dot. Appreciate the sights, sounds and smells of these experiences, and do also consider bringing your loved ones to share the joys and thrills that speed and power can bring you!
Download the Motorist App
The easiest and smartest way to manage your vehicle in Singapore.
Download Now
Read More: Five Shops To Satisfy Your Hankering For A Sandwich - mGuide
---
Download the Motorist App now. Designed by drivers for drivers, this all-in-one app lets you receive the latest traffic updates, gives you access to live traffic cameras, and helps you manage LTA and vehicle matters.
Did you know we have a Motorist Telegram Channel? Created exclusively for drivers and car owners in Singapore, you can get instant info about our latest promotions, articles, tips & hacks, or simply chat with the Motorist Team and fellow drivers.