Launch Of The New 3rd-Generation Toyota Sienta
Published by
Sean Loo
on
25 Aug 2022
. Updated on
26 Aug 2022
Toyota has pulled the covers off the completely redesigned third-generation Sienta, and first start offering the car for sale in its native Japan.
The second-generation Sienta is ubiquitous amongst the PHV crowd here, though some owners may not be aware of the nameplate's heritage locally, with a history that stretches back almost two decades. Initially launched back in September 2003, it has styling that can be described as 'subjective', though regardless of the generation, customers loved the fact that this car combined the convenience of a minivan, with a spacious cabin and seating for seven passengers, into a compact body size.
Hence, the development team once again considered customer feedback when developing this 3rd-generation model. The conclusion they reached was preserving the vehicle's easy-to-manage length, latest safety and security features, fuel economy, and affordable price while further refining the user-friendly cabin space preserved from the first generation.
"Shikakumaru" circle and square design languageSticking with a design language Toyota has dubbed "Shikakumaru", the rounded corners of the vehicle create a compact appearance, and the circle and square silhouette lead to good manoeuvrability.
A key feature of the Sienta is its power sliding doors, which now come with kick sensors which are very handy should both a user's hands are full. 
A total of seven body colours will be available for the Sienta. Colours include Urban Khaki and a vivid Scarlet Metallic (Hopefully they bring back the legendary Lime Green colour paint option!).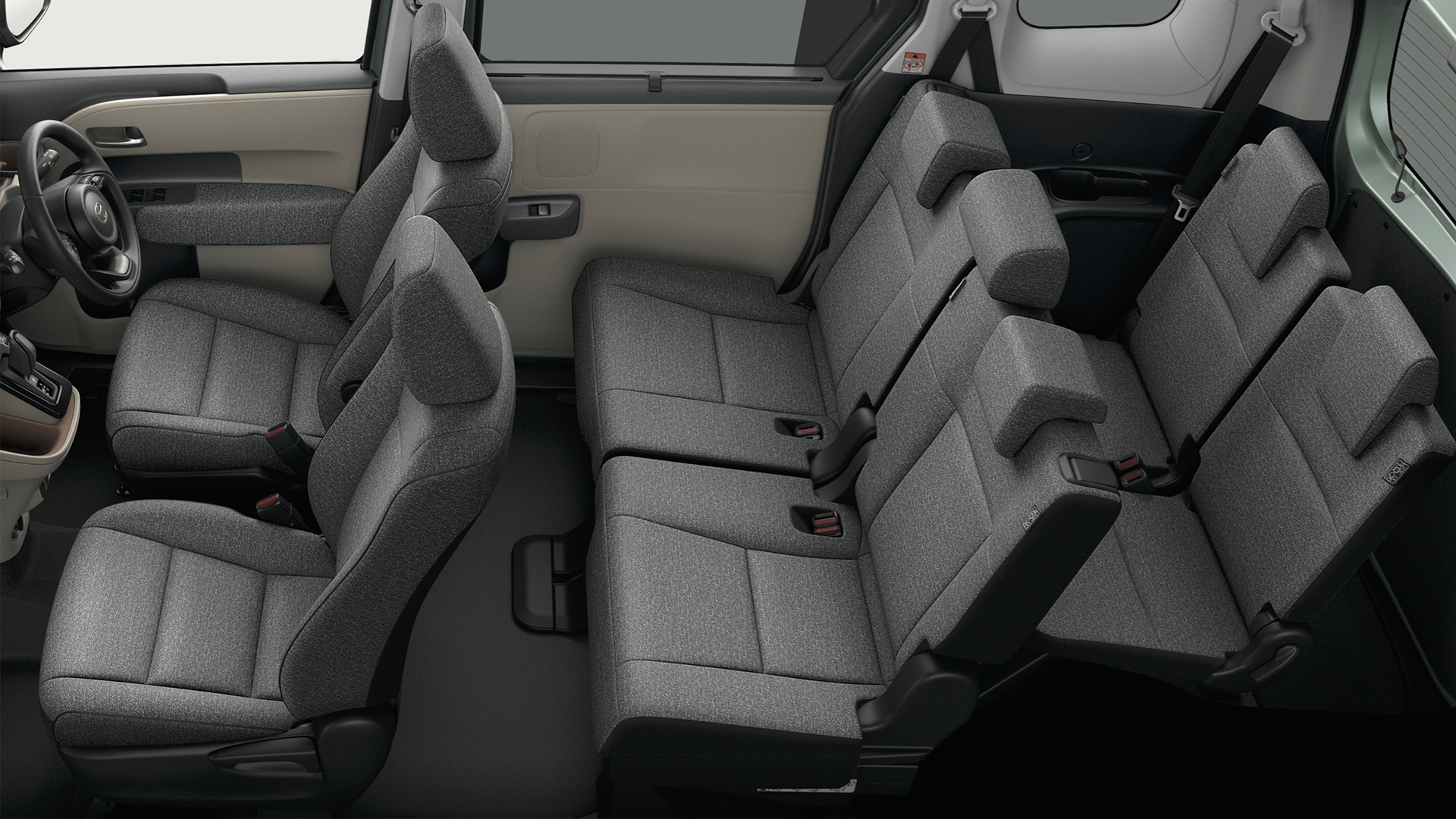 Toyota has also ensured a cabin space that seven adults can ride in without changing the length and width, maintaining its practicality. The second-row seats, where most passengers sit, have been re-designed to provide more spacious rear seat space for both legroom and head clearance.
Large windows offer good visibility, and a thin, horizontally arranged instrument panel made of fabric allows for easy item storage. 
Cabin height was increased by 20mm from the previous generation. In addition, a low horizontal belt line and upright side glass design create a spacious and open interior.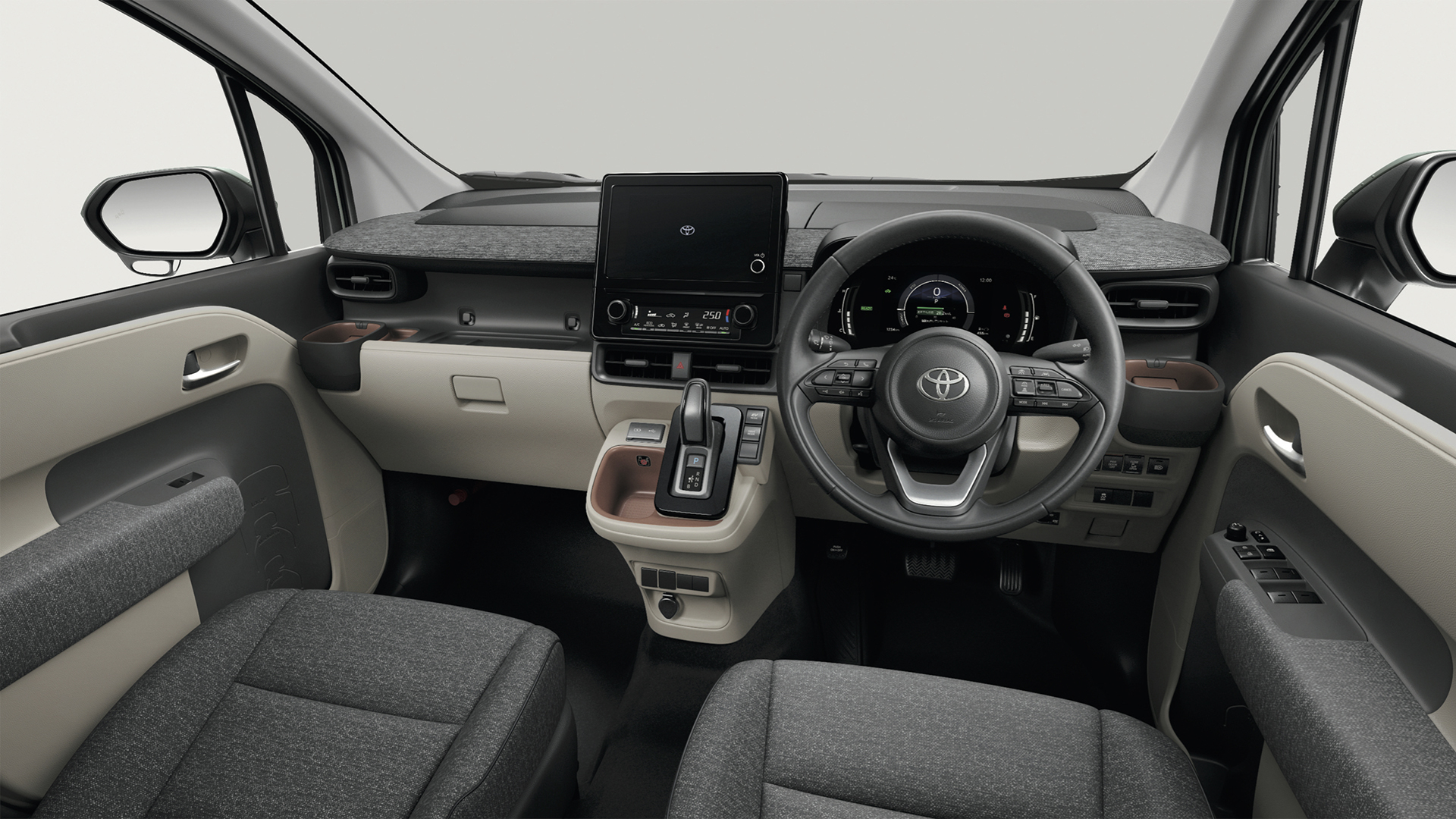 For those who want more, UV-block and IR-block functions are available in the Comfort Package options for all windows around the cabin space, blocking IR and UV rays for a more comfortable space.
The biggest change from the old model is the inclusion of a ceiling air circulator which can circulate cold air from the air conditioning unit to the rear seats.
Innovative Toyota Safety Sense
Toyota Safety Sense, the latest active safety package with advanced and improved functionality, is equipped as standard on all models. This includes a Pre-collision Safety System, Proactive Driving Assist and Advanced Park.
To prolong the vehicle's longevity, wireless software updates enable the vehicle to always have the latest software version via wireless communication or a dealer's wired connection.
Improved Ride Characteristics
NVH levels have been optimised by the use of a high-damping structural adhesive for the vehicle's main structure. Revisions have also been made to the front and rear suspension geometry, and the changes translate into a vehicle that with a smooth ride with excellent road holding. 
For added convenience on city streets, the minimum turning radius is just five metres, facilitating smooth manoeuvres on narrow roads and in car parks.
1.5-liter Dynamic Force Engine + Direct Shift-CVT
The new Sienta will come with a 1.5-liter Dynamic Force Engine (M15A-FKS) coupled to a Direct Shift-CVT. This pairing achieves a powerful direct drive system with outstanding fuel efficiency. Toyota claims its new engine can deliver a class-leading 18.4km/litre under the WLTC test cycle.
The Direct Shift-CVT mated to this engine will come with a 10-speed Sport Sequential Shiftmatic, for "fun" shift changes mimicking the feel of a proper gearbox.
Availability
No word yet on when the car will be made available for sale in Singapore via the official channels. However, you can already order your new Sienta if you live in its native Japan.
As the all-new car preserves much of the characteristics that made the first two Sienta models so popular to begin with, we are sure that the Sienta will remain as a top choice for buyers looking for a practical and sensible family car!
Download the Motorist App
The easiest and smartest way to manage your vehicle in Singapore.
Download Now
Read More: Motorist Car Buyer's Guide: Toyota Harrier Turbo
---
Download the Motorist App now. Designed by drivers for drivers, this all-in-one app lets you receive the latest traffic updates, gives you access to live traffic cameras, and helps you manage LTA and vehicle matters.
Did you know we have a Motorist Telegram Channel? Created exclusively for drivers and car owners in Singapore, you can get instant info about our latest promotions, articles, tips & hacks, or simply chat with the Motorist Team and fellow drivers.