As petrolheads, there will definitely be at least one vehicle which you just simply adore.
For me, one such car is the Suzuki Jimny. When it first launched back in 2018 I fell in love instantly, as did many other petrolheads. The whole 'I want one please' thought process tends to happen about three seconds after clapping eyes on the Jimny. Or at least that's from my personal experience.
Cuter than most off-roaders on the market today and an unofficial mini-me to the renowned Mercedes G-Class, it's one of those instantly desirable pieces of design. Owning and driving a Jimny then is not just to get around town with. 
Rather, it's an experience.
It can do anything a little car could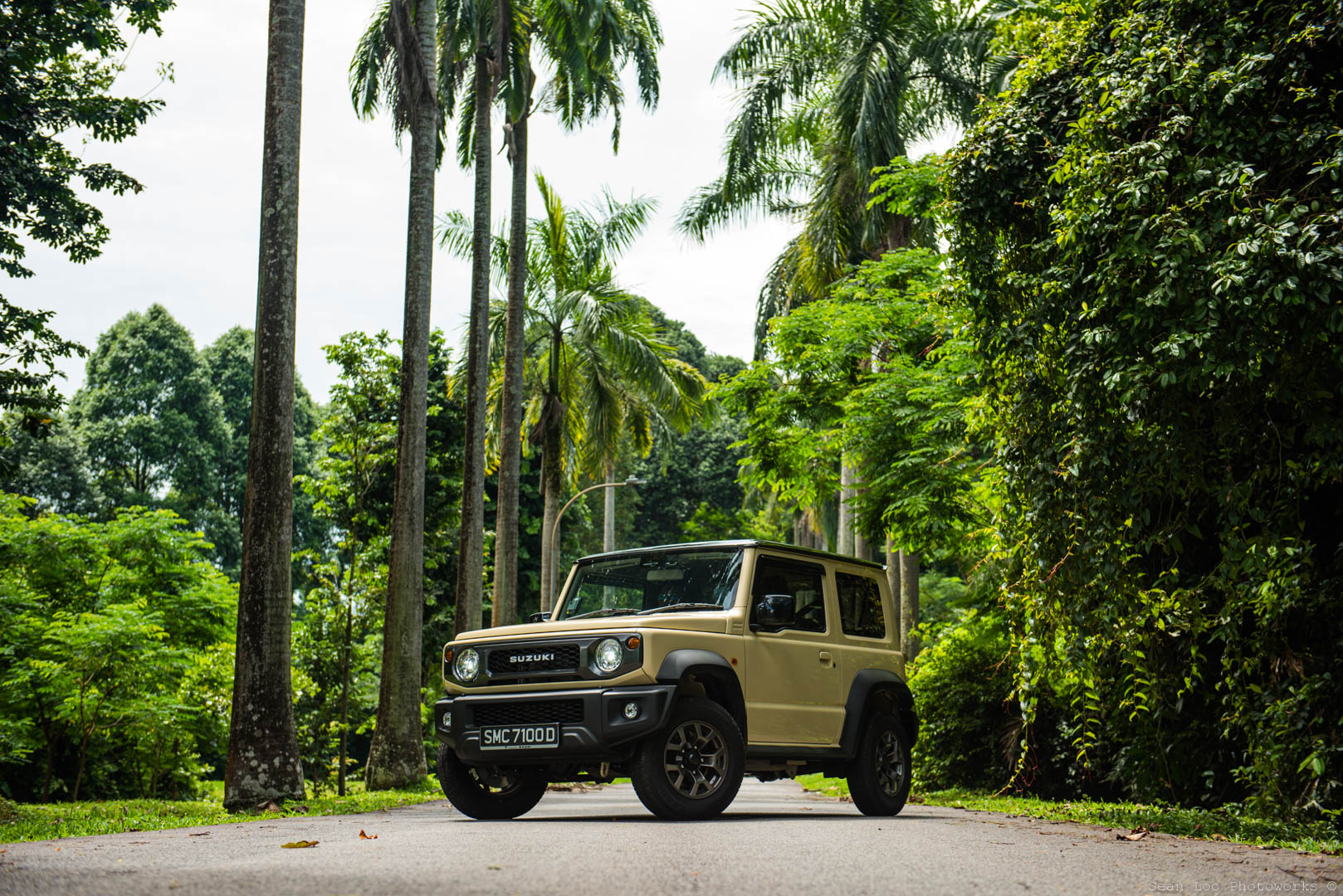 Like its predecessors, the Jimny is still based around a rugged traditional steel ladder frame chassis. But, this current generation gained a new stiffer construction, supporting rigid front and rear axles with separate differentials.
Power comes from a peppy little 4-cylinder K15B petrol engine bestowing your right foot with 100bhp and 130Nm of torque. There is no turbo, no hybrid assistance, and no diesel. A bonafide dinosaur in the strange modern times we live in, where other automakers are scrambling to debut the next futuristic "eco-friendly" step in technology.
Suzuki themselves are shifting their offerings to be propelled via more efficient means, but thankfully none of that "mild-hybrid" jargon made its way into the Jimny.
Efficiency perhaps isn't the Jimny's strong suit, and that's actually a bit scary considering the world is quickly turning a blind eye to such vehicles, in some cases outright banning them if they do not fit stringent emission guidelines.
The Jimny's days may be sadly numbered, but I personally hope it remains on our shores for as long as possible.
Suzuki never really got round to confirming how quickly the 1.5-litre motor can haul all 1,110kg of Jimny for the century sprint, but to be honest I never really bothered finding out.
I didn't feel like speeding in the Jimny at all; it's a car that you want to cruise around town with gently, whilst attracting lots of curious stares from onlookers.
But, should you want to take the Jimny up to speed, you still can. It has a top speed rated at 140km/h, and its decently stable at the higher echelons of the speedometer. I wouldn't recommend it, but I'll buy you a pint for your bravery.
Where the Jimny truly shines is its do-it-all spirit when going off-road. You won't find a lot of challenging terrains in Singapore, but wherever I took the Jimny off the beaten path it took it in its stride and was right in its element. It's like owning your very own mountain goat.
In its default state the Jimny sends all of its power to the rear wheels, but engage either 4H or 4L and its 4-wheel drive system can give other dedicated off-roaders like the Land Rover Defender a run for its money.
Its compact frame and tall 210mm ground clearance makes it an absolute treat when traversing obstacles.
While our camera car (a regular saloon car) had to gingerly traverse its way over small dips and potholes, inside the Jimny I didn't even realise they were there.
It's frankly very functional... albeit with some caveats
I will admit that the Jimny isn't for everyone. Especially if you have a family, this probably isn't the car for you. Even though you do get 4 seats, you'll probably keep them folded down most of the time in order to access more cargo space. Keep the seats up, and the boot space is frankly comical.
Plus, with only 2 doors ingress and egress for rear passengers can be quite annoying when done frequently.
However, with the seats folded down the Jimny becomes mighty practical. Instead of carpeted or soft cargo spaces, the Jimny ditches all of that in favour of a more rugged approach. All of the surfaces are lined with either hard plastics or metals, so you won't feel that bad if you accidentally dropped something or when cargo is shifting around while driving.
Essentially, you don't have to baby the car. It's functional, a big plus point.
The side-hinged tailgate is a unique look, and while it does take some time to get used to, the Jimny's compact wheelbase allows it to park in a space and still have enough room to open the tailgate fully. The rear lamp cluster is also concentrated on the rear bumper to make room for a wider load opening.
For the price of the Jimny, don't expect things like 'premium leather seats' or a 'heated steering wheel'. But, the great thing is everything (there really isn't a lot) on the inside is simple and just works.
One pet peeve I have while testing new cars today is the disregard for functionality in favour of technological upgrades or features. While a fully digital instrument cluster is cool to look at, its useless if no one knows how to toggle the controls for it.
Similarly, I dislike HVAC controls that are integrated into infotainment systems. All I want to do is turn the fan speed up with the twist of a dial, and not having to sieve through a myriad of screens just to tap angrily on a screen.
That's why I like the Jimny.
Easy to read instrument cluster? Check. Physical HVAC controls? Check. Simple gear shifter and a physical handbrake? Check! Everything is where you expect it to be, and everything is simple to use while driving.
The only feature that is different from most cars are the windows switches which are located on the centre console instead of their traditional spot on the doors.
While the stock infotainment system is slightly lacklustre, Bluetooth connectivity works fine and I was able to connect my phone without any hiccups.
Alternatively, you could just pop over to our neighbour Johor and have it swapped for something better. In fact, most of the interior bits can be easily replaced too if you so desire.
It evokes a unique sense of joy on the roads

Driving the Jimny is insanely easy as there are windows and thin pillars all round, making it effortless to check blind spots in your peripheral vision.
Having such a clear view of the outside is great too, as I occasionally caught glimpses of smiles from other motorists when they checked out the Jimny.
Parking is also a fairly uneventful affair. If you can remember life before cars had a multitude of parking sensors and drivers had to park by skill alone, you'll be fine.
But, if not then you will be glad of the short overhangs so you can be sure that the corners of the car are where you think they are. Frankly, even if you mounted a kerb, it wouldn't be a problem at all.
That could actually be a slogan for the Suzuki Jimny - 'Learn to drive using your own skill without technology!'
The test unit I've driven is the box-standard Jimny, but I've seen plenty of conversion kits both on the market and on the roads. Fit a roof rack and ladder for extra cargo capacity, or change the panels to make it look retro. Heck, there's even a kit to make it look like the actual G-class. How cute.
Whatever floats your boat, you can have it on your Jimny. This form of individualism is what makes this car unique, and an extension of its owner.
Don't expect sophistication, and you'll adore it 
While all the other 'off-roaders' are busy trying to look cool and muscular, the Jimny knows that not every day, is upper body day at the gym. It's cute, but it has the capabilities to play as well.
It is like the cardboard box that we played with as kids. I'm sure many of us have fond memories pretending these boxes to be our race cars, fighter jets, or war ships. It would be limited by only our imagination.
The Jimny is like that cardboard box. It reminds us to have a bit of fun every now and then.
It is not a boisterous and powerful supercar, nor is it a luxurious high roller. But, quintessentially it does have personality, something that most modern crop of cars seems to lack.
And that, is why I absolutely love it.
Download the Motorist App
The easiest and smartest way to manage your vehicle in Singapore.
Download Now
(Editor's Note: This is not a sponsored review or a paid article from Suzuki)
Photo Credits: Sean Loo (@cookiesncremee)
Read More: mReview: Suzuki Ignis Mild Hybrid - The Unorthodox Alternative
---
Download the Motorist App now. Designed by drivers for drivers, this all-in-one app lets you receive the latest traffic updates, gives you access to live traffic cameras, and helps you manage LTA and vehicle matters.
Did you know we have a Motorist Telegram Channel? Created exclusively for drivers and car owners in Singapore, you can get instant info about our latest promotions, articles, tips & hacks, or simply chat with the Motorist Team and fellow drivers.