You've probably heard of terms like hot hatch and performance saloon being thrown around in the car industry. But what about "sports MPV"? Is a "hot" family-carrier possible? The new SEAT Alhambra certainly thinks so.
We spent a few days with the Alhambra, and came to the conclusion that this is everything that a family needs, and more. With a respectable powerplant, a comprehensive equipment list, and a cavernous cabin, you'd be hard-pressed to find a worthy equivalent. However, is this the MPV to get? Read on to find out more.
Size Matters
Taking inspiration from the ancient Andalusian palace and fortress namesake, the Alhambra features dimensions that put many other MPVs to shame. It measures at just over 4.95 metres length-wise, making it one the longest seven-seaters in its class. And yet, SEAT (and by extension, Volkswagen, since the VW Sharan shares virtually the same underpinnings) has managed to make this feel like a smaller car when driving it. More on that in a bit.
It also has a wide glass greenhouse all-round, providing occupants with a lovely view of the outside world without feeling claustrophobic.
Safe Design
Let's face it: this MPV will not set your heart on fire with its pedestrian looks. Sharing most of its body panels with the Sharan, the boxy minivan-like design is starting to look a bit dated and uninspiring. Our test car has been fitted with halogen headlights, though xenon units can be fitted as an optional extra, bringing the car more in line visually with the LED units featured on most of its rivals.
The interior, while plush and well-built, feels rather conservative from a design standpoint. From the infotainment system to the overall dashboard and HVAC system, we feel that more could have been done to get the Alhambra in with the times.
Overall visibility is excellent though, and during our extensive testing, we found manoeuvrability to be surprisingly easy for such a large vehicle. Car ingress and egress are also good, especially with the sliding rear doors.
Family-Centric Cabin
The Alhambra's pièce de résistance is definitely the pair of in-built child seats on the second row. For young families, this is incredibly helpful, eliminating the need to install/remove aftermarket seats. With a flick of a lever, the cushion raises up. Install the provided side & rear head and neck rest, and you're good to go. Should you need to install more seats however, ISOFIX mounting points are available for the second and third row.
Rear passengers are not deprived of amenities. Airplane-style trays are present for second-row occupants, while aircon blowers are provided for all rear rows. And to operate the sliding doors, a one-touch button is helpfully located on the B-pillar of either side of the vehicle.
What's just as impressive is the cabin space. Seven full-sized adults are able to fit inside with ease with more than sufficient amounts of headroom and legroom, although the third-row passengers will find the latter a tad snug. With all seats up, 300 litres of boot space is available for use. You can fiddle with up to 32 seat configurations depending on your needs, including the 50:50 folding rear-most seats. The available cargo space maxes out at a very generous 2297 litres with all five rear seats flattened down completely.
Safety in Numbers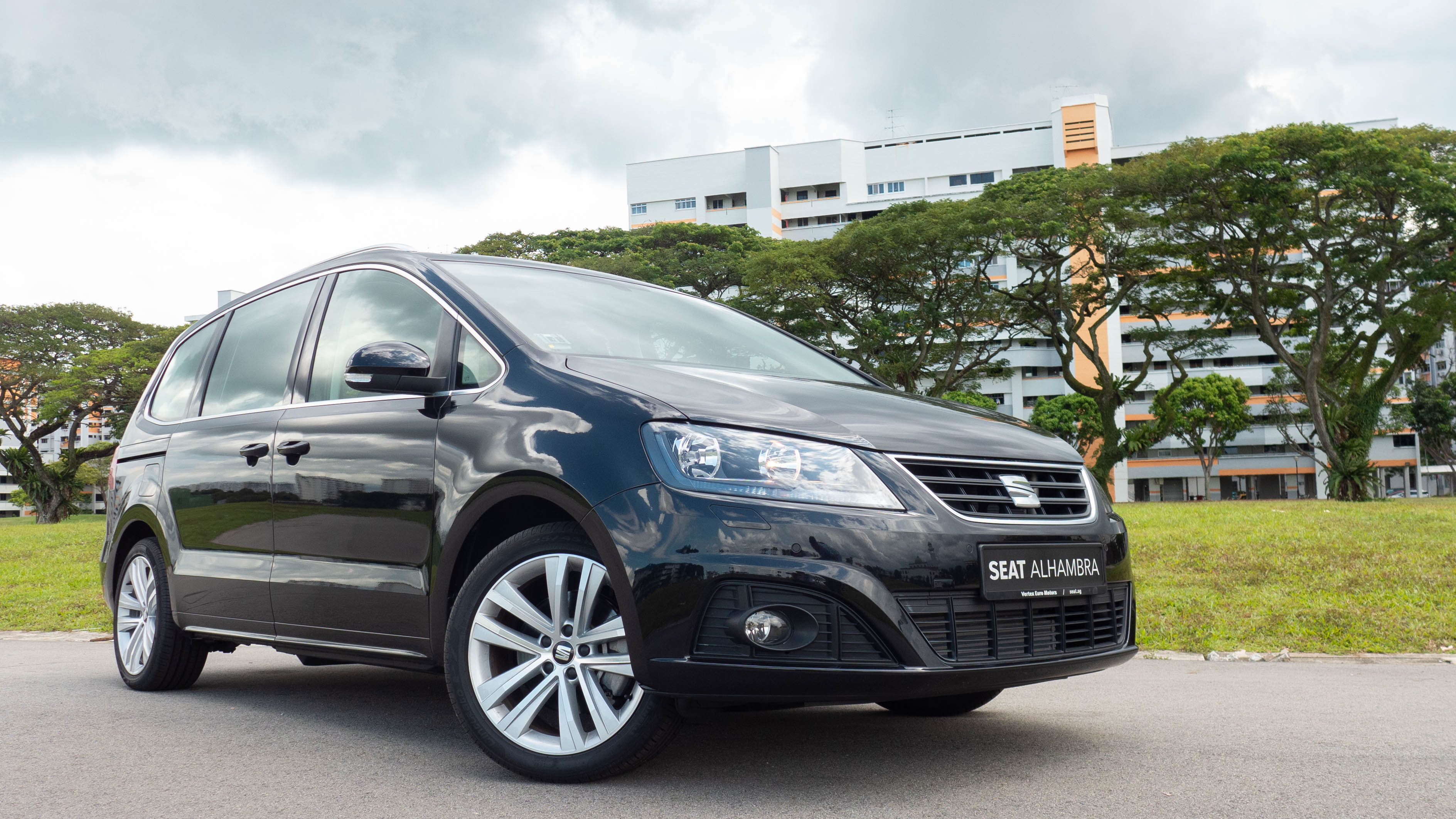 The Alhambra comes with seven airbags as standard, making it a fairly safe family runabout. Blindspot indicators are also found on the side mirrors, which prove to be helpful especially for such a wide and long MPV. And as with most other cars on the market, it features parking sensors.
For a long car, parking it can be laborious at times, but the inbuilt rearview camera aids the driver in making the process as fuss-free as possible.
Punchy Performance
While it looks like a brick, this SEAT sure as heck does not perform like one. Thanks to the 2.0 litre turbocharged 220 horsepower engine derived from the iconic Golf GTI, this car actually wheelspins from a standstill when floored. And with 350Nm of torque on tap, you will most definitely be reaching the speed limit quicker than you think.
Around the corners, the Alhambra's mass is evident, although the well-bolstered seats keep you and the passengers from sliding about inside, while the 6-speed DSG 'box helps to keep things brisk. The equipped Pirelli Cinturato 225/45/R18 tyres are also very grippy, giving confidence to the driver. Brake pedal feel is also progressive and precise.
Its heavy steering also makes the car feel extremely stable at cruising speeds. It's by no means perfect, however. When executing a three-point turn or when driving around a multi-storey carpark, the process of turning the wheel felt harder than usual due to the weighted steering. We think that more fine-tuning could have been done to lighten the sensation, so that the driver does not feel the strain when turning in at low speeds.
While its official fuel consumption figures are at 13.7 km/l, our mostly spirited driving resulted in about 8 km/l. We reckon that with a lot more economical driving habits, the official numbers can be obtained more easily.
Closing Remarks
If you're looking for a feature-rich MPV for your family but still yearn for performance figures, this is probably one you should look out for. It may have ageing looks and an unexciting cabin, but there is no denying that it has everything your family needs. And with a powerhouse of an engine ready to go at a moment's notice, there is much fun to be had. Just be careful not to lose your license in the process.
Specs
Price:

S$190,499 (inclusive of COE)

VES Banding: C1
Performance:

Engine: 2.0-litre Inline 4-cylinder engine

Power: 220 bhp

Torque: 350 Nm

Fuel Consumption: 13.7 km/l

0-100km/h: 7.8 Seconds

Drivetrain: 6 Speed DSG; Front-Wheel Drive

Brakes: Disc Brakes
Measurements:

Dimensions (LxWxH): 4,952 mm x 1,904 mm x 1,746 mm

Kerb Weight: 1,768 kg

Fuel Tank Capacity: 73 litres

Boot Capacity: 300 litres / 2297 litres (with 2nd & 3rd row seats folded down)

Tyres: 225/45 R18


Features:

Keyless Entry

Electric front seats

Blind Spot Detection

Tiredness Recognition

Electric Child Lock for Rear Side Doors (Operated from Driver Seat)

SRS Front, Side, Curtain & Knee Airbags

Anti-lock Braking System (ABS)

Electronic Stability Control (ESC) with Emergency Brake Assist

ISOFIX + Top Tether Anchors

Cruise Control
Photo Credit: ACube Creative (@weareacube)
Download the Motorist App
The easiest and smartest way to manage your vehicle in Singapore.
Download Now
Read More: mReview: SEAT Tarraco 1.4 Excellence - A Legitimate Spanish Alternative
Download the Motorist App now. Designed by drivers for drivers, this all-in-one app lets you receive the latest traffic updates, gives you access to live traffic cameras, and helps you manage LTA and vehicle matters.
Did you know we have a Motorist Telegram Channel? Created exclusively for drivers and car owners in Singapore, you can get instant info about our latest promotions, articles, tips & hacks, or simply chat with the Motorist Team and fellow drivers.