(Photo Credit: Mercedes-Benz)
Mercedes aims to make range anxiety a thing of the past with its new Vision EQXX concept, and its 1,000km range estimate. 
The Stuttgart-based automaker has called on expertise from its Formula One division to develop a highly efficient and compact electric powertrain, with a lightweight battery housing.
What this translates into, is an impressive energy efficiency rating of 95%. To put this metric into context, a modern internal combustion engine achieves around 30% efficiency. This means that of all the available energy stored onboard, only 30% is translated into kinetic energy.
(Photo Credit: Mercedes-Benz)
The 95% efficiency rating has been achieved through various battery optimisations, and is the result of the increased energy density of 200 Wh/kg. As such, despite packing the same 100kWh capacity as some of its rivals, the battery pack in the EQXX is 50% smaller and 30% lighter.
Onboard auxiliary systems can also draw power from a currently-underutilised resource - roof mounted solar cells. On a single day with ideal conditions, this can produce up to 25 kilometres extra range for long-distance journeys.
(Photo Credit: Mercedes-Benz)
The advancements aren't just limited to its powertrain.
Externally, you'd realise that this is a car that bears very little resemblance to other Mercedes-Benz models, with bodywork that has been designed with aerodynamics in mind. In fact, the EQXX has an impressive drag coefficient of just 0.17. 
In further pursuit of efficiency, this bodywork is then sculpted out of lightweight composite materials.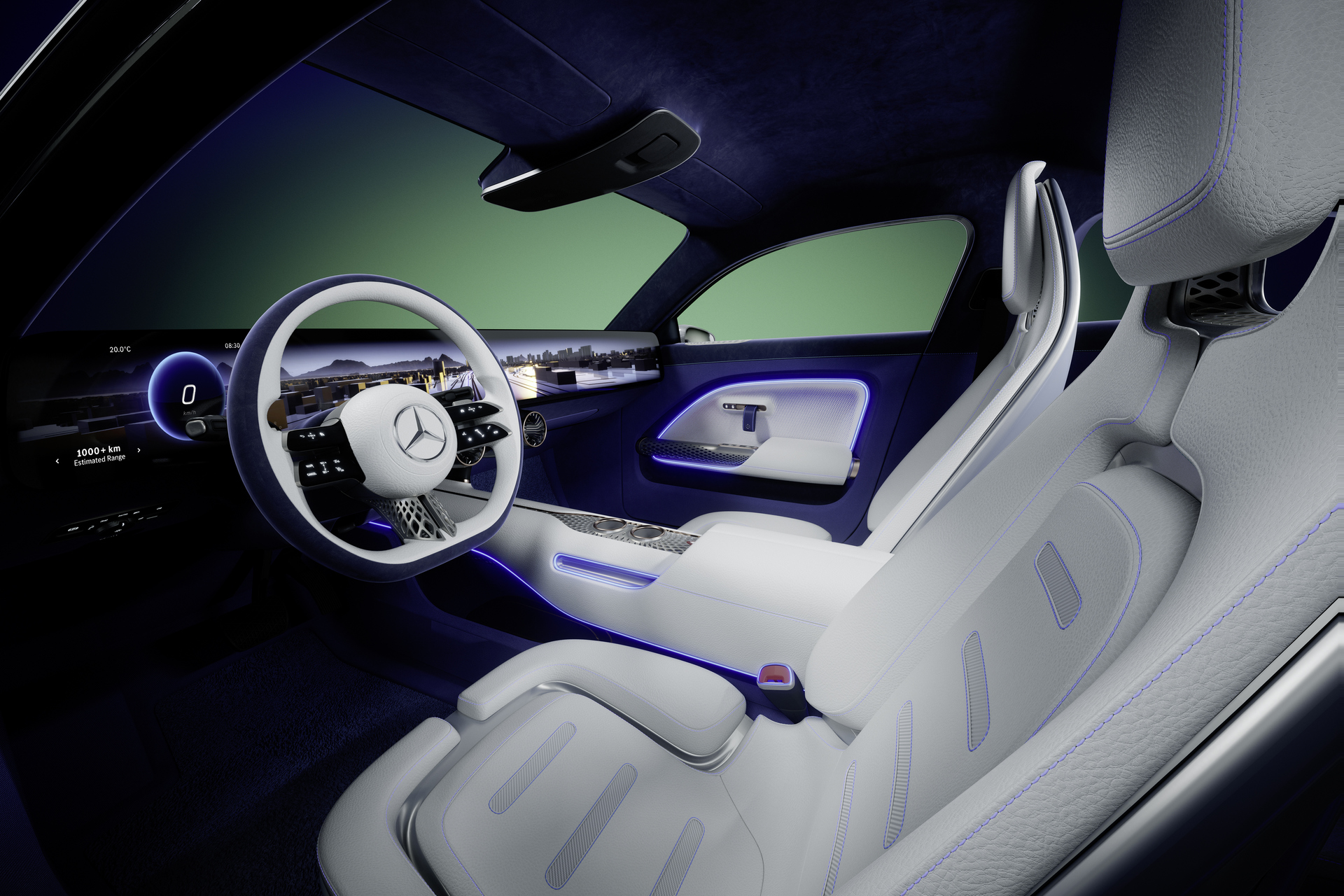 (Photo Credit: Mercedes-Benz)
On the inside, the Vision EQXX features a surprising mix of sustainable materials in its interior. Mushrooms, bamboo, cactus and vegan silk feature on the interior surfaces, highlighting that it is still possible to achieve the utmost in automotive luxury without using animal products. 
As of yet, Mercedes has no intention of putting the Vision EQXX into production. However, do expect to see some of the technological advancements trickling down into production Mercedes Benz models in the not-too-distant future!
Download the Motorist App
The easiest and smartest way to manage your vehicle in Singapore.
Download Now
Read More: 5 Electric Vehicles in Singapore with the Longest Range
---
Download the Motorist App now. Designed by drivers for drivers, this all-in-one app lets you receive the latest traffic updates, gives you access to live traffic cameras, and helps you manage LTA and vehicle matters.
Did you know we have a Motorist Telegram Channel? Created exclusively for drivers and car owners in Singapore, you can get instant info about our latest promotions, articles, tips & hacks, or simply chat with the Motorist Team and fellow drivers.