Review: Logitech G923 Racing Wheel and Pedals - Mastering The Force

Logitech's G923 builds on a lineage of tried-and-true simulator racing wheels. It combines the sturdy mechanical components of its predecessor but packs TrueForce technology for a more immersive experience.
You'd have definitely chanced upon a Logitech steering wheel at some point. Offering the lowest barrier of entry into the world of sim-racing, it is the preferred choice for sim-racing cafes and roadshow vendors alike. 
But whilst previous Logitech wheels are mechanically very similar and vary really only aesthetically, the G923 adds an extra level of realism to your sim-racing experience. If you're looking at getting started in the world of virtual motorsport, this could actually be a very compelling option. 
Stealth Black Aesthetic
The sheer amount of black materials used in the construction of the G923 is probably the first thing you'd notice. Save for the blue anodised steering wheel centring stripe, Logitech has opted to ditch the coloured dials and buttons that you'd see on their models of old.
The paddle shifters did not escape the monochromatic treatment too - what originally was left in raw aluminium is now in a black anodised coating. Don't get us wrong though, the black aesthetic is appealing, but we worry about the long-term durability of the anodising in a high wear-and-tear part. 
Logitech opted to keep the leather-wrapped steering wheel, a feature since the original G-series of sim-racing wheel was launched back in 2006. Other wheels in the same price bracket do not come with a leather steering wheel.
Plugging It In
No fiddly under-table clamps here - Logitech's ethos of keeping things simple means you simply turn two spring-loaded knobs on either side of the wheel. This then pulls clamps upwards that anchors the wheelbase to a table of your choice. There are also provisions for proper cable management.
The User Experience
The main selling point of the G923 over its predecessors, and perhaps its rivals, is the inclusion of TrueForce technology. In fact, Logitech is so proud of this proprietary technology, that they've proudly branded the side of the wheelbase with its logo.
The real-time haptic feedback offered by this helps to better translate the details of the virtual road and the car into your hands. It also adds an additional layer of control, as it can precisely replicate the minute changes in grip levels due to tyre wear or surface variations.
TrueForce is more than just a gimmick, though it is clear that some fine-tuning is still needed on the software front. It really shines when it works in tandem with force feedback. You can feel the difference between dirt and tarmac, the latter being smoother and more refined, whilst the former being more unpredictable, indicative of an ever-changing rally stage!
The Nitty Gritty
The paddles have had a mechanical upgrade too. The switchgear in the G923 seems to differ from that of the Logitech wheels of old. It definitely has more weight to it and gives that satisfying 'chngk' when you pull them.
You'll know when to activate these paddles with its in-built rev counter and its array of red, blue and green LEDs! The buttons are all logically laid out, and easy to use for those fine set-up changes you'll need to do whilst locked in battle.
The Pedals
Also commendable is Logitech's decision to continuously improve its pedals. We'd say this - these are the best 'included' pedals in the market bar none. 
No other manufacturer makes a set of base pedals this good, with most of Logitech's competitors hoping you'd buy their more upmarket pedal set instead.
The G923 pedal set includes a clutch pedal too. The throttle and clutch pedals seem to be carryover, though the same cannot be said about the brakes. To mimic a more expensive load-cell based set-up, which measures pressure instead of pedal travel, Logitech fitted it with a stiff progressive spring.
In fact, you'd be able to rely on muscle memory to precisely stomp on the anchors without locking up - that's how good this 'band-aid' solution seems to be. And you don't have to worry about excessive pressure from your feet moving the pedals around - we tested the G923 on carpet and found its carpet grippers to be ruthlessly effective.
What We Do Not Like
Whilst we certainly have had a positive experience using the wheel, there are some areas that could do with some refinement. 
The leather stitching is a nice touch, though the joints are in places that you'd also find your thumbs in.
The gear-driven mechanism can also get loud, especially with force feedback cranked up. One of the biggest issues we ran into though, is its inability to effectively self-steer, a pre-requisite for anyone into drifting. 
On the PC, this isn't actually an issue, as there are specialist FFB programmes that are able to generate configuration files to replicate the aforementioned self-steer.
There are other minor bugbears, but if you understand which part of the sim-racing audience Logitech is going for, then you'd have forgiven the Swiss peripheral company. 
Unlike offerings from other brands, you are unable to switch out the actual wheel itself for other types natively.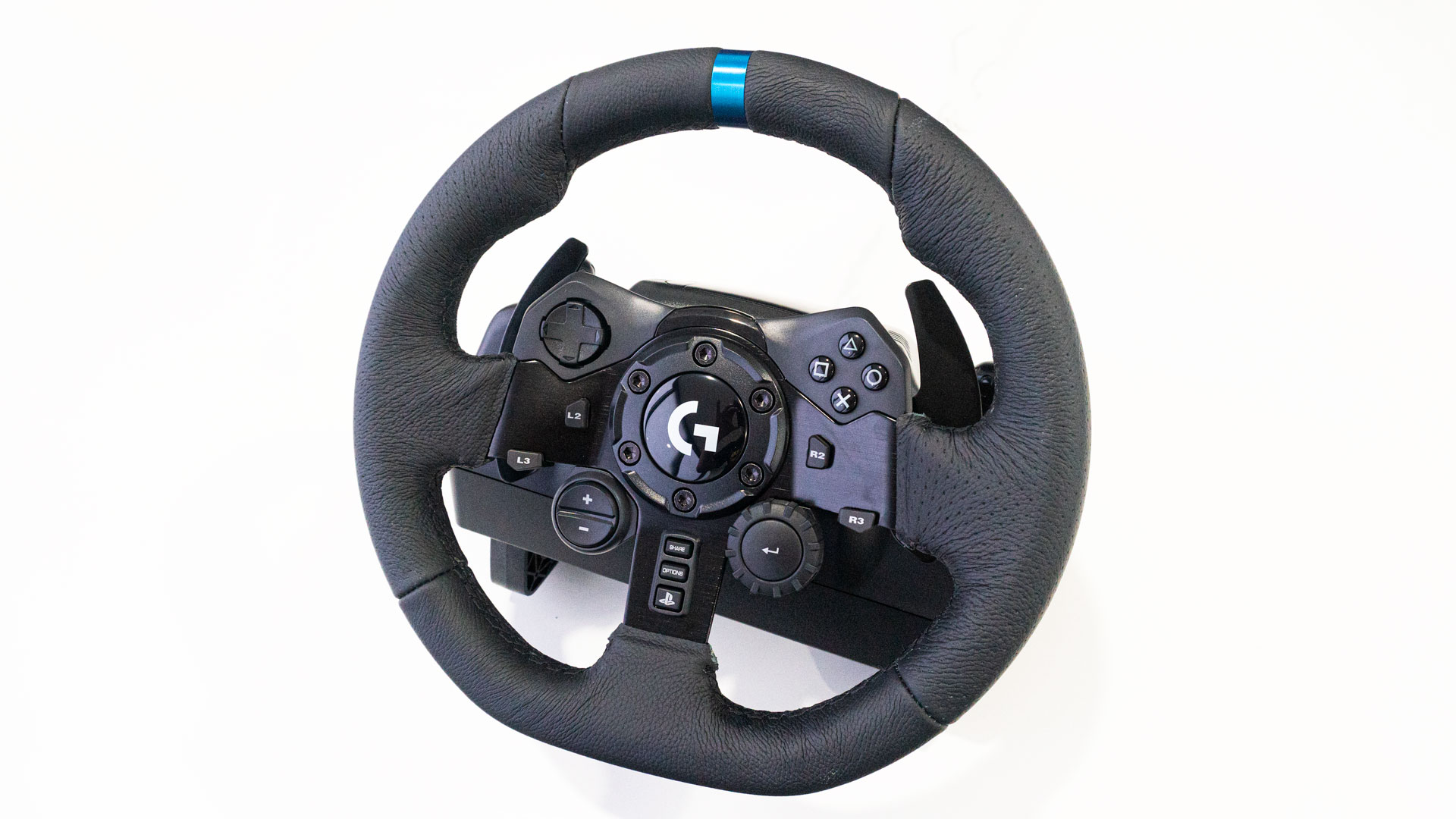 It also does not come with an H-shifter, which is in line with what its rivals are doing, but not what Logitech used to do, as one was bundled in up to the G27.
Finally, TrueForce currently only works in a handful of games, but as it is a new feature, Logitech is still working with game developers to implement it across more titles. 
Compatibility & Price
You can use your G923 with the PS4 and PS5, as well as the PC. Other regions do have variants with Xbox compatibility. It retails for S$699, making it more affordable than most of its rivals. 
With no complicated options to choose from, the G923 offers Sim Racing newcomers a headache-free and wallet-friendly way of experiencing virtual motorsport. 
Its reliable FFB motors and TrueForce makes for an immersive driving experience - you'd be hard-pressed to find a better priced and packaged Sim Racing wheel for less than $700!
If you want to buy a Logitech G923 for yourself, click here!
Download the Motorist App
The easiest and smartest way to manage your vehicle in Singapore.
Download Now
Read More: mReview: Cupra Formentor - Damningly Distinguished Debutante
---
Download the new Motorist App now. Designed by drivers for drivers, this all-in-one app lets you receive the latest traffic updates, gives you access to live traffic cameras, and helps you manage LTA and vehicle matters.
Did you know we have a Motorist Telegram Channel ? Created exclusively for drivers and car owners in Singapore, you can get instant info about our latest promotions, articles, tips & hacks, or simply chat with the Motorist Team and fellow drivers.