Want to create your own car club, but lack the funding to do so? With Motorist's new Car Group Chat feature, you'll have a platform to promote your new car club AND be incentivised to do so too!
Gather like-minded owners with the same make and model of your vehicle, and grow your own car club! Be the leader of your club (dubbed the Car Group King), and receive up to $5,000 in funding for club-related activities.
These funds can be used to help grow the group or to organise cohesion activities. An approval form has to be submitted to Motorist in order to use these funds. Once approved, Motorist will reimburse the amount back to the King and Admins.
The funding that your Car Group will receive will be as follows:
Motorist Car Group Chat Milestone Incentives

Milestone

Incentives

Achieve 500 members

Eligible for $500 funding

Achieve 1,000 members

Eligible for $1,500 funding

Achieve 3,000 members

Eligible for $3,000 funding

Achieve 5,000 members

Eligible for $5,000 funding
Car Group Kings and their Admins will also enjoy exclusive access to the Motorist Lounge. This facility is free to use, on a first-come-first-serve basis. The Motorist Lounge features a KTV room, PlayStation 4, racing simulation and complimentary refreshments.
Car Group Kings will also be invited to a private movie screening and receive a Limited Edition Motorist Goodie Bag worth $200 - included are Motorist T-shirts, handphone holders, a pre-loaded Motorist Cashcard, discount vouchers and more!
Lastly, all Car Group Kings and Admins will receive exclusive invites to quarterly car meet-ups, VIP events, and have first dibs to media events!
Sounds Tempting - How Do You Become A Car Group King or a Car Group Admin?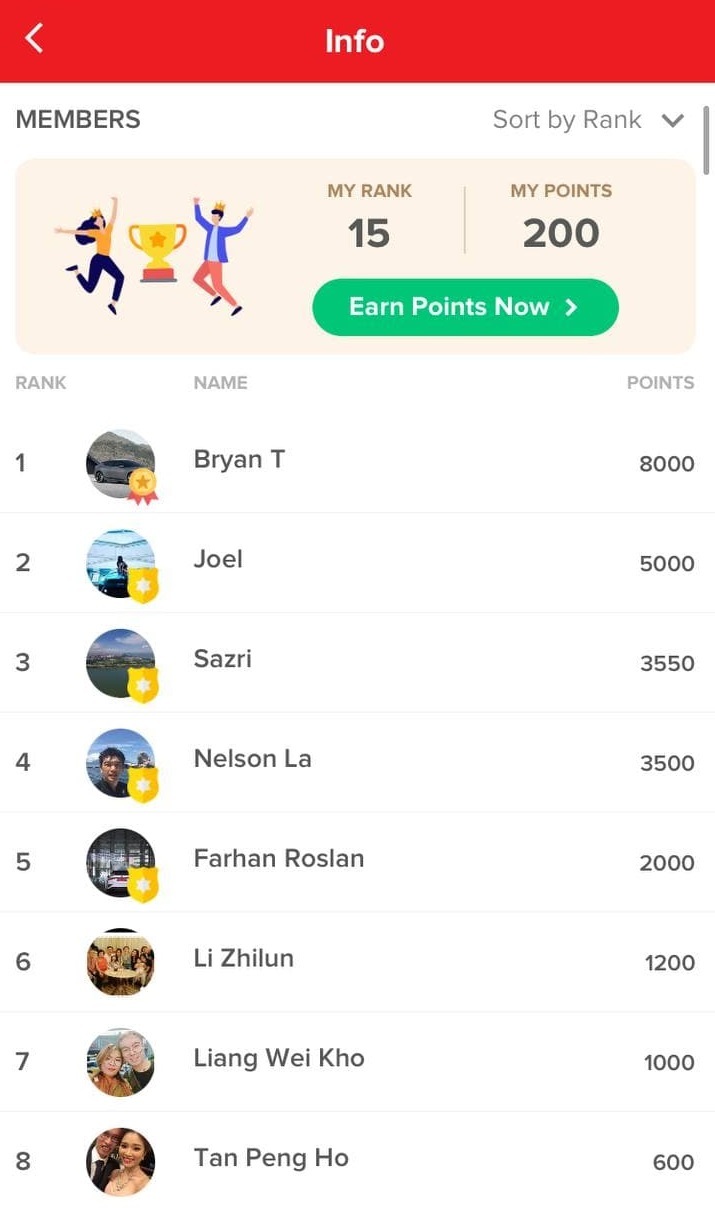 Simple - be the top of your Car Group's leaderboard by the deadline to be a Car Group King. The Car Group Admin positions will be filled by the top two to five members on the leaderboard.
In order to climb the leaderboard, simply invite your friends to your Car Group or earn tipping tokens by being an active member within the Car Group. Group members may tip you with tipping tokens when you reply to their questions. Each tipping token is equivalent to one point, whereas each successful invite is worth 500 points!

Do note that unethical tipping of coins or other related fraudulent activities, leading to the increase in coins to climb the leaderboard, would be deemed invalid and deducted.
Do note that the Car Group King must own the vehicle of the car group he is in. This rule is exempted for the Admin positions.
To find out more information about our new Car Group Chat feature or the King and Admin positions, please drop Mel a message on the Motorist App.
Download the Motorist App
The easiest and smartest way to manage your vehicle in Singapore.
Download Now
Read More: 5 Wonderful Reasons Why You Should Join A Car Group
---
Download the new Motorist App now. Designed by drivers for drivers, this all-in-one app lets you receive the latest traffic updates, gives you access to live traffic cameras, and helps you manage LTA and vehicle matters.
Did you know we have a Motorist Telegram Channel? Created exclusively for drivers and car owners in Singapore, you can get instant info about our latest promotions, articles, tips & hacks, or simply chat with the Motorist Team and fellow drivers.