(Photo Credit: @carspotsg)
Ever looked at any photo from an automotive publication and thought to yourself, "Why can't I do that?". After all, photography is all about using the best gear right?
This is especially baffling if you already own a DSLR or a Mirrorless Camera - the same type of equipment professionals use to capture those drool-worthy images. Actually, this is a fairly common misconception, that better gear automatically equates to better photos.
You'll soon begin to realise that whilst decent gear is a bonus, it isn't always necessary; photography is primarily a good mix of technique and aesthetic sense. If you've always wanted to get better, but are unsure where to begin - don't worry, we've got you covered. 
We've asked four photographers or influencers about the thought processes behind their photos, and their advice for budding photographers!
(Photo Credit: @carspotsg)
Dillion, of @carspotsg, is a car spotter/photographer with a fairly extensive portfolio. He started his Instagram profile three years ago, as a pure car spotting page, but has since grown to tackle professional shoots for publications, car clubs and owners alike. We asked him for some words of wisdom for those seeking to improve their photography skills:
"Instagram would definitely be the best way to gain inspiration. Seeing how other photographers shoot in the UK and the USA specifically teaches you how to play around with camera situations and shoot pictures with sunset lighting."
"Locations, angles, and style of edits are what I love the most so I would see where they shoot, how they shoot, and how they edit through YouTube videos and try to replicate in real life. It's really all about trial and error, no shortcuts. Of course, with time anyone can improve and get better so I guess skills-wise, it is definitely expected."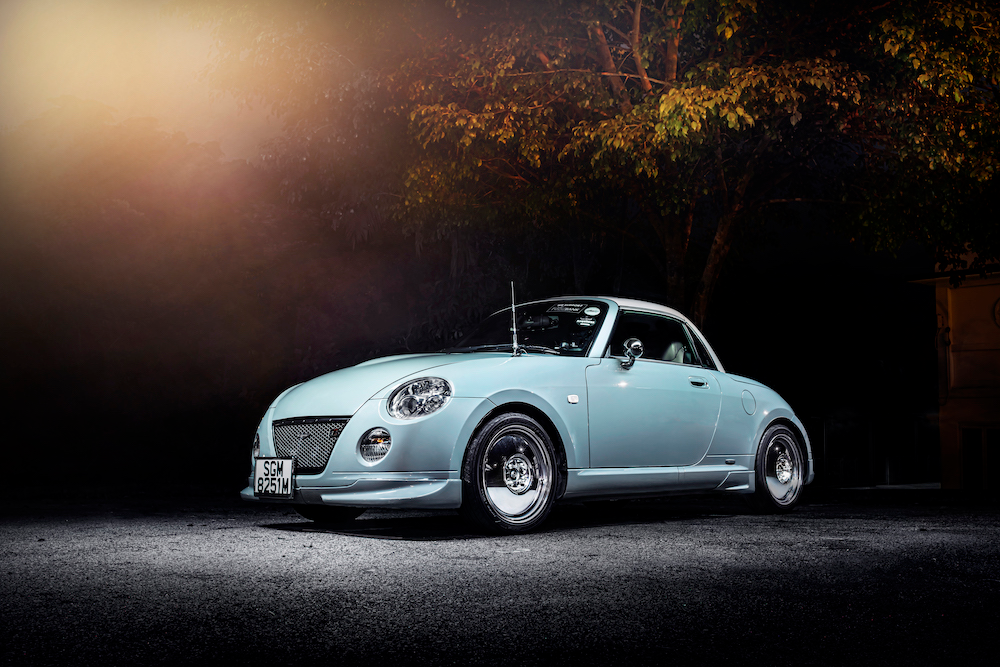 (Photo Credit: @financialmistakecopen)
The owner of this adorable, almost retro-esque Kei car is Ming Yang, who works as a video editor in a film production house. When we quizzed him on advice for photography newcomers, he gave the following advice:
"The most important tip is to have a good attitude—the attitude of giving respect and being humble. One should also learn from others on how they achieved the shot, the focal length they used, the height of the camera and what exciting things they picked out on the location."
"I like to use Google Maps to recce out locations before actually appearing there. It allows me to save petrol and time. From there, I can shortlist possible camera angles and positions of the car before even heading down."
"The other is if the location is somewhere common that many people go to. I like to challenge myself to explore different angles that have not been done before. There are many other creative ways to paint out a location. Look and walk around, and explore the surroundings. Looking at things from a different perspective helps!"
(Photo Credit: @ryangotcam. Edited by @vrvprod)
Ryan's portfolio is focused mainly on commercial event coverage and product shoots. However, he has always been a car guy at heart and has seized every recent opportunity to transfer his photography skills across to the automotive world. His advice to those new to car photography:
"I believe that budding photographers should copy the way the professionals work. And by copy, what I mean is to meticulously study how they achieved that look. You need a clear idea of what style you want in your photography - then find one to three photographers that resonate with you."
"The one key thing in any shoot is the lighting. See how the pros shoot. If it's an outdoor shoot, what time of the day did they shoot in perhaps, or if any other equipment has been used to manipulate the light?"
"If it is an indoor shoot, how did they set up the lights? What kind of light was it (hard or soft)? How did they get the highlights in those specific areas? How did they achieve those contours with the shadows?"
"Also, try and work out how much of the photo has been done on-site, and how much has been done in post-processing. Keep an open mind when practising - arrogance will lead you to shut out learning opportunities!"
(Photo Credit: @_ryan.ng_7)
@_ryan.ng_7 has been shooting photos for the likes of prominent car clubs and even private car owners. When quizzed about his photography mindset, he said the following:
"For budding car spotters, there are many places you can go to, however, If you want peace and quiet with no one to disturb you, I recommend Marina Barrage. 
But if you want to take aesthetic shots with a specific car, the background really matters such as the colour of the car, the age of the car, and what type of car it is. You want the colours to pop out, it can't be blue on blue, it should be a blue car in black background."
Framing The Question...
(Photo Credit: @ryangotcam)
Just how can you up your photography game? For starters, the general consensus amongst all our photographer peers is by imitating the work of a more seasoned professional. Understand the mindset behind why they've shot a photo in a certain way, and how they decide where to put the camera, and how to compose the shots.
There are other pitfalls you should avoid when starting out too. Typically, a common rookie error would be to rely too heavily on post-processing (that's Photoshop for the layman) - believing that it is okay to make mistake on location because everything can be fixed in post. 
Whilst that is true, you can add hours to your editing time per batch of photos. By properly frame and composing the photos on site in the first place, and you can spend more time making the photos 'pop' in software, instead of fixing avoidable errors!
If you are just starting out, and looking to build a decent portfolio, a trip to Millenia Walk would not be a bad idea. This is where you'd find plenty of sports and supercars, coupled with a backdrop that is truly unique. 
You can move on to more advanced techniques once you've mastered the basics!
I want to find the highest scrap value
for my car
within 24 hours!
Read More: 5 Instaworthy Car Photoshoot Locations In Singapore Part 1
---
Download the new Motorist App now. Designed by drivers for drivers, this all-in-one app lets you receive the latest traffic updates, gives you access to live traffic cameras, and helps you manage LTA and vehicle matters.
Did you know we have a Motorist Telegram Channel? Created exclusively for drivers and car owners in Singapore, you can get instant info about our latest promotions, articles, tips & hacks, or simply chat with the Motorist Team and fellow drivers.