Saloon cars offer the best of both worlds - a 'sporty' drive, but with enough practicality for the family man.
What you'd get if you are considering one, is a more engaging drive than increasingly popular crossover (CUV) offerings, but with more space (and doors!) than a two-door coupe. Also, as compared to their CUV and SUV compatriots, saloon cars, with their lower overall weights, are often more fuel-efficient.
If you have around S$80,000 to spend on one and wondered just what it would get you in the second-hand saloon market, wonder no more - here are five examples from our classifieds!
2019 Kia Cerato 1.6(A) EX

Asking Price

$76,800

Depreciation
$8,901
Months Remaining

93 (COE Expiry Date: 08/07/2029)

Owners

1
The BD generation Kia Cerato has exterior cues that are influenced by its sportier and more upmarket stablemate in the Stinger. Underneath that undeniably attractive compact saloon body is a Gamma 1.6-litre 4 banger, which outputs a healthy 126bhp and 155Nm of torque. 
On the inside, you'll find five usable seats - there is no big bump in the floor for the transmission tunnel, so your rear middle seat passenger actually has space for his/her legs! There's enough room in the boot, with 415 litres, for the cargo you'd expect with five passengers.
Kia officially markets the BD Cerato's fuel economy at 15.1km/l. For actual data about practicality and the real-world fuel economy, do refer to our in-depth test of the facelifted variant of the car!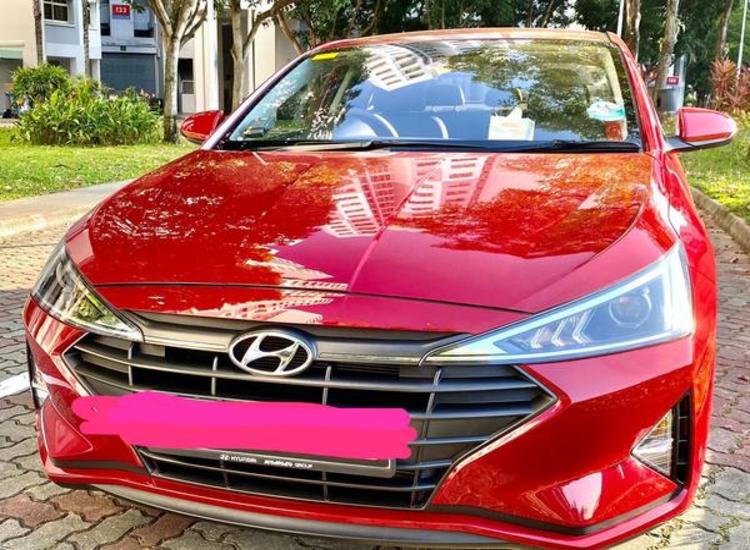 2019 Hyundai Avante 1.6(A) GLS

Asking Price

$74,588

Depreciation
$8,750
Months Remaining

93 (COE Expiry Date: 14/07/2029)

Owners

1
The AD Hyundai Avante has won awards from global automotive publications, and for good reason. It is one of the first offerings well and truly free from the fluidic sculpture design language Hyundai adopted in the noughties. As the BD Cerato's 'brother from another mother', it packs the same Gamma 1.6-litre 4 banger, with the same amount of power.
Space internally is similar to the BD Cerato too, so expect a spacious interior with a close-to-flat floor with enough room for five adult passengers. With its generous cargo capacity of 450 litres, there's enough room for all the bags that you'd expect five to be lugging around!
Hyundai claims the AD Avante is good for a fuel economy figure of 15.1 km/l! 
2017 Honda Civic 1.6(A) FC1

Asking Price

$71,000

Depreciation
$10,913
Months Remaining

66 (COE Expiry Date: 18/0/2027)

Owners

1
The Honda Civic is the automotive embodiment of a 'Jack of all trades'. In its more 'pedestrian' guise, it is favoured by the family man for its efficiency and the boy racer for its affordability. Up the ante, with some extra stitch welds and more power though, the very chassis comes alive and rewards you for driving it hard. 
This particular model is a tenth-generation, MY2017 FC1 Civic. Under the bonnet lives a 1.6-litre VTEC 4 cylinder motor with 123bhp. As with the Civics of old, there is no shortage of aftermarket parts to really make this your own, but you may find yourself not needing to modify it as much as its predecessors. The car is well kitted with leather seats and a factory sound system with Bluetooth and Apple Carplay!
To top it all off, Honda believes that if you are tender with your right foot, this Civic will do an impressive 17km/l!
2009 Mitsubishi Lancer 1.5 (A)

Asking Price

$54,800

Depreciation
$6,957
Months Remaining

94 (COE Expiry Date: 13/08/2029)

Owners

3
In 2006, Mitsubishi unveiled its Concept-X, which they promised will become the Evolution of the new decade. The Mitsubishi Evo 10 was then launched in 2007, with a strong resemblance to the concept, albeit toned down. To create the regular Lancer of its era, Mitsubishi further simplified the styling to make it more mainstream-friendly. 
But there's no denying that despite doing so, the car is still unable to disguise its sporty, concept car origins. Powering this example is a 1.5-litre DOHC MIVEC 4 cylinder engine. It develops 109bhp, and 143Nm of torque. Fuel economy is rated at 11.7km/l, which is in line with the cars of its era, but a far cry from the highly efficient motors of today.
This era of Lancer benefitted from a really long production run - the final examples rolled off the production line in 2017. This means that despite this being a COE car, there's nothing stopping you from face-lifting the car with parts from a MY2018 example, literally shaving years off the outward appearance of the vehicle. 
2017 Mazda 3 1.5 (A)

Asking Price

$52,000

Depreciation
$8,739
Months Remaining

64 (COE Expiry Date: 14/02/2027)

Owners

3
Mazda just has a way with car enthusiasts don't they? From its iconic MX-5, to the rotary-powered legend that is the RX-7, they've always found a way to stir the souls of the petrolhead. But it isn't just with the way their cars drive, or even its engines - with their Kodo design language, they aim to create visually impactful cars too.
This 2017 Mazda 3 has been styled in the Kodo era. Mazda defines this stylistic choice as 'graceful, yet energetic'. influenced by 'the effects of wind or the flow or water', for a 'unique expression of power and beauty'. The lines on the car are certainly more defined than other contemporary Asian marques! 
The 1.5 Litre Inline 4 Skyactive G engine delivers 120bhp and is coupled to a six-speed automatic gearbox. The combination is good for a fuel efficiency rating of 20km/l!
A good driving experience, and a dependable daily, should not cost more than it needs to. When buying new, you take a greater hit on the depreciation. Used cars, especially those after the 3-year mark, would have already passed the hardest hit phase of the curve.
This is why buying used can be a good option, as long as the car you want has been well looked after! If any of these cars have caught your eye, head on down to our extensive Used Car Directory! 
Buying a Used Car Has Never Been Easier
Browse through our wide inventory of used cars from direct owners and make your offer
Browse Now
Read More: Motorist Recommends: 5 SUVs under S$80,000
---
Download the new Motorist App now. Designed by drivers for drivers, this all-in-one app lets you receive the latest traffic updates, gives you access to live traffic cameras, and helps you manage LTA and vehicle matters.
Did you know we have a Motorist Telegram Channel? Created exclusively for drivers and car owners in Singapore, you can get instant info about our latest promotions, articles, tips & hacks, or simply chat with the Motorist Team and fellow drivers.