Motorist Christmas CSR 2021: Gift Mobility to Someone in Need this Christmas
This Christmas, Motorist will be embarking on a CSR project to give back to the community. Together with the Handicaps Welfare Association (HWA), we hope to improve the welfare of people with disabilities this holiday season!
As drivers, we enjoy the many privileges that come with vehicle ownership. One of them is mobility, which many of us have come to take for granted.
Yes, we may have paid to enjoy this convenience, but there are many individuals who do not have access to this luxury, for example, people with disabilities and the elderly.
Therefore, we at Motorist decided that our Christmas CSR project for 2021 should assist this vulnerable group by easing their modes of transportation. It is the season of giving after all!
With this cause in mind, we will be collaborating with the Handicaps Welfare Association (HWA) this holiday season! The HWA is a non-profit charitable organisation founded in 1969 that provides transport assistance to the underprivileged.
From 25 December 2021 to 6 January 2022, we will be donating $1 to HWA for every new user who downloads and registers their vehicle on the Motorist App. 
Through this project, we hope to fund and support the HWA and their initiatives to enhance the lives of their members and make Singapore a more inclusive society for people with disability.
Gift Mobility to Someone in Need this Christmas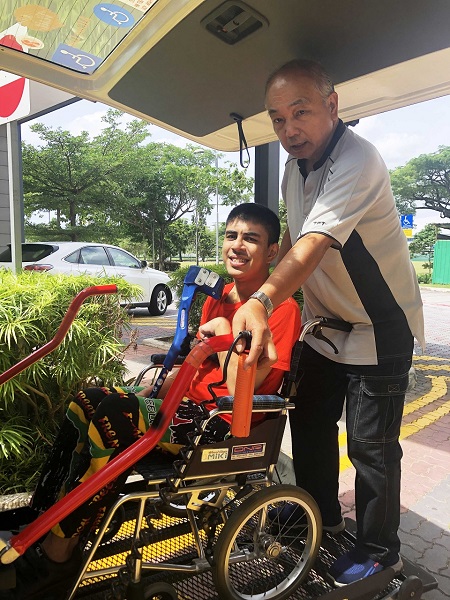 Join us as we share the joys and blessings of mobility with the less fortunate this Christmas.
If you would like to support HWA, simply perform the following:
Register an Account
Add your vehicle
If you are already a Motorist App member, we'd really appreciate it if you could share our CSR with your family and friends. 
Let's spread the gift of mobility this Christmas! Remember, small efforts make a big difference!
Download the Motorist App
The easiest and smartest way to manage your vehicle in Singapore.
Download Now
Read More: 7 Reasons Why Singaporean Drivers Will Love the New Motorist App
---
Download the new Motorist App now. Designed by drivers for drivers, this all-in-one app lets you receive the latest traffic updates, gives you access to live traffic cameras, and helps you manage LTA and vehicle matters.
Did you know we have a Motorist Telegram Channel? Created exclusively for drivers and car owners in Singapore, you can get instant info about our latest promotions, articles, tips & hacks, or simply chat with the Motorist Team and fellow drivers.